Studs On The Runway: 6 Most Sought-After Nigerian Male Models
Since the first man and woman were created, documentation shows that women are more visually appealing to the eye than men. There is no doubt that the male gaze—which was first popularised in relation to the depiction of female characters in film as inactive, often overtly sexualised objects of male desire—was the concept that birthed this visual inequality. And so, as a result, in a patriarchal society that has seen men dominate many industries, the modelling scene is a reversed reality. Male models are significantly less popular and less accomplished than their female counterparts. But society's stereotypes of them have set these male models back.
To get a sense of the stereotypes that cloud a male model's life, I got in touch with a model that would rather be anonymous. On some of the darnedest things he has heard, he said, "There are a lot of things they say about us, but the common ones are 'male models are gay, or prostitutes.' Very stereotypical things people carry around. Male models do not really have things going for them, and it is just mainly for show-off. At the early stages of my career, when I hadn't gained as much ground and was trying to push myself, a very close friend of mine, in a conversation condescendingly said to me, "Is this what you want to do with your life?" It hurt because I didn't expect it to come from her. But then I couldn't blame her because she couldn't see what I was envisioning. I just felt that she was narrow-minded. Most people don't encourage models, don't see them as serious people, and don't regard them as people with a career. In Nigeria, for example, if you introduce yourself as a model to people, they immediately think all you do is pose and live a glitz and glam lifestyle. However, a lot goes into it behind the scenes, such as hard work, consistency, mental agility."
On the wage disparity front, the basic economics of demand and supply is the main reason behind the pay inequality. Speaking on the inequality, my source said, "In my opinion, fashion belongs to females because there is more creativity for them regarding their being and what they can wear. So I think what causes that disparity is one of those things because they get to do more. They are not necessarily being paid more, but they get more jobs. I mean, the pay can differ, but the fact remains that they have more to do than male models. It's just the way it is, for now. Also, if anything else would cause the disparity in the pay, it is what is expected of them when it comes to selling whatever they need to put on. It is just what is demanded of them. I joke a lot about how this is a case where gender equality conversations favour women, but the truth is that they are ahead in this industry because they have more stuff to do."
That said, a handful of Nigerian male models have made something impressive of their modelling careers. Here are six of the most sought-after studs on the runway.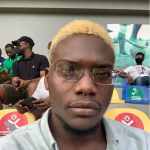 Self-identifies as a middle child between millennials and the gen Z, began writing as a 14 year-old. Born and raised in Lagos where he would go on to obtain a degree in the University of Lagos, he mainly draws inspiration from societal issues and the ills within. His "live and let live" mantra shapes his thought process as he writes about lifestyle from a place of empathy and emotional intelligence. When he is not writing, he is very invested in football and sociopolitical commentary on social media.