Simbi Wabote: On Building A Sustainable Oil And Gas Industry Through Local Content Development
At a time when developed countries have made an enemy of fossil fuel in a bid to go green with renewable energy, Nigeria, and her neighbouring African countries, are still trying to get a hang of how to build a sustainable oil and gas industry. How has a country so blessed with crude oil not found a solution to the perpetual crisis that constantly looms over the oil and gas sector? Throughout Nigeria's history, spanning military regimes and democratic leaderships, this question has been posed with no inkling of where the solution might come from. In a beam of hope, thanks to strategic thinking, the Nigerian Content Development and Monitoring Board (NCDMB) was formed within the NNPC with the ultimate aim of attaining sustainability. But it was always bound to be a long-term project.
In 2016, Engr. Simbi K. Wabote was appointed as the Executive Secretary of the NCDMB by President Muhammadu Buhari to oversee the creation of local content, and six years later, the beam of hope shines. To understand the nittygritty of what local content development entails and for a better picture of what our future looks like with respect to fossil fuel, DOWNTOWN's Publisher, Austyn Ogannah and writer, Kehindé Fagbule sat with the man trusted to solve this problem, Simbi Wabote.
Simbi Wabote wasn't always a civil servant, he has worked in the private sector for a considerably long amount of time throughout his illustrious career. Although a bulk of that was with Shell, Wabote started his career in the banking sector where he was at for a short stint after graduating from Rivers State University of Science and Technology Port Harcourt as a Civil Engineer. He explains, "In those days —when we graduated— was the emergence of new generation banks and these new generation banks were actually looking for analytical people. A lot of people who eventually joined the bank were engineers because they wanted people who could analyse, people who are technically minded to come into the bank, it was an era of new generation banks. So when we graduated, a lot of us felt it was the place to be because the new generation banks just came in with a lot of flavours, their pay was much better than the orthodox bank so to speak. I got into All States Trust Bank for a year plus. But as an engineer, my mind has always been to work for a technical firm, so when the opportunity came to join Shell, I had to resign to join Shell. It was in vogue then for technical people to be in the bank, we all thought that was the place to be. When you see the bankers dressed up in their suits and everything, it was very attractive. But no regret that one left the bank."
Before getting his deserved political appointment, Wabote was the Executive Director of Shell Petroleum Development Company (SPDC) Nigeria Limited and the General Manager Business and Government Relations for Shell Companies in Nigeria (SCiN). He has been in office for six years ever since. When asked what his biggest challenges are since the transitioning from the private sector to the public sector, he said, "I think in a nutshell, my biggest challenge coming from a private sector into the public sector is in the private sector, you know who your stakeholders are, whereas, in the public sector, you don't even know who your stakeholders are. You know clearly that in the private sector, you're not dealing with somebody's wife as your stakeholder. You know your stakeholders and you could map them. Trying to adjust to that reality is a challenge.
Secondly, when the thought processes are not fully aligned, you're doing your best possible to move things forward, and in the same sector that you belong to, they are dragging you back, it's a challenge. Another thing is with the people. As you very well know, capacity building is a huge challenge in the public sector. These are some of the major ones that you can think of. I think the opportunity thereof is also the nature of the present administration. Clearly so, the president to a large extent does not interfere in the activities of the people he appointed. He doesn't have any interference as it used to be in the past when they will call you from the Villa. So if you're not able to perform and do what you're supposed to do, then you're not competent. I have been on this seat for six years and there's not a day I have had that kind of influential phone call of anybody calling me from the Villa to say "I'm from the Presidency." People will try, but I believe personally it's your prerogative; nobody is asking them to do that. I've had instances when some people tried and I tested the water: it doesn't exist. So he gave a lot of his appointees free-hand to do the right thing, which is very good compared to how it used to be in the past."
His impressive work with the NCDMB has positioned the oil and gas sector of the country as an enviable one, so much so that neighbouring African countries ask us for direction on how to make more local content production in-country. Last month, the NCDMB hosted fellow oil-rich African countries at the maiden edition of the African Local Content Investment Forum. When we asked him to explain what he does in layman's terms, he replied, "The idea is that in Nigeria, we've made a lot of progress with regard to the local content development in the oil and gas sector. Before we started, the oil industry used to spend about 21 billion dollars year on year in our activities and less than 5 billion of that remained in the country. The bulk of what we do — conceptual design, detail design, frontend design, fabrication, and so on— is done outside the country. What comes back into the country is finished products. The only reason why it comes back is because they can't take the oil away from the Niger Delta, they can't drill it from Houston or anywhere else, and so we come back. Less than 5% of that 21 billion dollars, contextually, remains in the country, up until the advent of local content. We started pushing the boundaries, getting Nigerians to participate because when you look at the oil and gas value chain, that's why we still suffer till today because we saw oil as a commodity—we sell, we get taxes, we get royalties, and that's all the government depended on. They didn't see it as a resource, because the byproduct of crude is quite enormous. 70% of the products that did everything in this dining area, including this table [points to the table across from him], are all byproducts of crude. But we don't take any derivatives out of it. The sorry thing again is that we export the crude, and then import petrol, diesel and the likes. So somewhere along the line, some thinkers during the days of Obasanjo started saying "we need to participate in the value chain of oil and gas," and then the discussion around local content started. I think they enunciated the policy then. And they talked to themselves, 'where will they situate the policy so that it drives local content development?' So they created a content unit within NNPC to start to drive local content. The unit came out with what they called 'the 23 directives' basically saying 'henceforth this and that has to be done in Nigeria.' I was on the other side, I was in Shell, and we saw the difficulties in implementing those directives and we argued that there was no legal basis for it. If you try your best and push comes to shove, you tell them "there's no legal basis to do it." I think then that galvanised the national assembly to then start the process of passing a law to tie it to a legal framework. It took about eight years for that act to go through the assembly and it was passed into law in April 2010 and signed into law by President Jonathan. So that was the birth of local content as it were. And it has a lot of provisions, it has a schedule that says 'these are the percentages that must be done in the country.' The law itself is futuristic, if we have to wait for some of the things it demands to happen, we won't produce oil and gas. For example, it says all steel structures have to be procured in the country—we don't have a steel rolling mill and stuff like that, so it's futuristic. So we started implementing the law. Today as we speak, we've taken that 'less than 5%' to about 42% Nigerian participation. It is a 10-year plus strategic plan. Part of it is when I came in in 2016, the people before me have pushed the boundary up to like 25%.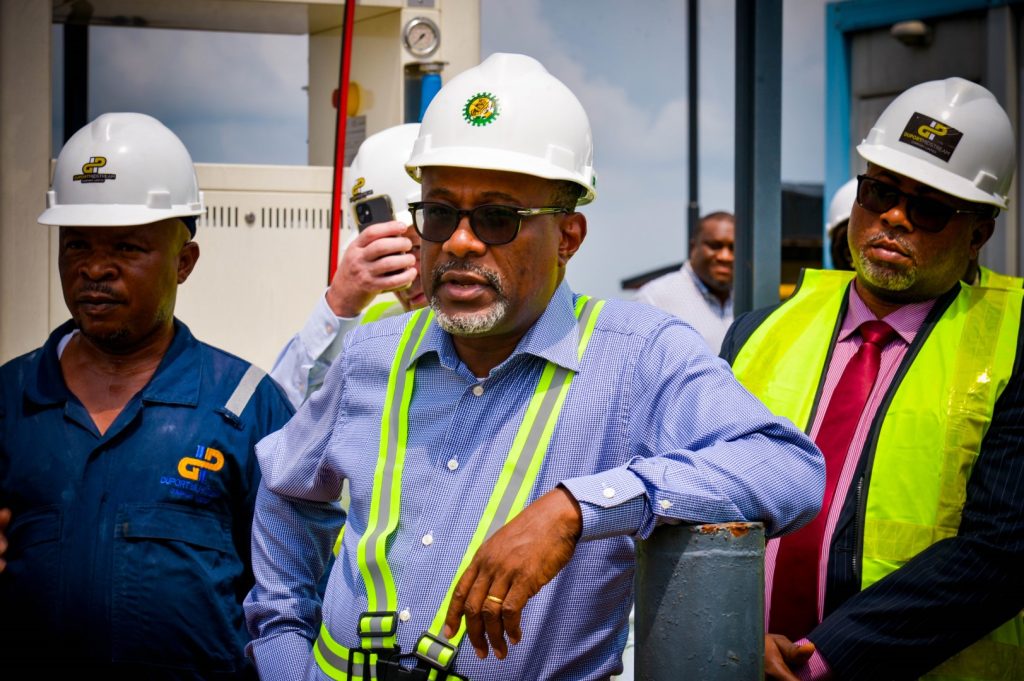 So when I came into the position, I then developed the '10-year strategic roadmap', because I believe by virtue of my training that 'you must know where you are going before you start the journey. So based on that, we had the 10-year strategic roadmap and said by 2027, we are going to have 70% local content achieved in-country. From 2016 till now, we've moved it from that 25% up to 42%. 98% of the contracts given out in the oil and gas industry are given out to Nigerians. All activities between the land and swamp are set aside for Nigerian companies. Today, in oil servicing, almost 99% of oil service activities are done by Nigerians. These are guys who open their shop, taking advantage of the local content act." Part of the mandate that Wabote's office holds is to invest in strategic parts of the local content. His smart investments have birthed three modular refineries owned by Nigerians. He explains how this was achieved saying, "Part of our strategies is to catalyse government pronouncements. Don't forget that we are a regulatory agency, so we don't participate in competing businesses, we rather catalyse government pronouncements. In the process, we got involved in a lot of gas projects, 70% of our investments today are on gas projects and 30% on modular refineries. So we have about five of them that we have taken equity positions in. The whole idea is to catalyse it, once they start producing and making money, they buy us out. In most of them, we don't want to stay there for the long run."
Make no mistake, the oil and gas industry is still swamped with flaws. Just recently, Nigerians' frustrations were heightened when contaminated fuel was in circulation. Wabote explains why that happened; "One is because we are not refining locally, we are import-dependent on refined products, so anything can happen if you don't have a process to quality-check the products that come in. Take it or leave, anywhere in the world, people get involved in all manner of things to maximise profit and if you're not looking properly, you will be a victim to it. I'm sure the corporation perhaps in good faith asked people to bring in these products and they brought adulterated products so to speak, which has a lot of methanol content beyond the acceptable limit. As I said, the only way we can deal with this is when we begin to refine our crude oil ourselves. Venezuela for example has the second largest deposit of crude oil in the world. By the last time I checked, when they are refining, they refine everything they produce and export the refined products. Because they see crude as a resource and not a commodity. But we see crude oil as a commodity. What that means is that the byproduct of that resource is enormous compared to selling that resource as a commodity. But like I said, in another three years' time, if all the plans go as agreed, we will become a net exporter of refined products. Did we come in late? Yes. Is it better late than never? Yes. That is where we are."
Our love-hate relationship with the petroleum industry goes a long way. On January 1, 2012, when former President, Goodluck Jonathan announced the removal of fuel subsidy, which bumped up the pump price of petrol from 65 Naira per litre to 141 Naira, it sparked the 'Occupy Nigeria' mass protests that happened across major cities of the country. Today, the payment of fuel subsidy continues, eating deep into a national budget that could use some uplifting. When asked what his thoughts on it were, Wabote revealed, "Personally, I think it's the wrong thing to do. We shouldn't be spending all the money—as I said, it's a funny thing, you produce crude oil, export it and then you buy PMS back into the country and you subsidise that PMS in the country. Today, the price of petrol in Uganda is almost 700 Naira equivalent per litre, and they are surviving. The people are doing their business and they are still where they are. So every money we make, and the danger is this: the higher the oil price, the more the subsidy. And that's where all the money is going. Somebody said the other day, "last month, NNPC contributed zero to the federation account."
So you spend all that money on subsidies, yet Nigerians want roads, railways, power, and so on, but all the money is going into subsidy. Having said that, in my view, you can only decide to take out a subsidy when you can produce the commodity yourself. Today if you take out subsidy, and then demand the product, you're still going to bring it from outside, so you are at the mercy of those producing it and the marketers. Because as important as PMS is, the marketers can tell you that "today they've added $2." Then what are you going to do? You still have to ask them to bring in the product. So I believe that the strategic thing to do is when we become sufficient in the in-country production of the product, then you can deal with the subsidy squarely." He continued, "Also, let the people have a line of sight to what you want to do with that money you have been using to pay subsidy because that's always been the problem; we've done it severally, we increase the price of fuel, create an agency, PTF, to utilise the fund and all of a sudden, that disappears again. My take is we should focus on making sure that we enhance our refining capacity in-country and thereafter we can then take off the subsidy as far as I'm concerned." Another issue that has piled on the sector's misery over the years is oil theft perpetrated by average Nigerians within the oil regions. According to the NNPC, about 150,000 to 200,000 barrels of crude oil are lost to thieves daily, undoing whatever little progress the NNPC could hold onto. Although not part of his agency's mandate, we asked Wabote if the NCDMB has plans to clamp down on this lingering issue. He responded, "It is not part of my mandate as such but then again, because we are all in the same sector, if you have an opportunity to educate Nigerians and those involved in it, you will seize it. So yes, we do a lot of that. Part of our mandate is capacity building, organizing workshops, seminars, and the rest of that, clearly written in the law. So we use those forums to try to educate the dangers of oil theft like what they're doing in places like Rivers and Bayelsa where they are cooking crude. People come to me and say these are artisanal miners, what can you do to support them? I say to them, "these are people stealing crude, they are not artisanal miners." The difference between solid mineral miners and oil thieves is that the artisanal miners go to the mines and dig holes to get what they want to get. They are not stealing anybody's already-made production. Whereas the illegal miners steal crude that has been produced by someone else and sent through their pipelines. That's outright stealing. So it's different what's going on in the Niger Delta which is causing a lot of issues, people don't realise the health hazard associated with it, the environmental pollution. In 20 to 30 years, if people are really studying the effects of those activities, they will begin to see the medical effect of what's going on in that region. Sadly, it's what the NNPC suffer, that's a lot of money that the country is losing, and it's part of the reason why some of the IOCs are also tired of dealing with these issues and they're talking about how they want to rationalise their portfolio and go deeper where people cannot access and do such things. It's all part of the reason. If you go to the Niger Delta today, the level of environmental degradation is unbelievable.
Partly as a result of the activities of the oil and gas companies, but I can tell you the majority is because of crude theft and sabotage." Between the subsidy conversation and the insane oil theft, the average Nigerian doesn't understand the nitty-gritty details of what the petroleum industry entails. Wabote talked about what he thinks of the industry, "I think the petroleum industry act is a good thing that has happened to the country. It's a legislation that has been out there for over 20 years and once there is that kind of legislation that is not coming to an end, it creates a lot of apprehensions. There is nothing that capital is afraid of than uncertainty, and for a very long time, the petroleum industry bill created that level of uncertainty in the country where most IOCs didn't want to invest in some mega projects because they don't know what the physical regime would be and what would be some of the requirements within the act itself. In those days, we used to argue that it is either you pass a good bill or a bad bill, irrespective of what it is, pass the act so everybody knows what is on the table. Eventually, after 20 years —kudos to Mr. President— they had to work to pass the act —which is historical— after so many tries. Today the act has been passed to law and it removes that uncertainty, which is one advantage. I think it's a good thing. Is it perfect? Of course not. Will there be areas of improvement in the future? Yes, there will be. But at least we know for a certainty this is what it is."
Born in 1966, Wabote has earned a title as a man of industry, but he is not all work and no play. Despite his packed schedule, the 56-year-old golfs regularly. When asked about it, he smirks in his response, "I think that's very important, one has to stay alive because take it or leave it, if you drop dead today, there will be so many people lining up to take your job. It's happened to several people. So you need to exercise the mind, body and if you like, get together with friends. My best hobby right now is golfing. I try to sacrifice most weekends to play golf. During the weekdays I can't. Let me tell you how I find my timing with regards to playing golf. On Saturdays, we have this habit to say "oh it's not a working day, so let's sleep till about 10 am or so." So I decided to say no I won't sleep, I will still wake up about 7 am to go and play golf. On Sundays usually when we come back from church, normally we'd just go to sleep; I also sacrificed that. I go straight to play golf as soon as I come back from church. It helps the mind and body. In a game of golf, by the time you finish 18 holes, you've walked about 8.4km and you're not just walking, you're bending, hitting, hosting, breathing fresh air. So if I play golf during the weekend and don't do any exercise during the weekday, then I don't feel guilty. But if I don't, I feel really guilty that I need to do something. So I try to find the time. And any opportunity I have that is not a working day or I travel, I try to play golf." In addition to golfing, he also swims, although not as often.
Wabote is also a family man, he is a father to three daughters. He told us about his girls, "My first daughter, Nengi, is going to be 25 this year, my second, Tonye, will be 23 and the last one, Preye, 21. Tonye is working currently in DC, she's finished her master's, so she's a financial analyst in a firm in DC (Washington, US). Nengi is working with a set design company as an architect in New York. Preye is in Reading reading law, hoping to graduate next year."
With his kids abroad, Wabote is home with just his wife. When asked if this was the dynamics, Wabote responded saying, "Absolutely. But again, you know the Nigerian thing; you and your wife and a lot of dependents that you have to also look at. And I think at this age, you just want to help as many people as possible. But for my kids, I'm sure by the grace of God next year, the last one will be done with school, and then I will get back to marrying my wife again."
Wabote's life is not without its fair share of publicised drama. Late last year, he dragged Jackson Ude—the editor-in-chief of Pointblanknews.com, a Nigerian journalist living in the US— to a court, in the eastern district of Pennsylvania, in a defamation suit. A story on Pointblanknews which accused Wabote of bribery and corruption in the Bonny NLNG contract is the subject of the libel suit. When asked for a comment on it, the executive secretary responded saying, "It's a matter in court. Under normal circumstances like you know, if people were doing things right, you don't begin to discuss matters in court, that would be sub judice, and I respect the court process, so I guess we should wait for the court process." Pressing further, when asked if he's willing to pursue it till the very end, he replied, "It's in court like I said. It's up to the parties to decide whether to take it out of court or not. I have always been open to out-of-court settlements and I've made that known severally. But again, as you know, all these court cases, it gets to a point of no return where you can't back off anymore. So it's still in court and I usually don't like discussing the details of it out of respect for the court process. Nobody wants to be in court. I believe in dispute resolution, even in the business that I do. But it's up to the other party to come to the table and say we can take things out of court."
Over the years, the oil and gas sector has been marred by several issues, one of which is the militancy insurgency in the Niger Delta. When asked what he makes of it, Wabote said, "There's no militancy anymore. We've crossed that hurdle. We should be talking about the insurgency in the Northeast and the banditry in the north and the southeast too. Niger Delta is peaceful.
If you were there when it was militancy, we couldn't even produce. We reduced our crude production from 2 million barrels to about 500,000 per day. But today, nothing is inhibiting anyone from producing. So there's no insurgency in the Niger Delta." Wabote has made a good job of his position thus far. With the elections coming up next year, it is a rather common sight to see government appointees vie for elected positions. When asked if he sees elective politics in his future, Wabote said he doesn't know. Sometimes, the decision to run is influenced by people. When we asked him what his reaction would be if he were to be drafted, he responded, "Do they draft them? I thought it was only in the NBA they draft people [laughs]. It is up to you to make a decision. I'm not a politician, strictly speaking. My polling booth, as I speak to you, is in Lagos here. I don't hold any political party card, so it's not on the cards. So long as I hold this position, I am serving the government for now. Because the tendency is that people always believe that once you get an appointment, it is a pedestal for wanting to run for public office. That is not my thing. Even if I decide, I will finish my work and step out to make a decision that this is what I want to do. I will not use the powers of the office to get into politics."