Quick Chat With Taaooma, Buchi And I Go Save
Much like the rest of the entertainment industry, the Nigerian comedy space has witnessed an influx of new opportunities with the advent of technology. From the emergence of content creators on social media platforms condensing humour in bit-size that is easily digestible for a digital audience with the attention span of a housefly to the streaming giants providing traditional standup comedians with a platform to house their specials for a global audience, Nigerian comedy has been on a steady, significant upheaval. In a first-of-its-kind reality show, LOL: Last One Laughing Naija, Prime Video casts 10 of Nigeria's finest comedians in a house for six hours with a clear mission to crack each other up but not break a smile. DOWNTOWN's Kehindé Fagbule caught up with three cast members, Taaooma, Buchi, and I Go Save, for a quick chat.
At the Press Conference, You corrected someone in the audience who called you a skit maker. Why don't you like being called that?
Taaooma: Skits are something very unplanned; I do skits sometimes. I actually don't have a problem being called a skit maker; I just find that it belittles the work that's put in. When people call you a skit maker, there is a particular way that they see you. I'll give a perfect example. If I come into this building and the gateman refuses to open the gate for me because I came in a Toyota Camry but would let me in if I came in a Range Rover. That is what this thing looks like. You can call me a skit maker and acknowledge that perhaps I'm actually putting work into it. But when they call you a skit maker, they make it look like that is all I do, but I know how much work I put into my content, so you can't just call me a skit maker. I won't take that. It's just the way I cannot just call you a janitor in an office where you are the CEO.
I'm sure you get this a lot from even colleagues and people who look at you and assume that you're not on the same level as a comedian as the rest of your colleagues who do standup.
Taaooma: This is very personal. Even my mum sometimes confuses what I do as skits, and I'm like, "Mummy, please, I do a lot of work." I know you feel like I'm playing because if you meet me on set, you will feel like I'm having fun with it, so you might not feel like there's a lot of work in it, but there's actually a lot of work. And for some of us that shoot, edit, sound engineer, and many other things, these are things that people feed their families with, and I do it alone. And at the end of the day, you want to call it just skits? No, I will not take that. That's why every single time, I get to correct people. Please let us sensitise each other now so people won't go out there and think I'm just having fun. I know I'm having fun, but at the same time, I'm putting in a lot of work.
Absolutely! You've honed your craft and are one of the biggest content creators in the country. However, many people would say it's a much easier art form than standing on the stage and cracking people up because you have time to rehearse, do many scenes, edit, etc. How do you think the kind of comedy you do can someday be seen on a similar level as standup comedians going on tour and selling out arenas?
Taaooma: First of all, one of them is trying to let people know you understand what you're doing. Secondly, if this job doesn't pay, you can call it skits or whatever. I get money from this, so why is anyone trying to make it look like it's a very tiny job? You need to let people know because there are many things to put in place or consider when doing this job. And it's the same way as saying that (apologises to Buchi and I Go Save before going ahead to use standup comedy as an example) standup comedy is easy because you just stand and crack people up. Every time I'm asked if I will do standup comedy, I close my eyes and run away because I've tried it before; I was waiting for the ground to open so I'd enter inside. Just as you are conducting this interview now, some people might belittle what you do, seeing as you just sit down and talk to people. But you are the one who knows the challenges you face. Every work has its own challenge. And just because I'm not with all the paparazzi that Cardi B has, it doesn't mean Cardi B works better than me. We might not do the same job, but you need to respect people accordingly.
And if I want to sell out a show right now, I know what to do. I probably am just not ready. And I feel like I don't have enough confidence yet for it.
At the screening, the importance of diversity in casting was discussed, even though there are three women out of ten comedians in LOL: Last One Laughing Naija. What do you think will be an incentive that will allow more women into this space?
Taaooma: It's just to let people know, encourage them and tell them they can do it. Once you go in there, nothing is stopping you. And this is the social media age; you can do anything from the comfort of your house, so just go for it.
It's been a long time coming for both of you (Buchi and I Go Save), unlike Taaooma, that came in with social media.
Buchi: She's a new cat [Room erupts in laughter].
Although comedy in Nigeria is a very competitive space, we have seen you around from when we bought VCDs to watch you to know when we stream to watch you. What do you think is the X-Factor to maintain relevance in this space?
Buchi: For me, consistency in being funny is what does it. And when I say consistency in being funny, you must understand that it covers a lot because it means you have to be relevant every year, which means you have to be fresh in some way, original in some other way, creative in some other way. Demand can only come from supply, so if you're irrelevant, there's no demand; you have nothing. So I think my fight every day is to be relevant no matter what it takes. And I know that the only way to be relevant in comedy is always to make sure that I get the laughs. So that's just it for me; that's my hustle, that's my creed.
I Go Save: It's been many years. As Buchi said, one of the major things is consistency, hard work and creating. If you keep creating, you will stay for long, but if you create, stop and wait for other people's creativity to dive into to make money for yourself, you will just come like a spark, and in a few seconds, you're off. So hard work, consistency and following the rules of the game and breaking some of the rules of the game, you'll stay here for long.
Although unscripted, this is not your first rodeo together. How difficult is transitioning from standups to acting, incorporating your humour on movie sets without a real-time audience giving you feedback on your jokes and punchlines? With acting, you are conscious of the camera, your best side and your body language.
Buchi: And of course, don't forget your director. When you give your best side, and the director says, "No!" [looks puzzled]. First of all, for me that has come this far, I'm like yo [laughs]. I know you are the director, but this is a comedy. So we have to battle with that. You must let go na, no be you dey direct. It was never a switch because if you're a Nigerian with one talent, two other talents back that one. If you sing, you can dance. If you can't dance, you can act. There's always a package.
I Go Save: I think standup and acting are like brother and sister because in standup comedy, if you're making a joke that has five people, you will depict the roles of the five of them for your audience to understand the joke. That is acting already. We have a director, we are already mouthed, and we don't look at where the camera is. It is the job of the director.
LOL: Last One Laughing Naija is a reality show that's never been done before. You were put in the same space as your colleagues on a mission to crack a laugh out of them. Tell us about how you felt when contacted to be on a first-of-its-kind Prime Video original unscripted series.
Buchi: For me, it was not the first time that I've had the idea. Even locally, there's always been talks of gathering comedians and doing a comedy show. The prospect was always there. But the twist to this one was what really broke me. So when they told me we'd have ten comedians in the house, it was very exciting for me. Ten comedians in the house trying to make each other laugh? For me, it was the easiest show ever. Then when they eventually added the "but you're not allowed to laugh," I felt it didn't make sense. So they sent me a link to previous franchise editions of the show to see for myself. That was when I knew that this really happens. I thought the idea of getting comedians is to make everybody laugh. How will you now get us and say we can't laugh? That, for me, was the killer [in affirmative].
On the other note, it was really exciting for me that this would be on Prime Video. It wasn't that we would record and start sourcing for buyers, or they would tell you to go and market on YouTube. The platform was set, and they were coming for us, which is very different from you chasing the content buyers. The original owners of the platform say, "We want you to do this," and it takes a load off. It was really exciting for me. I mean, it's Prime Video. I was so happy; I was proud of it. At any point, if I had the chance to do it again, I'd dive right in straight up.
I Go Save: I've always dreamt of this happening, so when I got the call, I was really happy and excited about it. I've always dreamt about being together with my colleagues and having a camera planted to record our interactions. That has always been the structure I had in my head, but this one was different. 10 comedians, same place, one goal, don't laugh. It was crazy but trust me, I had fun doing this. It's an eye-opener for me as I learnt a lot of new stuff, one being that I can actually stay without laughing if I want. That means I have the social instinct in me to hold the laughter. I learnt another thing: I can laugh inside and frown outside. I did it on the show, even though I was dying inside.
LOL: Last One Laughing Naija was out last Friday, and now the global audience knows it because it is on Prime. Tell us about individual projects in the pipeline after this. What should your fans be looking forward to next?
Buchi: Basically, as comedians, we're always working. And that includes the jokes you tell in your house every time.
Your mind must be there; that's what it takes to be relevant. For me, though, I do a comedy show every week. It keeps me on my feet. Every Wednesday of every week for the past three years, I have been hosting a comedy night at LIVE! Lounge. As for my personal projects, I do my show every Easter in Abuja. Next year, I might probably do it in Lagos. I don't want to do Lagos and owe people.
I don't want to do the show with my money and not be able to pay everybody just because I need to do Lagos. I want people to be ready enough (for me) to know that it is time for Lagos. For you to do an Eko Hotel-standard show right now in Lagos, your budget should be from 30 million Naira upward. That's the cheapest you can spend on the small halls, that is a lot of money. If you don't sell those tables, you are at a loss already. So if you invest your 30 million Naira, you have to guarantee that ten people will buy tables for 5 million Naira each. In Abuja, it's easy for me [laughs]. The halls are not that expensive, I have so many people there, and they are always excited to have me.
The legwork alone in Lagos, the network is strong, the brand needs sponsorships, and you're at a loss if you don't get them. Until I get that, I'm not doing Lagos. And money will come.
I Go Save: Like Buchi rightly said, we are constantly working. We always have something in the pipeline. In a few weeks, I'm starting my UK and European tour.
And when I'm back, I have my show, I Go Save Unusual in Warri, in November.
Buchi: It's been happening every year for over 10 years now.
I Go Save: Yes, November 26th in Warri and January 2nd, next year, in Benin City. We are thinking of Lagos as well. As Buchi said, you must have a big shoe to step into Lagos so you don't run into debt, loss or a bad show, so you must be really ready.
Also, I'm working on my online comedy sitcom, Hotel 101 season 2, so I have a lot of work in hand. While this one is there cooking and everybody is enjoying it, we are preparing something else, just like the duck, swimming unruffled on top but paddling roughly underneath.
Catch the hilarious LOL: Last One Laughing Naija on Prime Video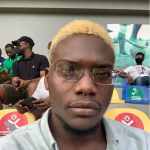 Self-identifies as a middle child between millennials and the gen Z, began writing as a 14 year-old. Born and raised in Lagos where he would go on to obtain a degree in the University of Lagos, he mainly draws inspiration from societal issues and the ills within. His "live and let live" mantra shapes his thought process as he writes about lifestyle from a place of empathy and emotional intelligence. When he is not writing, he is very invested in football and sociopolitical commentary on social media.