OddBod & The City: Lunch And A Wine Lab
There is nothing this girl loves more than an invitation for free food and drink, so when the opportunity came around
to try out the new menu at The Wine Lab, to say I was there with bells on is the understatement of this year. I was allowed to bring a friend, so I rolled up with a fellow foodie, an empty stomach, and an open mind.
The first thing to appreciate is that it's off the beaten track, so you first absorb the sensation of walking through a friend's quiet, well-curated garden as you make your way through to the restaurant. On the right-hand side is the relatively new kids' play area. An enclosed safe space shaded by giant old trees with a sand pit and games that can be rented out for parties, but most importantly, it allows the kids to be self-supervised while you enjoy adult time close by.
It's a great modern space with outdoor, indoor and greenhouse dining options. A sexy-as-hell members' cigar lounge
upstairs, with the prerequisite moody leather chairs and wood accents, I don't know who I must cosy up to, but I must find a way to hang out there soon.
Gorgeously set up with some captivating design pieces; I especially love the art and photography, namely the gorgeously clever tables made from scrap metal. If I had to describe The Wine Lab's ethos, it would be passion and attention to detail.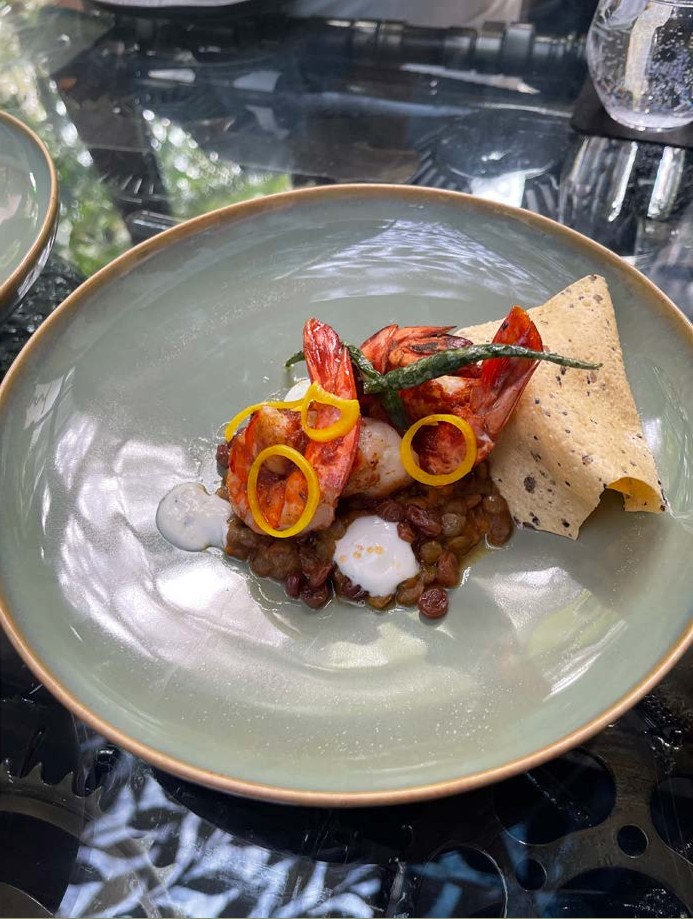 This is clearly a space for you to come with friends, have a laugh and commune over good food and wine. The wine cellar is extensive and caters to all tastes and wallets. We started with cocktails, as all civilised people should, and my mojito was one of the best I have had this year (this is me wracking my brains); I can't remember the last time I enjoyed one as much in recent memory.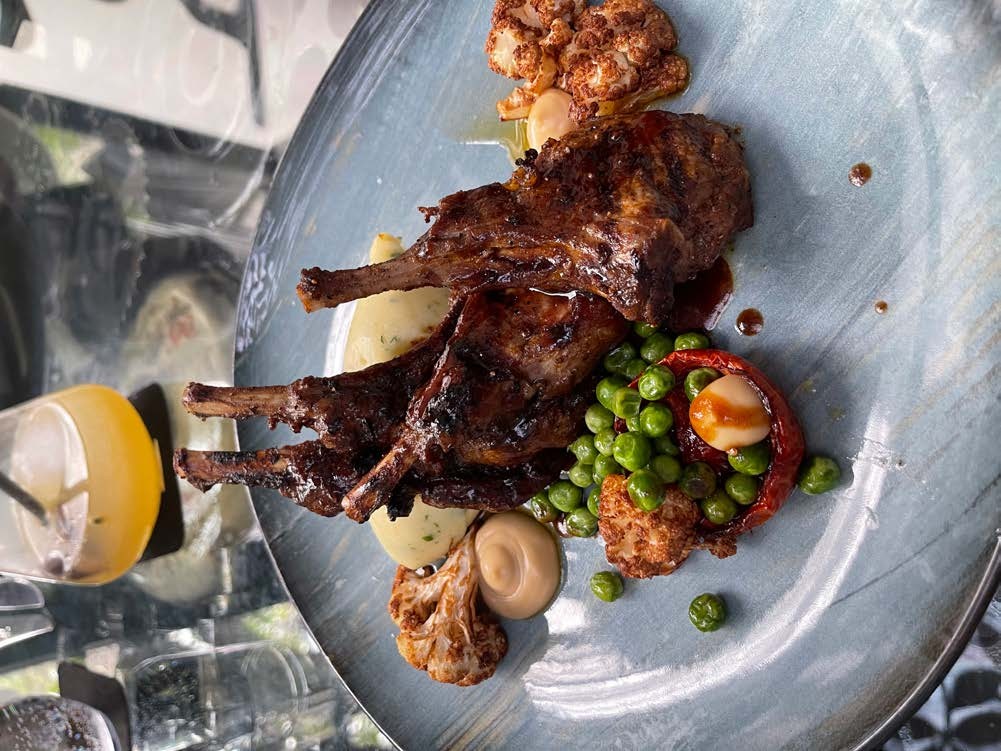 To the food! Let me apologise now because I never actually looked at the menu, so I can't break down everything we had as I usually like. Chef Treasure started us off with some fanatic sushi, followed by a moreish lamb taco situation that I highly recommend.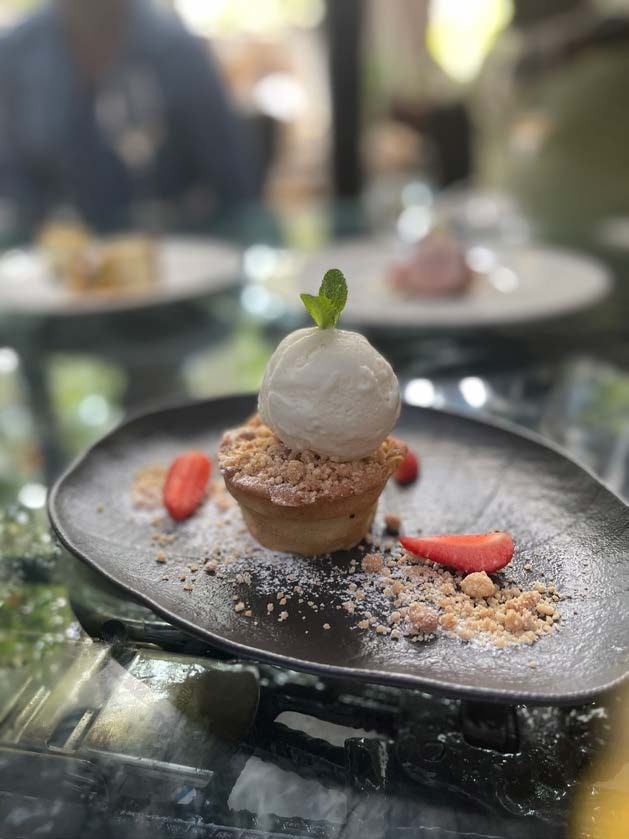 We basically powered through most of the mains. I absolutely loved the seafood pasta with arrabbiata sauce—you know you are on to a winner when it's more seafood than pasta, in my modest opinion. The lamb? Also yummy. Randomly, though, it was a humble rice and lentil dish that really blew my mind.
Worth an honourable mention was the catch of the day, I am usually not a fan of fish, but I loved everything about the flavour, texture and vegetable accompaniment. Eight-year-old Odun would never believe my passion for well-prepared broccoli…. you could not get me to touch anything green and cooked for all the money in the world back then.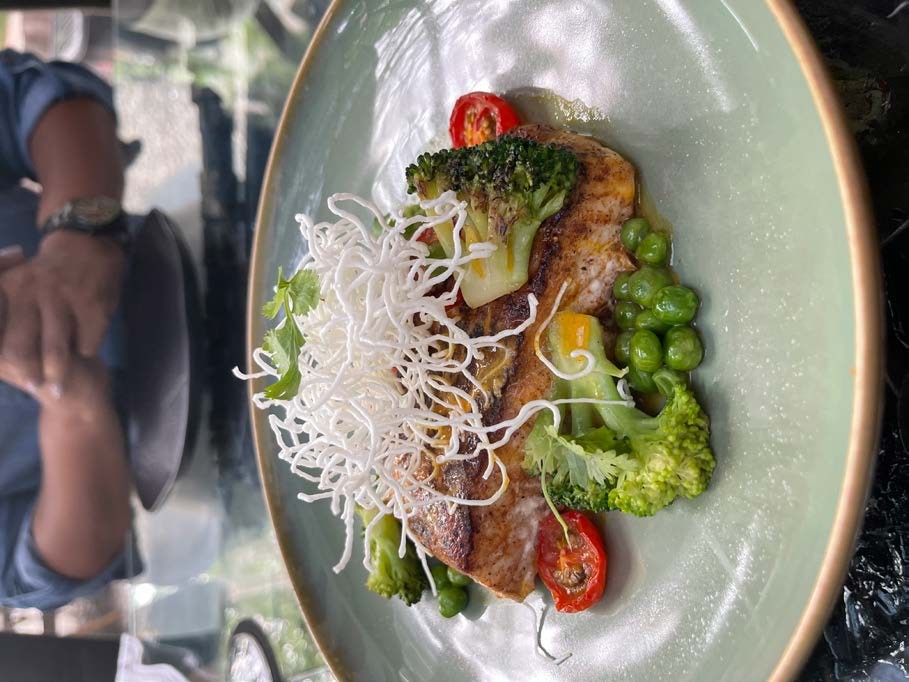 I had the apple crumble for dessert from a large selection that I struggled to share with the rest of the table. I have previously mentioned my theory on how cinnamon is like crack to me, so there is probably no need for me to speak further on that. I will let the photos do the talking, and I have already been back for a sneaky drink since the wine tasting, as the location in the VI/Ikoyi/Lekki trifecta is nice and close to me.
Odunayo Ogunbiyi is an ex pharmacist with a passion for food and pampering. Writing about her exploits wherever in the world she may find herself is just her way of staying sane in this zany world.