Fashion Crocs Rocks
Tips On How To Style The Most Fanciful Shoes On Earth
Let's talk about shoes. A quick gaze from head to toe ends at the feet, and so it carries so much significance. 'Is what I am wearing appropriate for the event? Does it go with my choice of outfit? Are they designers? Are they safe? How comfortable are they? Do I have to keep a flip-flop in my purse just in case?' A million questions go through our
minds during the decision-making process. With shoes, a lot is at stake.
However, one particular brand of shoes has been the subject of many questions—Crocs. Nowadays, it's not embarrassing for celebrities to be seen wearing a pair of Crocs. In fact, many of them work their pairs into outfits like
any hyped sneaker. While rappers like Nicki Minaj ice them out, others just wear humble solid-coloured pairs to add a dash of eccentricity to already well-put-together looks. Here are your favourite celebrities in their fancy Crocs.
CUPPY
STYLING TIP: If you are wearing a pair of Crocs, you must exude a playful aura— the type that is synonymous
with the Cuppy brand.
If anyone can pull off a Crocs style in Nigeria, it is Cuppy. Inspired by Nicki Minaj, the DJ rocked her Crocs with two-piece sweats and pants in her signature colour. She has since been with different designs of pink Crocs.
TIERRA WHACK
STYLING TIP: A multi-coloured outfit pairs well with an eccentric pair of designer Crocs.
When Tierra Whack performed at the Afropunk music festival in Brooklyn in 2019, she wore a pair of yellow platform Balenciaga Crocs. Whack paired her clogs with upcycled pieces from Borbola. As shown in this fit, a great way to style a flashy pair of Balenciaga Crocs is to wear them with another unique piece that also stands out from the crowd.
LEBRON JAMES
STYLING TIP: When wearing a special pair of Crocs, don't be afraid to build an outfit completely inspired by them.
When it comes down to some of the best Crocs collaborations in recent memory, the Chinatown Market x Grateful Dead Crocs immediately comes to mind. These tie-dyed Crocs capitalized on the renewed interest in Deadhead merch and included unique Jibbitz that captured Grateful Dead bears climbing across the holes of the clog.
When Lebron James backed these out before a game against the Houston Rockets, he made sure to pair these well
with a Chinatown Market x Grateful Dead hoodie and shorts. Other ballers like Shai Gilgeous-Alexander have shown that a standout Crocs collaboration can go with anything.
NICKI MINAJ
STYLING TIP: If you can ice your Crocs out go for it.
It's not surprising that when Nicki Minaj decided to break the internet and Crocs' webstore by wearing a pair of Crocs, she of course, wore a bright pink pair. But on top of that,  Nicki has been changing the whole damn Jibbitz game when it comes to Crocs. The Queen of the Barbz is likely the first celebrity to ice out her Crocs.
As seen in that viral photo, Nicki put in some iced-out Chanel logos, pearls, and other fine bits of jewellery. Shortly
after posting that viral photo, Nicki came through again to flex another pair in black, which also boasted some Chanel jibbitz.
QUESTLOVE
STYLING TIP: To deviate from wearing solid-coloured Crocs, consider buying a pair in gold.
When Questlove pulled up to serve as the musical director of the 2021 Academy Awards ceremony, he came through in a formal
suit tied together by a pair of golden Crocs. Questlove knew that if he was working that day, he might as well arrive at one of the world's biggest awards shows wearing something comfortable.
So what better footwear to wear than these? The move was definitely controversial in the eyes of those who organized the show this year. Prior to 2021's Oscars, attendees were sent a letter that read, "We're aiming for a fusion of Inspirational and Aspirational, which in actual words means formal is totally cool if you want to go there, but casual is really not." But when you're Questlove, you definitely have permission to do whatever you want.
PHARRELL WILLIAMS
STYLING TIP: A regular pair of Crocs can be customized to fit your own tastes with the right Jibbitz pieces.
Pharrell is another celebrity who knows that a pair of Crocs can stand out on the red carpet if they are styled correctly. For the premiere of Netflix's The Black Godfather, Skateboard P pulled up in a real casual fit that included a pair of chino shorts, a Cactus Plant Flea Market hoodie, and a loud pair of tie-dye Crocs.
But to make this pair stand out, even more, Pharrell put in Jibbitz spelt "Plant" on one clog and "Super Dad" on the other. Pharrell found these Jibbitz so enticing that he even stayed true to customizing other pairs of Crocs with them in the exact same pattern. Anyone inclined enough to copy this style can definitely do so by buying the exact same Jibbitz on Crocs' webstore.
SAWEETIE
STYLING TIP: A designer pair of Crocs is the perfect match for streetwear.
American artist Saweetie launched her Crocs collaboration last winter. She modelled two pairs of Crocs— one with a
Christmas design and the other with a typical snowy winter design.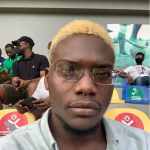 Self-identifies as a middle child between millennials and the gen Z, began writing as a 14 year-old. Born and raised in Lagos where he would go on to obtain a degree in the University of Lagos, he mainly draws inspiration from societal issues and the ills within. His "live and let live" mantra shapes his thought process as he writes about lifestyle from a place of empathy and emotional intelligence. When he is not writing, he is very invested in football and sociopolitical commentary on social media.