Movie Review: Top Gun: Maverick
Rating: 10/10
Every once in a while, a movie comes along that renders even the most hardened critic unable to give an unbiased analysis. They brush off flaws that they would ding other films for, and blow the things the movie gets right completely out of proportion.It's just what it is. Top Gun: Maverick is unapologetically that movie for this reviewer.
1986's Top Gun was too cool. The fighter jets, impeccably cool pilots, awesome call signs (Iceman, Maverick,Viper, Cougar, Wolfman) appealed to a primal desire I didn't even know I had as a child. I remember watching it endlessly on DVD and even more regularly once it arrived on streaming. When the sequel was announced in 2010, I was elated. Upon the original director's (Tony Scott) sucide, I was devastated. However, nearly 36(!!) years to the day we finally have Top Gun: Maverick. I raced to see it in IMAX at the very first opportunity. Was it worth the wait?
As previously mentioned, I'm biased but Director Joseph Kosinski along with a cadre of screenwriters (Ehren Kruger, Eric Warren Singer, Christopher McQuarrie) have focused their energy on bringing the charm of its 36-year-old predecessor into the 21st century with a film that leaves behind any sticky realities of the modern era and attempts to reencapsulate the romanticism so characteristic of 80s Hollywood blockbuster cinema. Social media and cellular communication are ignored. Entertainment is found primarily at the local bar in the form of a jukebox and pool table. Its wholesomeness is earnest, and the film's familiar soundtrack taps at our brain's nostalgia receptors, allowing even those without any attachment to the first film to appreciate this new installment. (But certainly for those of us who cruise down the road belting the film's catchy unofficial anthem by Kenny Loggins, there is much more here to get you approaching the "Danger Zone.") There are nods everywhere from the iconic bells ringing in the first few seconds of the film to the shot-for-shot reconstruction of the original movie's opening scene.
Top Gun: Maverick follows Navy Pilot Captain Pete "Maverick" Mitchell (Cruise) in his current job as a test pilot for new and experimental aircraft. As Mitchell's current superior, Admiral Chester Cain (Ed Harris), tersely notes,"Your kind is headed for extinction,". He then transfers the insubordinate officer to the Navy's fighter training program (a.k.a. "Top Gun") as ordered by the Commander of the Pacific Fleet, Admiral Tom "Iceman" Kazansky (Val Kilmer). Iceman believes that Maverick has the qualities necessary to prepare an elite group of pilots for a top-secret, potentially suicidal mission. Maverick's new bosses, Admiral Beau Simpson (Jon Hamm) and Admiral Solomon Bates (Charles Parnell), are skeptical. Complicating matters for Maverick is the presence of Lt. "Rooster" Bradshaw (Miles Teller) in the group. The son of the deceased "Goose" Bradshaw, Rooster holds a mammoth grudge against his new instructor. As was the case in the first movie, there are too many secondary characters for any of them to achieve anything resembling three-dimensionality, but at least in this case, they have enough defining characteristics to avoid them seeming like a lineup of doppelgangers. Glen Powell's "Hangman," is an Iceman clone in the very best way. Another, Monica Barbaro's "Phoenix," is the first female pilot in the Top Gun mythos. And Lewis' Pullman's "Bob" is well, Bob.
Maverick's flight sequences are some of the most brilliant in-air scenes ever filmed. Coherent, exhilarating and frequently breathtaking, the crew's work to make some of these sequences possible without the use of CGI deserves a multitude of technical Oscar nominations, which I fully expect this film to rake in.
Still, as eye-popping as the dogfights and aerial maneuvers are, the centerpiece scene (and the one that will have the greatest meaning for Top Gun fans) is a simple one-on-one meeting between Maverick and Iceman. With the screenplay overlaying elements of actor Val Kilmer's real-life struggle with throat cancer onto the story of Admiral Kazansky, the movie achieves something powerful and deeply moving in that scene. The subtext makes it about much more than a reunion between two rivals-turned-friends. The appearance was meaningful enough to Kilmer to coax him temporarily out of retirement. If it represents the final punctuation mark on his remarkably successful career, it would be difficult to envision a better ending.
It remains to be seen whether Top Gun: Maverick will be able to attract new fans with a fervor to match the older ones who are approaching this movie with the eagerness of a 36-year buildup (Though the pre-screening sales definitely suggest so). Cruise, the A-list marquee-topper who always gives his all to any production, once again illustrates how he has managed to remain relevant over an amazing four-decade span when so many of his contemporaries have faded away. And although Top Gun: Maverick is surely relying on some of the alchemy that made the formula successful in 1986, the film's awareness of cultural and technological shifts in the interim has made for a more complete cinematic experience. Filmed exclusively with IMAX cameras, this is unquestionably a production to be experienced on a big screen; resizing it for a television or tablet will diminish some of the most extravagant aspects. For the full experience, please see it in cinemas.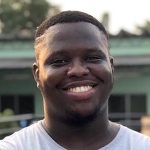 Boluwatife Adesina is a media writer and the helmer of the Downtown Review page. He's probably in a cinema near you.