MOVIE REVIEW: A Man Called Otto
The "Grumpy Old Men" era seems to come for all of our lovable movie stars, including Tom Hanks, who easily slides
into this new phase with A Man Called Otto, a remake of the Oscar-nominated Swedish film, "A Man Called Ove." It's not easy to translate the famously dry and somewhat bleak Scandinavian humour to a sunnier, more optimistic American worldview, but writer David Magee and director Marc Forster manage to maintain the melancholy of the original film, which is based on the book by Swedish author Fredrik Backman.
Set in the suburbs, A Man Called Otto is a story about the loss of human connection in a modernized and rapidly changing world and the effort it takes to knit a community through the ties that bind: personal ones. It is also a story about the transformative nature of grief, and the beauty and cruelty of life lived in moments both mundane and monumental. If these lessons are all a little bit obvious, and somewhat overly sentimental, well, yes, they are, in A Man Called Otto, but that doesn't make them any less effective. Forster's sweet spot seems to lie at the juncture of the sentimental and the strange, using unique story concepts as a way to explore existential themes, not shying away from the harsher aspects of humanity, but always finding a bright side. The trailers for the film don't give away the true nature of the story, focusing more on the comedic elements without revealing any of the tragedy behind Otto's cantankerousness, but trust that it is there Otto is isolated, forced into retirement and living alone in his small community.
Without someone to live for, Otto's minor annoyances have become the bane of his existence, righting minor wrongs like irregularly sorted recycling and incorrectly displayed parking permits. It's his grumpiness that keeps
him clinging to this mortal plane, whether he likes it or not, and it's his cheerfully chaotic neighbours who offer
the friction to keep his gears regretfully grinding. Forster assembles an ensemble to surround Hanks, and the standout is Mexican actress Mariana Treviño, who plays Marisol, a harried, determined, heavily pregnant mom of two
who moves in across the street with her husband Tommy (Manuel Garcia-Rulfo). Marisol doesn't back down from Otto,
and calls him out on his rudeness, and the hapless young parents bring over food and guilelessly request favours from their new neighbour, forcing him out of his comfort zone with their own naturally exuberant expectations of community.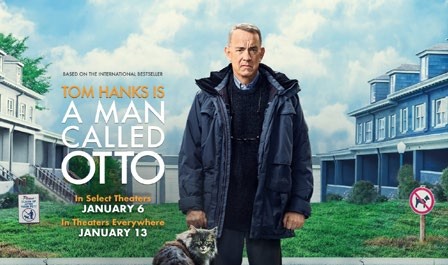 Forster and cinematographer Matthias Koenigswieser bring a Scandinavian inspired coldness to the look and feel
of A Man Called Otto, the colour palette desaturated, the compositions angular. But the bleakness of this world does not require much to feel familiar — this community is crumbling thanks to corporate capitalist rot and digital
disconnect. Despite this well-earned despair, there is an irrepressible warmth that creeps through A Man Called Otto, because this is a Hanks family affair. Hanks' wife Rita Wilson is a producer alongside her husband, and a couple of her folk songs crop up throughout, while Wilson and Hanks' son Truman Hanks, a spitting image of his father, plays young Otto in flashbacks (there's even an inspired nod to Truman's colourful older brother Chet Hanks).
While this sometimes results in tonal inconsistency, tilting toward the treacly, the cumulative effect of the story's twists and turns is powerful, if somewhat predictable. Treviño's effervescent and empathetic performance as Marisol keeps A Man Called Otto on track, both actress and character proving to be the saving grace for this curmudgeonly fellow, and film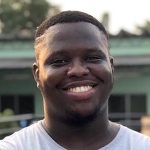 Boluwatife Adesina is a media writer and the helmer of the Downtown Review page. He's probably in a cinema near you.