WATCH OF THE WEEK: You Season 4 (Part 1)
You has already wrung an impressive amount of mileage out of its concept, getting the audience to identify with – if not necessarily root for – a suave, murderous stalker. Yet while the fourth season begins in characteristically twisty fashion before it's over, the Netflix hit feels dangerously close to jumping the shark, having become a bit too cute for its (or Your, if You prefer) own good.
As the season three finale teased, narrator/stalker/killer Joe Goldberg (Penn Badgley) has faked his own death and fled to Europe when the latest arc begins, taking a new name and becoming a professor at a local college. There, he blends in, if you can call it that, while befriending a group of privileged and snooty jetsetter socialites and influencers, who are icky enough that you're not supposed to feel too badly about it when one (or more) ends up dead.
This time Joe finds himself caught in what unfolds like a cat-and-mouse game, with a shadowy antagonist who appears to be a step ahead of him, prompting a lot of those rat-a-tat internal monologues for which he's famous. The mystery surrounding that, and the questions of who could be behind those troublesome text messages, unfolds at a nice pace with a Knives Out-ish vibe at first against posh European locales that provoke understandable references to
Downton Abbey.
As with Stranger Things, Netflix recognizes a hit when it sees one, and will try to spread the "You" wealth a little longer by dropping half of the season in February and the balance a month later. Badgley remains superb as the quick-witted psychopath who's a fool (and occasionally a murderer) for love, stumbling from one perilous situation into the next.
Still, the surprise success of You has inevitably fueled pressure to keep the money machine operating – always a challenge with this sort of creative high wire act. You has survived its fourth season, but that rope now looks seriously frayed. And while Joe has managed to buck the odds this long – with reinventions from stalker to new dad to international man of mystery – it feels like time for a heart-to-heart talk with himself about finding a way out of this story while he can.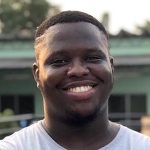 Boluwatife Adesina is a media writer and the helmer of the Downtown Review page. He's probably in a cinema near you.