Invited to a Wedding? Here's Your Lookbook
There are few events we are not only expected to show up to but also show off. A Nigerian wedding
is one. In this part of the world, weddings are some of the most elaborate celebrations in any given calendar year. And here's the secret to why the day is a huge success: as much as the couple look forward to their big day—which they do a lot, especially the bride—the guests do just as much. For well-wishers, it is more than just the party jollof and the variety of other meals on the menu; it is the appearance. Who makes the biggest fashion statement on the day? If you have to be at an owambe, you have to look the part.
Here, we made you a lookbook.
NOT THE GROOM BUT CLOSE
As we all know, men's fashion staple is not as vast as women's. For men, it's either a suit if you are
wearing an English look or a well-tailored agbada if traditional. While the bride might feel some type of way if one of her friends 'outdresses' her, there are not a lot of eyeballs if it involves the groom and his friends. If you're wearing a suit that looks anything like this, there's a strong possibility that you're looking better than the groom. And that's fine.
ROBE IT IN
You're not the only man that will be spotted in an agbada on the big day neither are you the only
woman who will be wearing the aso-ebi, but you can look the chicest. Like Tosin Ogundadegbe and
Chioma Ikokwu, you can do it differently.
ELEGANTLY PRESENT
Picking a wedding-appropriate outfit as a woman can be tricky. You have a lot of options, it could go any way. But you can show up in a really chic outfit like these.
IF IT SWEEPS THE GROUND, IT IS GOOD
The bride is expected to mop the floor with her gown. And even though you are not in competition
with her in any way, shape or form, we can't ignore the fact that overflowing gowns are everything. We promise.
JUMPSUITS − THE THIN LINE BETWEEN CASUAL AND CHIC
Depending on how you style them, jumpsuits are perfect for wedding receptions. For some weddings, you want to tone down your look in moderation to fit in with the theme of the occasion and what is expected of you as a guest. Jumpsuits bridge that gap between "show off" and conservative perfectly. Look at Chioma Akpotha's slay statement, for instance.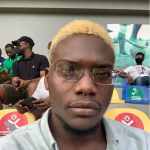 Self-identifies as a middle child between millennials and the gen Z, began writing as a 14 year-old. Born and raised in Lagos where he would go on to obtain a degree in the University of Lagos, he mainly draws inspiration from societal issues and the ills within. His "live and let live" mantra shapes his thought process as he writes about lifestyle from a place of empathy and emotional intelligence. When he is not writing, he is very invested in football and sociopolitical commentary on social media.