Love At An Owambe… Is A Top 2 Must-Have Experiences And It Is Not Number 2
Across traditions and cultures practised by every nation in the world, weddings are not just something to anticipate with bated breath, but also one of the biggest days of our lives—at least for those brave enough to embark on it. Of course, each society approaches it differently. Whether in India, where marriages are arranged and courtship is a myth or in California, where it is possible to be married by literally anyone who can get ordained online for free (or for a small fee), weddings mostly take on a common theme, love. And it doesn't matter if the couple has spoken a word to each other before the big day; guests attend with lofty expectations of romance and so much mushiness it feels like a Bollywood rom-com scene.
In Nigeria, the headquarters of all things enjoyment, the mushy is turned up a thousand notches.
Known for its glitz and glam courtesy of the usually colourful display of opulence through fabric, itinerary and souvenirs, owambe is perhaps the most fun wedding to be at (I am obviously being biased here but if there are any objections, invite me to them, thanks). For guests, in addition to the vast array of food and drink options, capturing moments for the 'gram, the prospect of meeting a potential love interest can be very exciting.
This has fuelled the owambe culture amongst young people over the years as they get glammed like the fairy godmother worked overtime to prepare them for the King's ball. For a long time, owambe was a meeting point for eligible bachelors and spinsters. Yes, married people and children are also
present, but if you are single and ready to mingle, the hall starts to look a lot like the ballroom in Bridgerton.
It makes sense, a wedding is perhaps the most likely place to experience real-life romance, and craving one for yourself is only normal. So people go prepared for the possibility of making their own memories. Nowadays, it has become a natural habitat for Yoruba—for lack of a better word—men (I'm not allowed to say the word "demon" when we make the best partners in the world). Adopting a playboy reputation in pop culture, Yoruba men (let's call them Femi −John Doe for a
roué, so we don't sound tribalistic) are historically known for looking the part.
Usually outspoken and cerebral, well-dressed (frequently in a white agbada), wearing a cologne that smells heavenly, and possessing the oomph that makes them often sought-after. On the other end of the spectrum are playgirls who are either assertive in their manhunt or can do a good job of
steering a man's attention towards them without making a single move. Let's call them Ada (but only because of her alluring qualities and not necessarily because she is a 'wicked' Igbo woman).
Between Femi's charming antics and Ada's flawless posturing, owambe guests often go with similar agendas to find love. For some people, the goal is a 'happily ever after' ending; for others, a temporary connection is the endgame. If you've been in the dating pool for as long as breakups hurt, you can already discern between what you want in your spouse and the deal breakers. However, putting all of that into account on that one night of mushy love and merry is quite difficult. It is almost as though the brain recognises the urge to shoot some extra dose of gooeyness straight to the heart.
And as we must all know by now, the heart doesn't joke around with what it wants. But what do you do when your love interest is off the market? You look for the next aso-ebi to buy because although
you can find love anywhere, even in a hopeless place like Rihanna revealed, an owambe is one of the most exciting places to scour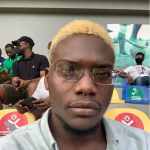 Self-identifies as a middle child between millennials and the gen Z, began writing as a 14 year-old. Born and raised in Lagos where he would go on to obtain a degree in the University of Lagos, he mainly draws inspiration from societal issues and the ills within. His "live and let live" mantra shapes his thought process as he writes about lifestyle from a place of empathy and emotional intelligence. When he is not writing, he is very invested in football and sociopolitical commentary on social media.