Breakfast In Bed, Except It Is Neither Edible Nor Sweet
Understanding The Lagos Dating Scene Just Before Valentine's
If you've been on social media a lot in early February as people anticipate Valentine's day, you would have come across a funny video that was created to mock single people. The lyrics read thus; "About a month ago, I sent you a DM, I shot my shots, and you ignored. Now Valentine's is coming, where is your boyfriend? You are sitting alone… Lonely!"
This is about the time when social media goes crazy and that one video comes back to our timeline. The plot twist is that if you are single, that is the least annoying video you'll see this season. You're going to see a lot of videos that will make you crave love so much that you will chant "God when?" so many times, you might catch a sore throat. But are you ready to explore the Lagos dating scene in a bid to alter your relationship status? Despite having over 20 million in its ridiculously small landmass, residents of the centre of excellence—which is quite notorious for its messy dating scene—struggle to find their desired partner amongst the multitude. In between aggressive swipes on dating apps and strategic positioning on social media platforms—women especially —we are all searching for the same thing; genuine companionship.
You might be daydreaming about how romantic it would be to be served breakfast in bed by your significant other but at some point, in Lagos, you will be forced to come to terms with the simple fact that your best chance of getting served breakfast is if it is the proverbial kind that goes around and leaves you down in the mouth. I can't put my hands on it yet, but there is something about this state that places so much emphasis on the merits of being street-smart that it sometimes creeps up in our everyday interactions. Everyone is trying to pull a fast one on the next person.
You get a feeling that most of the happenings that have led to a regrettable dating experience are a result of a lack of effective communication. If 'boy meets girl' and they state their intentions as clearly as possible, nobody will get hurt, right? One would expect that these are some of the things discussed during the usually lengthy and borderline unnecessary talking stages.
For some, the beauty of romance is in its gore. It is no surprise that 'Yoruba demons' never run out of business despite the god-awful PR they get on social media. Femis are this and Cynthias are that, yet most ofus, despite being very picky, still choose wrongly, and it has nothing to do with gender. In fact, if the account of the level of toxicity that was documented in popular LGBTQIA activist, 'Amara the lesbian's' last relationship is anything to go by, the messy dating scene is not exclusive to just heterosexual couples. This time next week, however, the ones lucky enough to have found 'their own person' will be celebrating the global lover's day together.
For some of us that inspired Akon's 2004 hit song, Lonely, the closest thing to a romantic date we can possibly get is with the man in the mirror, while chanting words of affirmation— "you too are worthy of love." For some of us side chicks, we must know our place to avoid the annual "wife drags mistress by her wig in the shopping mall" gist on Instablog.
For the hopeless romantics, always remember what Rihanna said about finding love in a hopeless place? The God of the eleventh-hour answers prayers; be steadfast. To my real tribe, the ones that have sworn an oath to remain ever faithful to the streets, I want to commend your efforts on being the biggest suppliers of toxins to this Lagos dating pool. Even when we eventually try to cut the number down to one person, our devoted commitment to the principles of polygamy found in the gospel according to Blaqbonez means that from streets we've emerged, and to the streets, we shall return.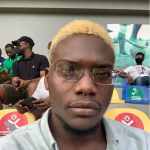 Self-identifies as a middle child between millennials and the gen Z, began writing as a 14 year-old. Born and raised in Lagos where he would go on to obtain a degree in the University of Lagos, he mainly draws inspiration from societal issues and the ills within. His "live and let live" mantra shapes his thought process as he writes about lifestyle from a place of empathy and emotional intelligence. When he is not writing, he is very invested in football and sociopolitical commentary on social media.