Back To School Essentials
The long vacation is over, and a new school year beckons. It is school resumption season, and so for a lot of people, things are going to be a little different. Although it is not the most pleasant news for Lagos commuters who will now have to welcome back their old friend, traffic, for parents and guardians, it's news met with mixed reactions.
Whether your bundle of joy is just starting their school life in daycare and playgroups, or your smarty-pants teenager is resuming the session's first term in a higher grade class, there is a sense of newness that this resumption season holds dearly.
If taking your kids on school shopping is not already a tradition for you, we strongly recommend that you make it one.
Your Back to School Shopping Guide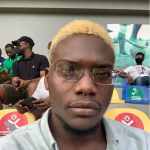 Self-identifies as a middle child between millennials and the gen Z, began writing as a 14 year-old. Born and raised in Lagos where he would go on to obtain a degree in the University of Lagos, he mainly draws inspiration from societal issues and the ills within. His "live and let live" mantra shapes his thought process as he writes about lifestyle from a place of empathy and emotional intelligence. When he is not writing, he is very invested in football and sociopolitical commentary on social media.