Alté Fashion
GEN Z'ERS MISUNDERSTOOD STYLE
If you have never come across the word 'Alté', you are most likely in and around the boomer generation. But don't feel too old; today, we will enlighten you on how to dress the Gen Z way. Before that, however, it will make sense to discuss how this all came about.
According to Urban Dictionary, Alté—short for 'alternative'—often misunderstood as a habit, is a lifestyle. It defines a community of Nigerian youth with a unique sense of fashion and music. Alté fashion embraces a retro and vintage style but is somehow tagged as 'new school.' This style, usually adopted by young creatives, has a mix of edgy elements, such as piercings, baggy pants, dirty sneakers, and so on, in its staple.
A significant example of an alté trend that has gotten mainstream acceptance over the years is fannypacks. The point of alté fashion basically is non-conformism. Gone are the days when you would condemn your favourite sweatshirt because it had holes in it.
Today, you can buy shirts that come with distressed holes in them—the Yeezy sweatshirt collection cost over a million Naira. So as we highlight what they look like, it is important to remember that these styles don't align with
whatever rules of fashion you are aware of consciously or otherwise.
Think of it as Nigeria's Bohemian fashion. Here are some outfits we find interesting.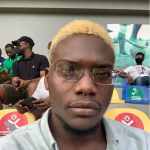 Self-identifies as a middle child between millennials and the gen Z, began writing as a 14 year-old. Born and raised in Lagos where he would go on to obtain a degree in the University of Lagos, he mainly draws inspiration from societal issues and the ills within. His "live and let live" mantra shapes his thought process as he writes about lifestyle from a place of empathy and emotional intelligence. When he is not writing, he is very invested in football and sociopolitical commentary on social media.