Watch Of The Week: Silo
There's a lot that can be said about Silo, Apple TV+'s latest sci-fi series. It's based on Wool, a self-published sci-fi book series by Hugh Howey, who also serves as an executive producer. It's showrun by Graham Yost, best known for the iconic modern Western series Justified. It stars Dune's Rebecca Ferguson, with an all-star ensemble cast. In the Apple TV+ show, the Silo is an underground sanctuary where the population lives under a strict set of rules. Most notably, for Sheriff Holston (David Oyelowo) and his wife Allison (Rashida Jones), all women are implanted with a birth control device, and couples must apply for permission to have it removed and start a family. The Holston family's story takes up the majority of the pilot.
Because of the original story's structure as a series of short stories, episodes feel almost baked into the world of Silo. The pilot is a textbook-great introduction to the world and story, beginning with Holston's downfall and flashing back to how he lost his wife: she witnessed something she shouldn't have and started asking questions. She requests to leave the Silo and, in the final moments of the episode, does something that makes Holston reconsider everything he knows to be true.
There's almost something nostalgic to this show — it's set in a dystopian world where terms like "The Before Times" and "The Founders" are used with a straight face. It's the kind of series that offers a glimpse into a world where there's more to sci-fi than just the four biggest franchises of the time, where original stories are given their due. However, that's a con as much as it is a pro. Because of the old-school story, the pacing is also very old-school.
The pilot is captivating, but we don't really see the main characters of that chapter again, so getting reinvested is often difficult. Especially in the streaming age, keeping the stakes high and the intrigue up is a necessity. Silo is the sci-fi fan's sci-fi show and will probably find its audience among the more hardcore Dune fans (and not just because of the shared star) but it isn't destined to become the next Severance or Stranger Things.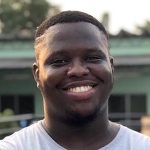 Boluwatife Adesina is a media writer and the helmer of the Downtown Review page. He's probably in a cinema near you.