Watch of the Week: All of Us Are Dead
All Of Us Are Dead is a Korean-language Netflix Original Series written by Chun Sung-il and directed by Lee Jae-kyoo & Kim Nam-Soo. Lee Cheong-san (Yoo Chan-young) and his fellow high school students have their lives upturned when a student presumed to be missing starts acting like a feral animal, contorting herself in unnatural positions and attempting to bite people who come near her. This leads to a zombie outbreak, and as the undead swarm the school, Cheong-san and other students struggle to survive, as terror and paranoia rise and the outside world falls prey to the undead.
The high school setting provides a great place for a horror story. All Of Us Are Dead isn't the first horror series to explore the concept of "high school literally being hell"- fellow Korean horror series Hellbound beat it to the punch. But it does prove that a high school wouldn't be the ideal place to hide in a zombie outbreak. The zombies spread with frightening speed, overwhelming rooms, and confining characters to various rooms.
Speaking of the zombies, they're the most terrifying I've seen in a long time. Instead of the usual rotting, shambling corpses, these zombies possess bloodshot eyes and are able to contort themselves into impossible positions.
They also run at a frightening pace; viewers will lose track of every time the students have to jump, duck and dodge hordes of the undead. It also keeps the horror elements intact; my heart kept leaping in my chest when a student was grabbed by a zombie or a zombie popped snarling into the screen.
All Of Us Are Dead is the best zombie story I've seen in years; it has a cast of compelling characters, a truly frightening set of zombies, and a setting that presents challenge after challenge for its protagonists.
All Of Us Are Dead is currently streaming on Netflix.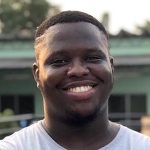 Boluwatife Adesina is a media writer and the helmer of the Downtown Review page. He's probably in a cinema near you.