Their Royal Flyness: 5 Most Stylish Monarchs
A cross the country, traditional rulers have just as much clout as elected officials— or even more. From the typically adorned regalia to beaded loafers and bogus necklaces, some of these monarchs don't only show up to serve their people, but they also show off impeccable style. As the saying goes, heavy is the head that wears the crown; in Nigeria, that crown is sometimes aesthetically perfect.
The Kano EMIRATE
Sanusi Lamido Sanusi – Former Emir of Kano
Sanusi was nominated as Governor of the Central Bank of Nigeria by President Umaru Musa Yar'Adua in 2009. He held the position for five years before controversially emerging as the Emir of Kano in the same year he was relieved of his duties as the CBN Governor. During his six-year reign as the Emir of Kano, Sanusi reinvented himself as a charismatic figure at the crossroads of tradition and modernity. And this was evident in his style.
The Warri KINGDOM
Ogiame Atuwatse III (Omoba Tsola) – Olu of Warri, Olori Ivie Atuwatse III – Olori of Warri
Born Utieyinoritsetsola Emiko, and fondly referred to as Tsola Emiko, the 38-year-old succeeded his uncle as the 21st Olu of Warri. When his coronation made it to social media last August, Nigerians were as cheerful as ever. It felt like the beginning of a new dawn for most Nigerians—and you don't even have to hail from Warri.
Just by being one of the youngest monarchs in the country, Olu of Warri's style is up there with the best. But he also has his wife, Olori Ivie Atuwatse III, to thank for complementing his style so seamlessly.
Born to the illustrious family of late Captain Dr Idahosa Wells Okunbo and Edamwen Evelyn Okunbo, Olori Ivie Atuwatse III (née Okunbo) married the king in 2014. Although she has been the Olori for less than a year, her immaculate style has always been prevalent.
The Oyo EMPIRE
Oba Lamidi Adeyemi III – Alaafin of Oyo
Oba Lamidi Adeyemi was in the game for 52 historical years, by far the longest-serving monarch on this list.
Ikú Bàbá Yèyé, as he was often called, was crowned the Alaafin of Oyo—the title of the emperor of the medieval Oyo empire—in 1970 when he was just 32 years old. The now late Oba was one of the most influential people in Western Nigeria, with his throne regarded as one of the most powerful.
On the fashion front, his inclusion on this list is not questioned. Always seen in his agbada and staff, there is something about his style that corroborates the "ageing like fine wine" theory. His style is aided mainly by his wives as they all wear matching outfits to public appearances. When you have 13 wives, it is almost impossible not to maintain a premium style.
The Adamawa EMIRATE
Musa Halilu-Ahmed – Dujima of Adamawa
Musa Yola, as he's fondly called, is the Dujima of Adamawa State, a highly revered traditional title that dates back to Nigeria's old Borno Empire during the 18th century. Musa Halilu-Ahmed, a brother to the First Lady of Nigeria, Aisha Buhari, was officially conferred and turbaned on March 31, 2018.
The 45-year-old's involvement in politics makes him one of the most influential traditional leaders in the country. His style is equally powerful. Always styled in full regalia and turban showing just his face and hands, the Dujima's style looks like something that should be preserved in the museum. It is very culture-appropriate and fashionable.
The Elegushi KINGDOM
Oba Alayeluwa Saheed Ademola Elegushi, Kusenla III – Elegushi of Ikate – Elegushi, Olori Sekinat and Hadiza Elegushi – Oloris of Elegushi
Oba Saheed Ademola Elegushi is the 21st Elegushi of the Ikate-Elegushi Kingdom. He is a descendant of the Kusenla Ruling House of Ikateland in Lagos State. Oba Elegushi has been in power for 12 years, but before that, he served as the Special Assistant to two Lagos State Governors— Bola Ahmed Tinubu (from 2003 to 2007) and Babatunde Raji Fashola until 2010. In 2010, he was crowned the King of Ikateland, at the age of 34.
Known for his luxurious lifestyle, the 46-year-old monarch understands what it means to be a King in Nigeria's most westernised state. Whether on a golf course in typical fashion wearing a collared t-shirt and a face cap or kicking it with young entertainers in casual 'fits, Oba Elegushi's wardrobe is perhaps the most diverse in Nigeria's monarch history. He wears suits as well.
In Oba Elegushi's kingdom are his two fashion-inclined wives— Olori Sekinat Aramide Elegushi and Olori Hadiza Elegushi. Olori Sekinat, who was the king's University sweetheart as far back as 1999 before becoming his first wife in 2003, has grabbed a lot of media spotlight for her style. Her 45th birthday last November was talk of the town for weeks as celebrities and fellow royals showed up all glammed. If there is anything she does so graciously, it is to lead by example as the king's first lady.
Oba Elegushi's much younger wife, Olori Hadiza, is often described as the 'Olori in the north' or 'Olori two.' She has so far maintained the levelheadedness required to wade through the typical challenges that comes with being taken in as a second wife, and as a result kept a low profile. But her elegance always screams loudly whenever she chooses to make public appearances. She has not only grown in essence but in style, and whenever she steps out with her handsome husband, she does so wearing mouth-gaping ornaments.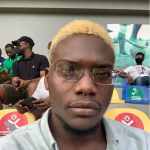 Self-identifies as a middle child between millennials and the gen Z, began writing as a 14 year-old. Born and raised in Lagos where he would go on to obtain a degree in the University of Lagos, he mainly draws inspiration from societal issues and the ills within. His "live and let live" mantra shapes his thought process as he writes about lifestyle from a place of empathy and emotional intelligence. When he is not writing, he is very invested in football and sociopolitical commentary on social media.