The Enchanting World of Shade Okoya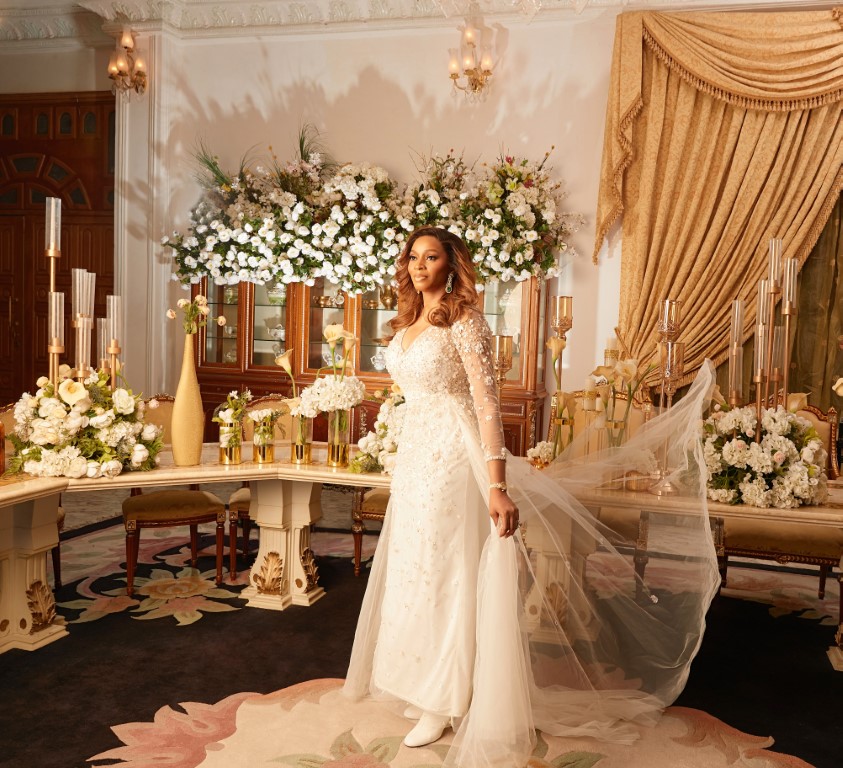 For ages, young women married to wealthy older businessmen were seen as trophy wives but in recent times, more women have shown that they are not just ornaments to be displayed; they too can be astute business leaders. For Folashade Okoya, because she was always business-minded —her plethora of awards for business excellence attest to this— it made her marriage to Industrialist, Cheif Rasaq Akanni Okoya a match made in heaven.
Most young women face a lot of prejudice; having to prove themselves before older, more experienced staff when it comes to running their husband's business, but not Shade Okoya. Armed with grit and under the mentorship of an excellent businessman in her husband, Rasaq Okoya, she has been able to reposition the company into a world-class empire, while gaining the respect of the team, and bringing up her children. But how does she do it without so much as a glisten of sweat on her brow? In this tell-all interview with DOWNTOWN Editor, Onah Nwachukwu, she divulges this and much more.
When it comes down to running her husband's dynasty, the question of respect comes to play. So how did she manage to get the respect of her team? She simply did what any natural leader would; take charge. "By being in a leadership role, planning ahead, analysing the general state of things, and overseeing daily affairs properly," she explained.
Running a business empire is no small feat; it comes with people management, in Okoya's case, over 3,000 people. And for someone who is ever so graceful, you can't help but wonder what her pet peeves are when it comes to working. For Okoya, it's majorly three things in a staff member, "unorganized staff, dirty staff, or staff who lie," she emphasised. You can't blame her, can you? After all, being organised is a much-needed skillset that will help you wade through the ocean of challenges in a working environment, as is being truthful. As such, a solid character is certainly a quality good leaders look out for; and most businessmen or women have a particular character they are recognized for.
While some are more easy-going than others, in Okoya's case, she is very passionate about her work, and she doesn't mince her words, "Apart from my family, my work is my life. I can't have anyone mess around with it." This comes as no surprise considering she comes from a family of hardworking women, and for this Managing Director, it seems that her children are already following in hers and her husband's footsteps. According to her, "All my children work in the factory during their holiday or spare time. They are all following up on the family business line."
Having been brought up by her grandmother, Okoya grew up with some traditional values, one of them being respect. Anyone who knows or has seen her at public events would have observed her humble nature. A trait she was once known to have said 'takes nothing away from you, so why not?' Regardless of her achievements and social status, she does a full curtsy to elder friends of her spouse in public gatherings. In line with this, our conversation toed the line of how the new generation is quite fixated on social media and seems to have lost the kind of values people from previous generations were brought up with.
When asked what she does to keep her daughters grounded, as opposed to being enthralled in the world of social media, her response about the subject is rather impressive, "My girls know what they want and they have their priorities right. God willing I pray all they want they will get in life in abundance. We're very real in my family, and do not get caught up in social media noise." You could say the adage that an apple does not fall far from the tree is true for Shade Okoya and her girls —they all know what they want.
Being married to someone for a little over twenty-four years means you must have built memories with him or her. For some people, it's the many adventures they've had, but for Okoya, it's her family. "Over the years a lot has happened but I'll say the fondest memories involve looking back to how this generous man gave me four wonderful children." And are there lessons this 45-year-old has learnt over those years? "Some lessons I have learnt in my marriage are to be more loving and tolerant. As love conquers all." Indeed it does, but how, you might ask, was she able to seamlessly step into the role of being married to Chief Rasaq Akanni Okoya? Could being raised by her grandmother —meaning she lived and associated mostly with senior citizens— have prepared her for her role as Mrs. Okoya? She clarifies, "Yes, my grandma raised me, but I am just naturally blessed at being able to recognize people's needs and gain attention. You must have a flair for it to be able to do the same." Living with her grandmother must have exposed her —to some degree— to what a relationship should be like with a husband. Although it has been widely said that being disciplined by a husband seems to have it all wish for? —for clarity, being beaten— was commonplace in the past, did that mean tolerating it? Social media was inexistent at the time, and as such, we are unable to ascertain if or how common domestic violence was. However, with the advent of social media, we have now come to see how common it is in Nigeria and the world at large. Okoya shares her opinion on this topic, "Nobody deserves to be in an abusive marriage for the sake of love. Treat yourself better and know you deserve better. Help has to be rendered to such partners before they can be a better person."
The Okoya family is fast-growing, one of their sons recently got married, and the lyrics to the age-old nursery rhyme, Kissing, come to mind: First comes love. Then comes marriage. Then comes baby in a baby carriage. It is safe to say steps one and two, according to the rhyme, have been fulfilled. Following the sequence of the nursery rhyme, the next step for him would be, 'baby in a baby carriage', and the title grandma isn't exactly something you think of when you see Shade Okoya. But she is quite comfortable with it. —That is when the time comes.— While explaining whether she is looking forward to being called grandma, she said, "Yes, family makes me happy. Having my children early didn't limit or stop me from working so I'll be happy to be an early grandma. It will be another of God's wonderful gifts to me. I am always grateful."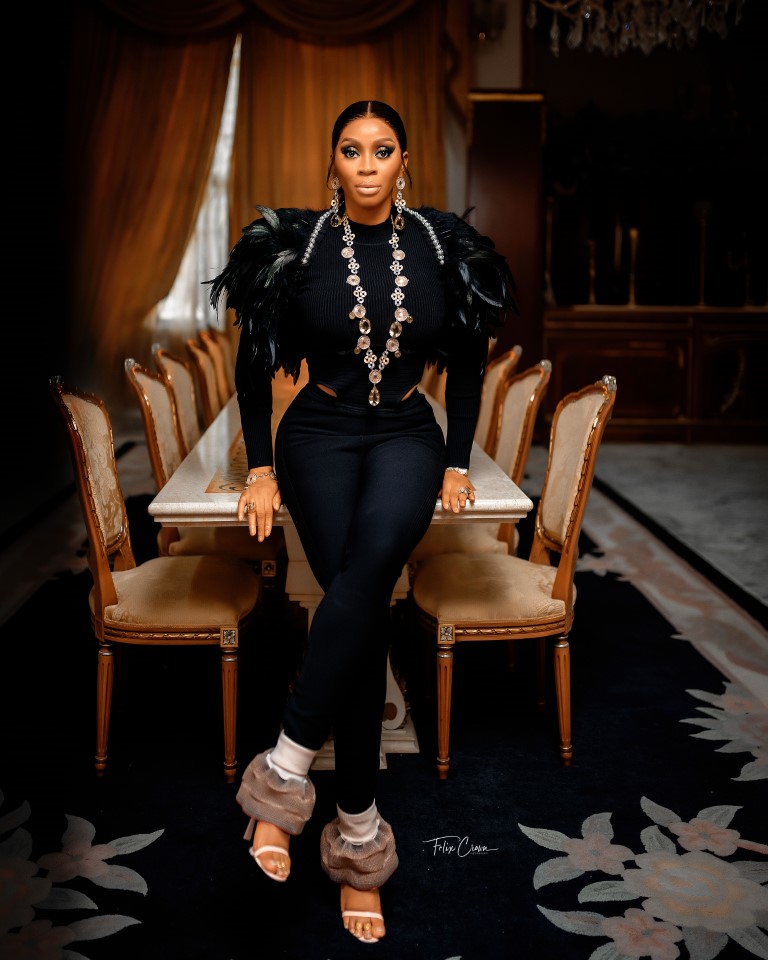 For most grandparents, a child is a blessing regardless of the sex, and seeing as this business mogul seems poised for 'grandmotherhood', naturally the question of whether she would prefer a particular gender over the other for a first grandchild arose. She responded saying, "Not really, I am always open to what comes my way. Any addition is a blessing to me." What a fashionable grandma she would make.
Speaking of fashion, Shade Okoya's fashion sense as we have come to know and love is quite elegant. When it comes to turning heads, she does so without even trying, and for the right reasons too. 'It would be interesting to know what her fashion rules have been from the onset', I thought, and so asking about her earliest fashion rule was inevitable. "I wear only what I am comfortable in, I don't follow fashion to inconvenience myself." It comes as no surprise that someone as fashionable as she is would be a patron of Fashion Designers Association of Nigerian (FADAN). In holding such a position, it is expected that she would know where the Nigerian garment industry's infrastructure needs improvement. "All industries in Nigeria need help with basic infrastructure which is hardly limited to the fashion industry only. Most factories are closing down because of the hardships they endure to continue daily. The fashion industry is one area that is neglected and this industry can make a lot of revenue for the country in terms of importation and the like. Nigerians are highly fashionable, there are lots of upcoming designers and if they get the basic support, it will turn the country around for good." Being one of such many fashionable people in a country like Nigeria with many upcoming designers, and several established ones, the curious case of which is Shade Okoya's favourite Nigerian designer, needed to be settled. She certainly wears Nigerian brands, but which ones? "There are lots of good designers in Nigeria; the list is endless. I am a promoter of made in Nigeria products and talent." It is safe to say that she patronizes a lot of them.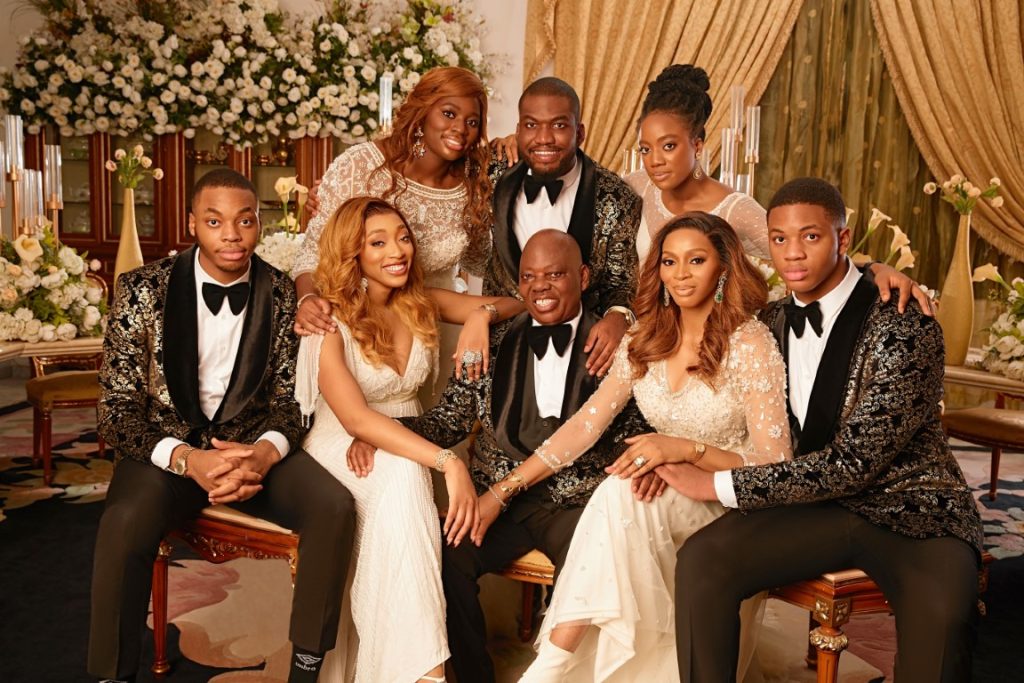 For this relentless businesswoman who also happens to have kept a svelte figure without surgical enhancements, turning fortyfive is a milestone worth celebrating. For many women, attaining that age comes with some changes but for Okoya, "Being 45-years-old doesn't change anything. I'll always be me, I know what I want, and I always go for it. Nothing has changed with me so far." And like everyone else on earth she also has wishes and desires for herself at this phase in her life, which include, "God's abundant blessings and favour. I pray for long life to me. Amen." What more could a woman who seems to have it all wish for?