Simss The DJ
Parties are about the most common ways that we relax. Especially here in Nigeria, with our reputation as the party HQ of the world, nobody does it quite like us. And because a party can't happen without music, the professional DJ industry has become very saturated over the years. This week's DOWNTOWN Sorosoke features one of the leading DJs in Lagos' party scenes. Simi Pwol, popularly known as 'Simss the DJ', shares her story of how she started and has positioned herself as a force to reckon with so far in her career.
How did you get into DJing?
I've always been involved in music even before I ever decided to become a DJ. I was a church girl, and a member of the choir. So when I got into the university of Lagos – because I became a DJ in my first year – I was looking for something else that I could do that was musicrelated and be totally badass at, as well as enjoy. I decided to try production first but it didn't work out because the studio I was going to learn at was very far and I didn't have money at the time, so I stopped going to the studio.
And decided to download Virtual DJ then tried to learn on my own. I found a DJ that helped me along that journey and taught me how to properly DJ. I started DJing basically for my general love of music.
You've been performing at the Block Party series for a while. What was the first ever one like? (Did you find the crowd intimidating?)
Definitely. My first Block Party gig was in February 2019, it was the International Women's Day edition and I was nervous because it was such a big deal for me. I was really excited at the same time. I prepared a set, and I don't always prepare sets, but because it was a block party, I had to prepare a set specially for them. I just concentrated on the music, and not the crowd. I tried not to be nervous and it went well. After that set, when I got off the stage, I had never gotten that kind of attention before. They were people right at the stairs waiting for me saying, "oh my God, your set was so amazing." And there was this other DJ, DJ Jenny Switch, who is another really amazing female DJ. She walked up to me and told me that she heard what I did and she even picked out a part in my set. She said she really liked it and I should keep doing what I'm doing. So the first one was amazing.
There are long spells when there are no events. Have you experienced that? What do you do during those times?
2020 was a very off year for me and a lot of DJs. So during that period when there were no events, I was at home with my family. I was just doing the regular day-to-day activities, chores, and all of that. So there's not much about that, that's what I did [laughs].
Oftentimes we see DJs go ahead to have their own songs featuring musicians. Do you plan on going that route?
Yes, definitely, I do. I even have a list of artists that I would like to feature on my tracks. Right now what I've been doing is dropping my own remixes and mashups but yeah, definitely, I plan on featuring artists. And hopefully, releasing my first single this year. The artists I would like to feature in the future are LADIPOE, Slim Azanti, Crayon, Tems, and possibly Tiwa Savage because I'm a big fan of her music.
Do you have a personal hype person you work with? If not, who's the favourite to have on your set?
I do have a hypeman that I work with. He's on my team, he's also my manager. His name is Dafe 'The Party Boy of Lagos.' But like whenever I don't go to gigs with him or whenever the shows we're going to already have their hypemen, my favourite hypemen to have on my set are Tolu Daniels and Livewire. I've been working with them since 2019 when I started doing the Block Party and they are just amazing, their energy is crazy.
What's an average day in the life of Simss?
Honestly, I wouldn't even say I have an average day because every week, month, or even day differs. But typically, I just run a lot of errands that have to do with work. When I get up in the morning, I just shower and I head out, run my errands. And when I'm done with that, when I get back home, I just watch Netflix. Netflix is my therapy for all of the stress that Lagos brings up to me daily. And that answers the question of how I relax. I watch a lot of Netflix. It has helped me through the tough times in my life.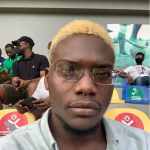 Self-identifies as a middle child between millennials and the gen Z, began writing as a 14 year-old. Born and raised in Lagos where he would go on to obtain a degree in the University of Lagos, he mainly draws inspiration from societal issues and the ills within. His "live and let live" mantra shapes his thought process as he writes about lifestyle from a place of empathy and emotional intelligence. When he is not writing, he is very invested in football and sociopolitical commentary on social media.