Sexual Exploration: Four Men Share Reasons Why They Would Do Certain Things In Bed With Their Girlfriends But Not With The Missus
Indifference to sexual exploration has been one of the major issues in marriages nowadays, and it has led many people to explore new sexual experiences outside their relationships. Many men find it difficult to communicate their sexual needs and desire with their wife, which may lead them to seek those experiences and adventure with their girlfriends. Due to this inability to communicate their feelings, they have anal sex, spank, and do all sorts of things with their girlfriends but won't do it with their wives even though she, too, might want it.
When it comes to sexual exploration, it is crucial to have open and honest communication with your partner. Even if she is indifferent, trying to understand her perspective and working together to find a solution that works for both of you is essential. You both can start by exploring small changes or trying new things in a low-pressure environment and build up to more significant sexual exploration over time.
So we interviewed four Men in their late forties and early fifties and asked them to explain why they would do certain things with their girlfriends but won't do it with their wives. Even though they chose to be anonymous, their responses were intriguing and honest, and they served as an eye-opener for women to see why their men cheat on them.
Here's what they had to say.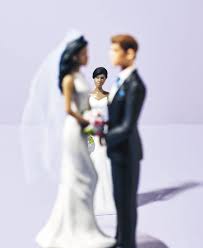 Men in their 40s
"It depends on the individual. I'm liberal, so there's nothing my wife and I don't do. For some men, if their wife goes all wild, they ask where she learnt it. They do just missionary position. We at mine try all sorts. As I said, I'm a liberal, and it depends on the man."
"My wife is quite inexperienced, so I don't try. I could position her in a certain way, and she says, "what are you doing?" It's not a case of her being treated as holy it's dependent on the person in question."
"There's a certain entitlement that comes with a wife…respect. When dating, you can do crazy stuff, but it's different when you are married. If you decide to have sex on a balcony, you wouldn't want anyone, much more your friends seeing your wife's naked body if you get caught, but with a girlfriend, it's different."
Men in their 50s
"The simple answer is: There's nothing I'd do with my girlfriend that I wouldn't do with my wife."
Dorcas Akintoye is a dedicated writer with more than 2 years prolific experience in writing articles ranging from food, entertainment, fashion and beauty. She has a National Diploma in Mass Communication from Kwara State Polytechnic, Ilorin. She loves writing, listening to music and playing scrabble. She is a highly-skilled, enthusiastic, selfmotivated professional writer.