RUN YOUR RACE: 7 Steps To Help You Prepare For The Next Marathon
A marathon may seem like an intimidating and exhausting endeavour. Still, with proper planning and preparation, you can make it through the 26.2 miles and be proud of your amazing accomplishment. Aside from the obvious financial benefits of the prizes attached to running a marathon, there is an equally great sense of fulfilment that comes with planning a course and seeing it through. Follow these seven steps.
Find The Right Training Plan
Finding a training plan that considers your background and experience is recommended. This type of plan builds you up slowly and carefully to meet the demands you will face on race day. You can't start running the whole distance right out of the gate, so it's crucial to find a plan that helps you gradually build up your mileage and endurance while incorporating enough rest to prevent overuse injuries.
Fueling And Recovery
You'll undoubtedly be hungry after all that running, but eating the right foods at the correct times can help you fuel and recover during training. There is a small window of up to 30 minutes after a hard training run when the body can best replenish and utilise the carbohydrates and protein used during exercise. Experts recommend consuming foods with a 3-to-1 protein-to-carbohydrate ratio. You can also refuel using protein shakes or chocolate milk.
Make sure to do post-run stretching, and use ice or cold water dips to alleviate inflammation and ease sore and damaged muscles. Heat and a foam roller are excellent ways to soothe sore muscles.
Goal Setting
For novice marathon runners, simply finishing the event is a huge accomplishment. It is recommended that newbie marathoners focus more on finishing the race and having a good experience rather than trying to run too hard.
Mental Preparation
Your mindset and confidence level during training can influence your performance and outlook on race day. A great way to prepare mentally is to have good results in your more challenging training runs and tune-up races. This way, you build confidence, which is a crucial element of mental preparation.
A great way to prepare is to study the course before the event, either using maps or going to see the course in person. This way, there will be no surprises when you run the race.
Adequate mental preparation can help to instil confidence, which will help runners relax more before and during the race. The body can do amazing things, especially when we are mentally prepared and willing to dig deep to achieve a goal.
Get The Right Equipment
When choosing a shoe, runners should find a comfortable, light, flexible pair. Go to a local running or sporting goods store and try several pairs. Some specialised stores will let you run in the shoes and give you helpful feedback to choose the right pair.
It's also important to get high-quality socks that are both comfortable and protective.
Applying a thin layer of Aquaphor or Vaseline on the feet is recommended to prevent blisters.
What To Eat Before The Race
Many athletes think that carbo-loading the night before a big race is the best strategy, but Loftus suggests consuming carbohydrates such as rice or pasta at lunch instead and having a smaller dinner. This has the advantage of lightening the load on your GI tract and making it easier to sleep.
It's important to consume your food at the right time, on race day, to allow your body enough time to digest. Also, bring fuel sources you can grab during the race.
Understand it Will be Hard, But You Can Do it
Committing to a training plan and following through with the demanding workouts is hugely challenging. But once you have made it and you line up at the start line, certain parts of the race can prove more difficult than others.
Every race can unfold differently because of terrain, weather and the runner's conditioning. For someone well prepared, the marathon usually gets more challenging in the later stages, the last 6 to 8 miles. That is when the muscles can be nearing the effective end of their stored energy and the first time the new marathoner is going into unknown territory in terms of time or distance.
Most runners can usually rally towards the end of the race when they can see the finish line.
Towards the end, runners may feel overcome with emotions as they will experience a feeling of elation mixed with the emotions of all the highs and lows they have gone through during the 26.2 miles.
These strategies can help anyone cross the finish line at their very first marathon. Remember to start slow and steady, and don't get discouraged. Support and encouragement from friends and family can also help to boost morale and keep you going throughout the process. So enlist a cheering section, lace up your shoes, and get out there and run!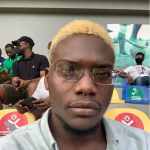 Self-identifies as a middle child between millennials and the gen Z, began writing as a 14 year-old. Born and raised in Lagos where he would go on to obtain a degree in the University of Lagos, he mainly draws inspiration from societal issues and the ills within. His "live and let live" mantra shapes his thought process as he writes about lifestyle from a place of empathy and emotional intelligence. When he is not writing, he is very invested in football and sociopolitical commentary on social media.