FIT for VAL: Beginning Your Weight Loss Journey Before The Valentine's Day
Valentine's day is a week away, and the country, especially Lagos, is bound to be busy as restaurants will be fully booked. For most couples, the day of love is a perfect excuse to make time amidst busy schedules for a good old-fashioned dinner date at an exotic restaurant. However, there is a tiny bit of an issue to resolve: do you still fit in that lovely bodycon dress? Is your protruding stomach now too big to button up your designer shirt?
People strive to lose weight for myriad reasons, and many fall into the fad diet trap promising real results fast. While there are certainly ways to accelerate your weight loss efforts, it's important to understand that shedding pounds too quickly can actually backfire. Like so many parts of life, safe, successful and sustainable weight loss is more about the journey and less about a scale-based destination and rapidly approaching deadline. So instead of actively trying to "lose weight" before Valentine's Day, see it as a motivation to get started on your fitness journey. We spoke to fitness guru, Maje Ayida to guide you on the best ways to start—and keep it off.
• Implement Long-Term Lifestyle and Behavior Changes
When trying to lose weight, ban the word "diet." Dieting can be unpleasant and make you hungry, so you constantly think about food, which is precisely what you don't want when trying to lose weight. Instead, think of weight loss as a part of getting healthier and concentrating on taking care of your body first.
Weight loss is complicated, and you don't have total control over the number on the scale, but you do have control over what you eat, how much you move and other factors that impact weight, such as stress and sleep.
• Focus on the First 5% to 10%
Instead of saying, "I need to lose 25 pounds," and overwhelming yourself with what seems like an impossible goal, look toward the health benefits that can come from even modest weight loss. Set smaller, achievable targets.
• What You Eat
Reduce Your Intake of Ultra-Processed Carbs and Sweets, Eat More Plants, Pump Up Your Protein, and Eat a Well-rounded Breakfast
• As multiple studies reveal, what you eat is most important for weight loss. The pounds will come off more quickly if you improve the quality of the foods you ingest.
• Research shows a plant-based diet promotes weight loss and is easier to stick to than a lowcalorie diet. Plus, it's nutrient dense and has numerous health benefits.
• Increasing your protein consumption can help reduce appetite and help prevent the loss of muscle mass.
• Breakfast skippers, listen up. Skimming on morning fuel is not the way to go if you're trying to lose weight. In fact, studies consistently show skipping breakfast is associated with being overweight and obese.
• Drink More Water
Research shows drinking more water is associated with weight loss independent of diet and exercise. Water is also necessary for lipolysis, the body's process of burning fat for energy. Ample water intake can help increase satiety and combat sugar cravings.
• Stand Up and Move More
One of the easiest ways to shed weight is to up your non-exercise activity thermogenesis (NEAT)—the energy expended for everything you do outside of eating, sleeping or exercising. Little changes like carrying your groceries instead of pushing a cart, parking farther away from the entrance to the mall, taking the stairs instead of the elevator or even tapping your toe can lead to hundreds of extra calories burned.
Or try to stand more than you sit. Studies show that simply replacing sitting with standing leads to greater daily energy expenditure, directly translating into more calories burned and, ultimately, pounds shed.
• Don't Go Overboard
Cutting calories too drastically or working out 24/7 may backfire when it comes to weight loss. Most people think shedding pounds requires draconian measures to get results but allowing yourself adequate recovery time is more productive.
• Watch Less Television, Get More Sleep
Couch surfers wanting to lose weight should turn off the TV—in fact, the more television people watch, the more weight they gain.
Getting a good night's sleep is one of the best things you can do to maintain a healthy weight and overall health. Studies show that poor sleep is associated with weight gain and other health disorders.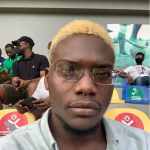 Self-identifies as a middle child between millennials and the gen Z, began writing as a 14 year-old. Born and raised in Lagos where he would go on to obtain a degree in the University of Lagos, he mainly draws inspiration from societal issues and the ills within. His "live and let live" mantra shapes his thought process as he writes about lifestyle from a place of empathy and emotional intelligence. When he is not writing, he is very invested in football and sociopolitical commentary on social media.