ROTIMI AMAECHI: On Family, Going back to School & Making Hit Music
Chibuike Rotimi Amaechi (born 27 May 1965) is a Nigerian politician who has served as Minister of Transportation in the cabinet of President Muhammadu Buhari since their party, the All Progressives Congress, APC, won a shocking victory in 2015.
Fondly called by names like 'The Lion' or 'MOT' (coined from Minister of Transport) by his friends and political allies, the politician had previously served in oil-rich Rivers State as Governor of Rivers State from 2007 to 2015 and Speaker of the Rivers State House of Assembly from 1999 to 2007.
Married to Judith and blessed with three sons, he reiterates that there's not much to know about him that isn't already in the public space.
In this midnight chat with one of Nigeria's most visible politicians, the DOWNTOWN duo of Austyn Ogannah, Publisher & Editor-in-Chief, and Latasha Ngwube, Editor, we try to excavate a little more than what is publicly known about Mr Amaechi. Transcription was done by Kehinde Fagbule.
---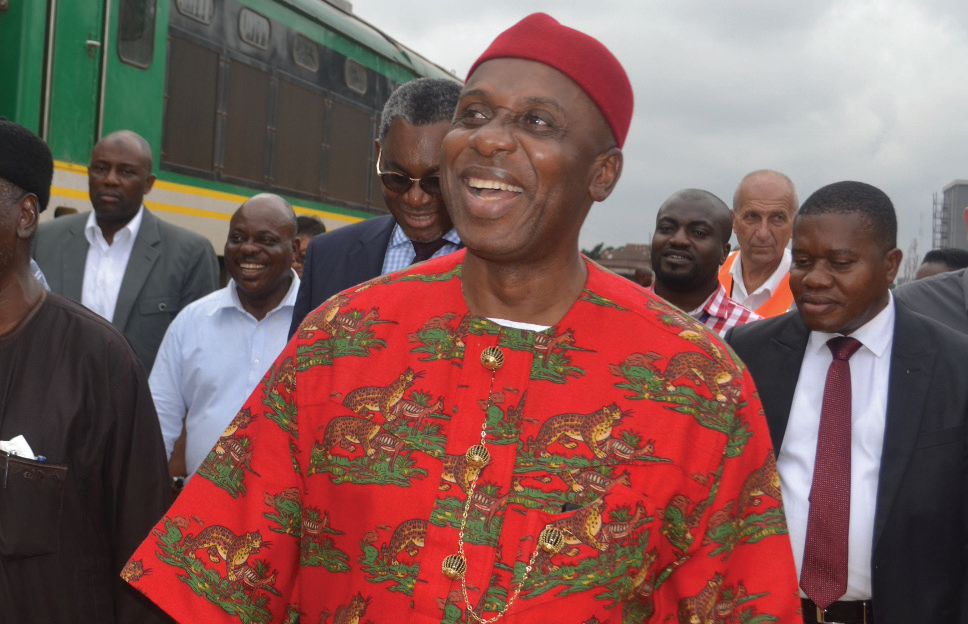 Congratulations on your 56th birthday. With every year comes a new goal to be better than the last or to consolidate on the things that you've started already in the previous year. What is your 56th bringing to you in terms of clarity for your position right now?
Shouldn't you be thinking that I should be retiring? Shouldn't you be thinking that Nigeria has actually used me very well?
I think that you'll be in a better position to determine if you should retire or not…
My political mantra has always been not to stress about what will happen tomorrow and let the future be decided by God and not the society so that we don't risk the mistake of carrying more than what we can manage. So I leave that completely to God. However, the usual thing is once I get an assignment, either by the people or by God, I get immersed into that assignment to ensure that it's properly delivered to the satisfaction of those who pay my salary and those who gave me the assignment.
In November last year, campaign posters of you running for president with Governor El-Rufai as your vice were visibly positioned…
I wonder where those people who printed these posters got money from, but they must have enough money to waste that they can just go about printing posters.
So you have no ambitions for elected office?
Can I finish what I'm doing now? How do you know that the president will not just wake up one morning and announce there's a new Minister of Transportation?
He'll probably move you to another office.
What if he doesn't need me at all?
…But you've not been invisible since you stepped into the arena so it's highly unlikely that you'd just disappear into thin air.
Well, you used the right phrase "invincible" and that means that sometimes I'm powerless.
No, I meant "invisible" and not "invincible"
Not only am I powerless, I'm also sometimes helpless and most times you think it is invincibility, it is more out of the grace of Almighty God.
Do you think that you are sometimes misunderstood?
Oh plenty of times. It happens all the time.
But why do you think that is? There's never any smoke without fire.
If I have anything on my mind, I say it. For me to say my mind, it had to mean that I'm telling the truth. I have to convince myself that I'm not lying to myself. If I do that, I'm not bothered about any of that. So I don't have to go and lie and lie just because I want to please you. This is so I can tell myself that the God who created me is satisfied and that what I just said now is the honest truth.
What's an average day like for you?
It's bad. Very bad. For the past 2 days now I've been sleeping in public functions. I've just been battling and managing. In fact, between the 25th/26th night, I was driving in the evening back to my house, I was sleeping as I was driving…
So you drive yourself?
Yes, I do. I've driven myself all my life. At least 95% of my life. I was driving from Gwarinpa to the house and it was like war. I was sleeping as I was driving. As soon as I got home, I crashed.
Yesterday, there was a function here. It was a debate and a discussion between many, I believe, university students and policymakers. How did that come about?
It was my wife that was there. I wasn't there. I thought that because we lost the Chief of Army staff, we should not have a public function. Her argument was that it was organised for children and the Chief would've allowed it if he were alive. I understood it differently and I affirmed that children or no children, it is important to honour a man who had died for the service of the nation.
On a scale of 1-10, how would you assess how you fared in office as a Governor and Minister?
They are two different offices. You can't compare them.
They are both executive roles…
One was chief executive.
So how would you rate your assessment of your office now as a minister?
You're repeating the same question. I'm not in the position to do that. There's a saying in my village that goes thus: the dancer does not see his back, it is the spectators who see it.
This is your 6th year as Transportation Minister…
It is going to be 7th in a few months, if I remain in office
Is there a hint of a cabinet reshuffle?
There's no hint at all. However, the president could just make a decision and it's final.
Are there clouds of uncertainty?
There is none, but what I always do in public office is prepare for the next day because the next day you might no longer be in office. If you go to my office, you won't see any of my personal items.
But how can you function effectively that way if you're always thinking about yourself in transit?
That is the more reason why you have to conclude what you have to do so by the time they announce you have to go, you know that it is over. However, if you continue to wait and not complete your assignments, you could stay 8 years and not have any achievements.
Now that you've really invested in the rails and maritime construction, how do you think this will change the trajectory tomorrow considering Nigerians today still don't have jobs in an economy that's struggling?
What we're doing so far is a step in the right direction. What you can say is that the speed at which we're doing it is slow, therefore, we need to do more to stretch the economy to accommodate the public the way you described. So while I will tell you that the railway was out of the president's agenda, what the rich men do to cause more unemployment is heartless and annoys me very badly. So when you go to the port sector, you see a huge number of rich men who are defrauding people, the nation and the transport sector; I really need to do something about that.
Why do people think you have a vendetta against Hadiza Bala Usman? Why do people think it is personal?
Why would it be personal? I'm surprised that I'm hearing it for the first time.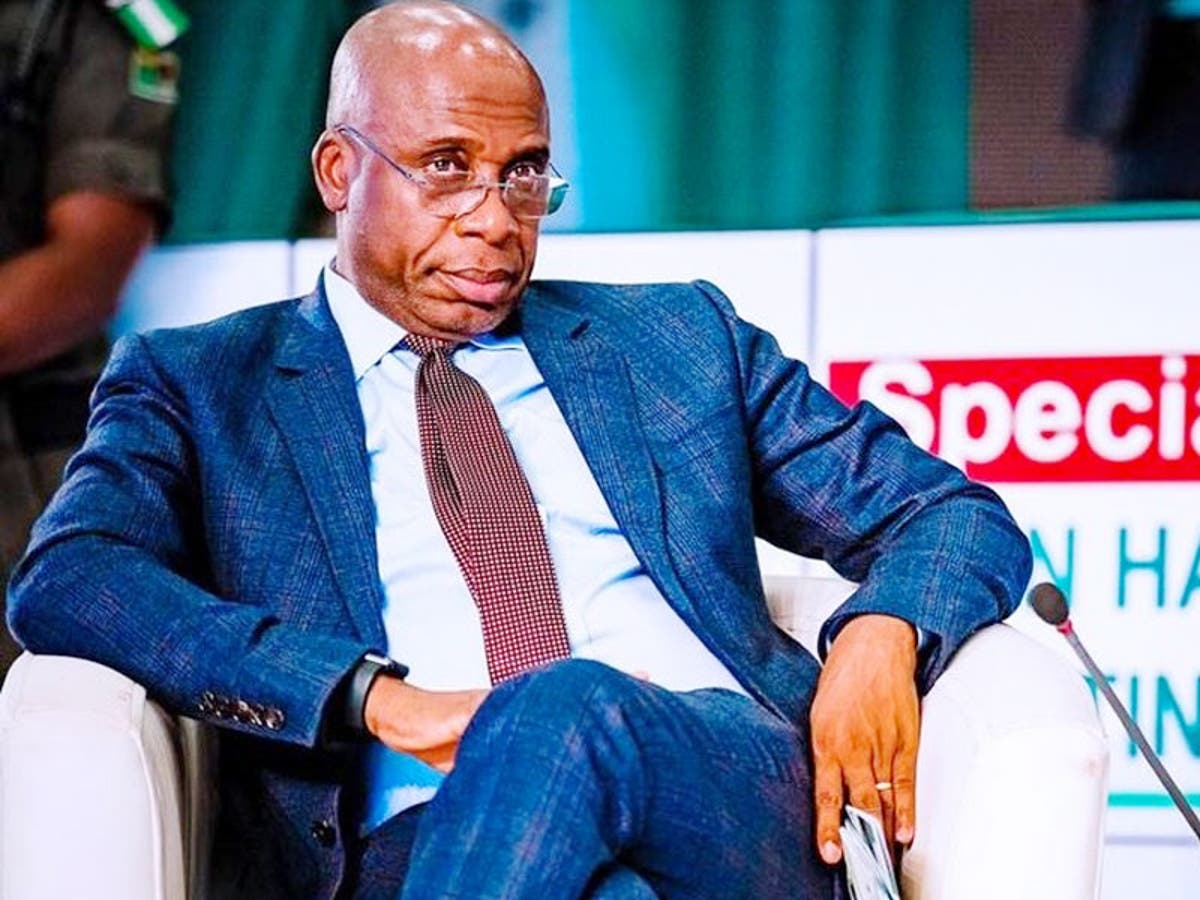 But that's the word on the streets
Too bad, just because I'm not allowed to speak. I'm wondering why I even answered that first question because as a public officer, you're only accountable to the people and not the pressmen. If you draw your comparison between people saying that and those not saying it, those who are not saying it are more in number. So you don't go to field and entertain the other people. However, why would I want to hunt Hadiza? I nominated her in 2015… However, that's not the issue. The issue is that for 4 to 5 years that Hadiza has been the managing director of the NPA, I don't know what's going on; I needed to know what was going on and I sought the approval of the president to allow me veto what was going on.
And you looked into what was going on?
I've not.
But you've suspended her?
No, I just said, "Mr President, give me approval to set up an administrative panel of inquiry to investigate the activities of the Nigerian Ports Authority. Two, direct me to request the managing director to step aside". That is not the same thing as suspending her. "Three, direct me to ask the ED finance to act in her place pending the outcome of the investigation". All we want is to have access to documents and indeed such investigations are easy. Income and expenditure.
The income of NPA cannot be hidden because bank statements are there. Expenditure and expenses cannot be hidden as well. If it is hidden, the difference between what you see and what you don't see is what you have to account for. It is such an easy thing and it won't last, it won't take too long for them to finish; that's one. Then you look at the procedure, we didn't know what was happening. We need to know whether in contracting, they followed all the procedures.
But is this standard procedure for any parastatal to which you want to look into? What you've asked the president for permission to do? Is this how you normally tackle other parastatals?
If you want to. It depends on the parastatal and the head of the parastatal. The fact that we went to the President was because he needed to ask his appointee, who is the managing director, to step aside so we can have easy access to the documents. Where you think that the appointee would not interfere with the document, then you don't necessarily need to ask them to step aside. It just depends on what is going on.
Where does terrible traffic, (as mundane as it sounds), rank in terms of priority for you, as Minister of Transport.
No, it's not part of our responsibilities. It's a state responsibility. We just make policies that concern the roads like, "okay, maybe we need to create bicycle lanes".
We had a really interesting chat with the Minister of State for Labor and Employment and he broke down the duties of his ministry which was quite enlightening. Would you perhaps help me break down for the layman what exactly the Ministry of Transportation does and covers and how it's supposed to help the life of the average Nigerian?
It is not as easy as you just talked about the Ministry of Labour. The reason it is not as easy is it depends on the timing. When I was appointed as the Minister for transportation, aviation was under me, so safety of aircrafts and terminals to the operations were my responsibilities. At that same time, we were serving the maritime too. Trying to mirror the same procedure as authorities such as NIMASA. We monitor activities at the NPA too and make sure it goes smoothly. Then you come to the land transportation we deal with the establishment of the architecture like the construction, not just the operation of railways for instance. Now we want to see how much franchise we can give out so that the users can operate because globally, with the railway, constructions are meant for the government after which we can hope that before the end of construction, we are able to get operators who would seek franchises. So that's really what we do. With the road architecture, we have a small department that also makes regulations that we share in form of Federal Highway Acts.
There's this thing that you say all the time, I've seen a couple of your interviews on LinkedIn and on TV where you say you don't like money. What do you mean by that?
Money has an issue. Okay, what's my taste? Let's go to my taste buds. I don't drink or smoke. I don't go to parties, so where do you spend the money?
Isn't that a little too easy to say when you're in that position as opposed to the average Nigerian? Which average Nigerian would say "What are my needs?" Needs are many.
I get this a lot. The question they ask is "Why do you say you don't like money?" You don't like money because what people spend money on is not my choice so money will not influence my decision. I won't ask the contractor to give me a bribe because I have to solve some problems, and I continue to give people an example. I could as well have taken the 15 million we're using to build the university of Daura. It is not part of the contract, don't forget. There's nowhere in the contract that says the contractor will build this university. The person in charge is my friend, if I ask for money there, I'm sure he will give me more than 10 million dollars as Minister for Transport. They're building this university in Daura for 15 million dollars. Another university is being built in my village. Most Nigerians don't think along those lines when they ask the question "Have you delivered the investment?" Which investment? If I check the contract paper, there's nowhere it says the contractor will build the university or the Minister of transport will do it. It's like what I went to do in Kano: I went to inspect an inland airport. I asked the guy when it would be finished and he said in two months' time. I told him I wouldn't be there to commission the project in two months except he builds a primary school for me because there's no contribution to the community. When we got there, children were chasing us around. It means that the children were not in school. So I told him that I needed some of the children to be in school and that he must guarantee that he built a primary school and the school would be run by him free of charge for these children. If not, I won't commission it. Then he said okay, I should assure him that the port will be a destination point and I said yes, we will make it a destination point but he must build the primary school and he agreed.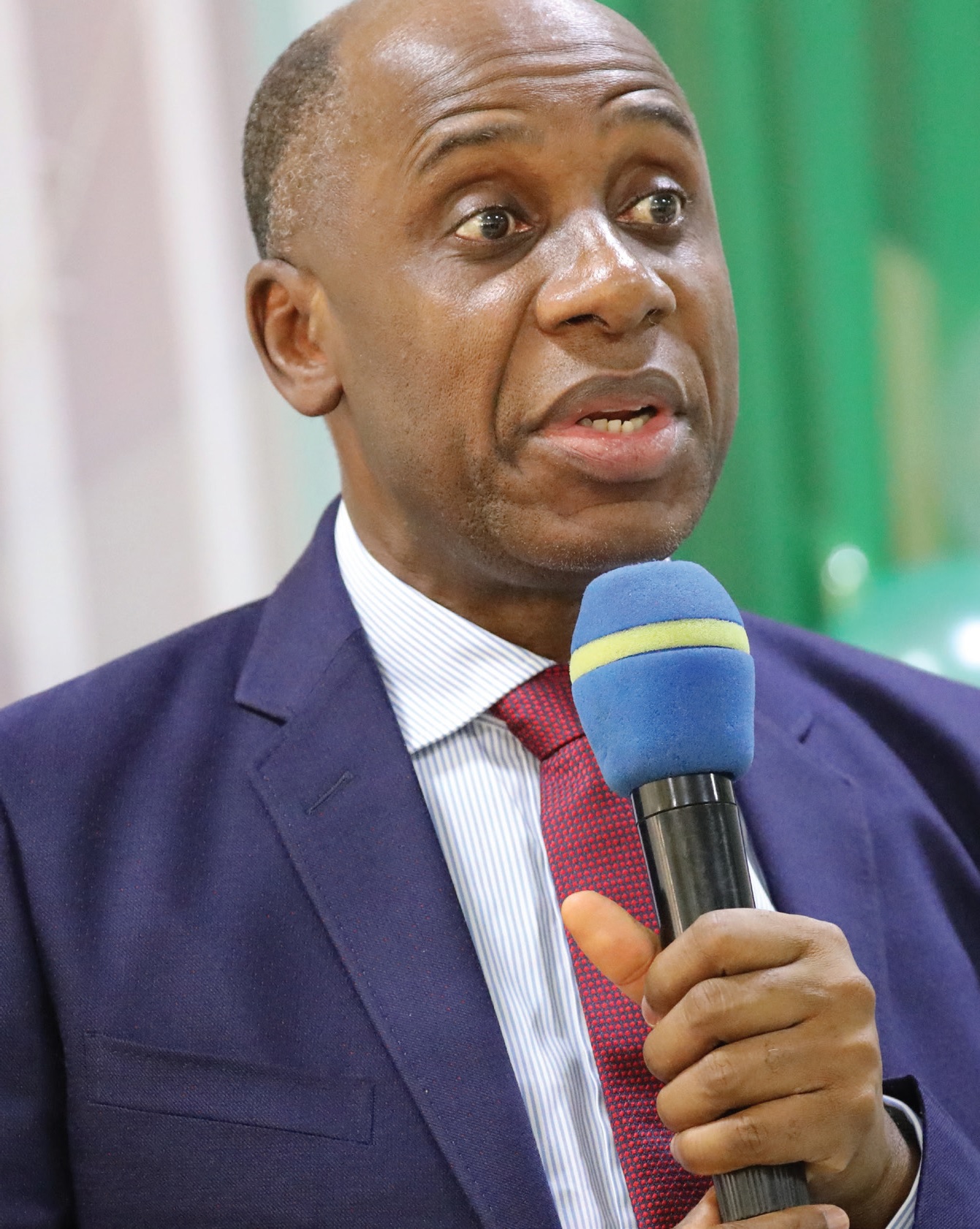 Education is that important to you?
That's the most important after God. If I didn't go to school, you wouldn't be interviewing me. Firstly, the means of communication won't be this sound. Secondly, I may not know what to do with power. Also, I went to a public school. I don't know if the figures have changed but Nigeria has the highest number of out-of-school children in the world at 10 million and it's an upward trajectory. It might get to 15 million. It is embarrassing and disgraceful. So I want as many kids back in school as possible. After that deal, I kicked myself for not knowing sooner to include building primary schools as criteria for other contractors who have been working with us in the past.
Let's go to the insecurities in the land. I know it's not really your field…
If you know it's not my field then why are you going to it?
I mean it still affects transportation…
Don't forget that I don't run transportation.
When two or three are gathered today, there's one thing for sure that they talk about, it is insecurity in the land; and as a member of the federal cabinet, I don't think it will be out of place to speak and comment on what's really going on and how we can fix the problem because I think it is a problem we have to solve collectively.
Well, the Minister for Defence and Minister for Internal Affairs would be the best people and in the best position to respond to that because they will be able to tell you where the problems are, how they're trying to solve it and what their challenges are. I can only join you to complain as there is a security council which I'm not a member of.
Tell me about your relationship with Mrs. Amaechi. Is she your best friend?
I don't have any other friends except my wife.
Why is that?
What I have as friends are social friends and political friends. These are not all-round friends. My wife is.
How long have you known each other?
How many years now have we been married to each other? We dated for two years before getting married and we got married when she was 22 years old. She's 50-something now so it's been a while.
How did you meet each other?
I think we met at a friend's marriage. She was the chief bridesmaid.
Were you one of the groomsmen?
No no, I was just amongst the cheerleaders *laughs*
So what attracted you to her?
My wife, she's a pretty woman. The first thing that attracts you to a woman is not how well she speaks or how sound you believe she is. The first thing that attracts a man to a woman is her beauty. The rest comes as you start asking for a relationship. I met her and we decided to have a chat. Now, here we are today. Four children for her, three children for me, a wife, and a mother.
What do you mean four-three?
Three boys plus me, four *laughs*
We had a conversation with your wife tonight and from our conversation, I was able to pick up on the fact that you read a lot. What do you read and when do you find time to read?
You read as you go. If you're on the plane or on the train. Except you're driving and that's the downside of driving yourself because if you aren't driving yourself, you can then be reading. Right now I'm still battling with sleep. However, if I sleep and wake up, I pray and then read.
Would you consider yourself a core traditional family man?
If I say so, my wife will disagree. Work comes first because I believe my wife is always there to take care of the family and she's run the family successfully. I feel like if I abandon my work and focus on the family then you (Nigeria) wouldn't be coming first, I will be coming first. So we have it decentralised; I take my own, she takes her own; except when she needs the authority of the man, then my wife will say "At this point, we need to assert your authority as the head of the family. If not, where there are no such things, all they do is pick up the phone and text to check up…
Is that what you call her? Babes?
I call my wife "Babes". Then when I text or call, each of them will tell me what challenges they're facing; especially now that they're out of school. There's not a lot because they have a father and a mother who can come out and say "Okay, instead of you dying of poverty, here is my money. However, when we were growing up, we didn't have enough resources to do that. Now, you have God and your parents but beyond resources and having to guide the children on what to do and how to do it so that they will not turn out to be bad children, the rest, my wife does. I think my wife paid the fees of our children or 80% of the fees because I had to focus on my seat.
How do you relax?
Difficult. That's why I'll be among those who will go for early retirement. We simply can't. The only way we can relax is when we're out of public office then people would leave you alone.
And even then, you think they will?
At that point, you have to migrate to the Lord. They won't let you.
Let's talk about this new gospel single you released today…
It's actually a responsorial psalm of the day of my birthday. In the Catholic Church there are readings for each day to be chanted or sung as you please. The recording that went viral was actually a private choir from my church that came to do house for a ministration and we fellowshipped together on the occasion of my birthday. I didn't write a record or hire a producer or anything like that, no I'm not transitioning into a musician, I was just as surprised when I started getting messages from so many excited people from all over- including my own father-in-law! I guess people just tend to hype up whatever it is I do.
Do you thrive on being controversial?
I've never been controversial. What Nigerians refer to as controversy is when you say the truth and stand by it. Nigerians don't really understand or believe in the truth and once I'm convinced that this is the truth, you really have to do a lot to prove that it is not. If it is not, I quickly withdraw and join you to say yes, you are right.
What is the thing you think would surprise people the most to learn about you?
I'm one of the most misunderstood persons on earth and I'm busy a lot. Because people, when they get to meet you, the way they want to sacrifice their lives for you, it makes me happy. I have a friend of mine who told me "My mother doesn't like you." To which I asked why? He replied, "My mother thinks you are too brutal to Jonathan and he's from South-South like you." I said well, I don't play politics. I go for what I think is the right thing to do for the country, but I need to see your mother. We scheduled to meet. We had two meetings and on both occasions, she cooked for me to eat. Because I'm a very carefree person, I eat anywhere there is available food. She was expecting one big Amaechi and here's a guy who pops in with no siren, no security. She asked who was at the door and I replied "Hi ma, I was told I have an appointment with you. Is the food ready?" Then we had lunch and we had gist. By the second visit, she was asking her son "Are you sure this is Amaechi the Minister?"
The proprietor of Baze University was speaking to me the other day saying "You baffle me. The fact that you can drive into Baze University at 9am and close at 6pm because of your studies". I go to school and Ms. Tosin Oke punishes me for carrying my phone in the class and orders me to stand up for 5 minutes which I adhered to without complaining to the school authorities because the moment you got admission into the university, you've moved from being a minister to being a student and a teacher has the right to punish you if you break the rules; that time I was breaking the rule so she exercised her authority.
When did this happen and what are you studying?
2019. I'm studying Law. How many people can do that? It's not even about the studying, it's the fact that you go to class. Most ministers won't go to class and sit in class. It is compulsory that you write the Continuous Assessments and the Exams but it is not compulsory that I must come to class. I go to school every day when there's a class. On days that I can't meet up with the class, I call the teachers and explain why I can't and get excused. It does not only baffle the proprietor of the school, but it also baffles my teachers and I'm told by my friends in school that they use it as a yardstick that if I can do it, anybody can do it. It is full-time study as I go from 9am till 6pm and then I have to come back to the office by 6pm to work till 10pm because I really have to cover the period that I was absent for. So you see why I'm struggling to stay awake.
A lot of people that I told I was coming to interview you kept saying you're so funny…
They also think so in my class because even when I'm answering questions, I answer them in such a way that even the teacher will be laughing. I have two teachers who called me "Old man" and I tell them as a joke "When this old man was born on children's day, clearly this old man knows that he would be taught by children." The teachers ended up laughing.
You have quite a reputation amongst young people, especially of the millennials age bracket. Why do you think you're so impactful on young people when they meet you?
Because if you meet me you will go back to my history. My history was I didn't have rich parents so you can't say "Oh this house was already there for him" absolutely not; and that's what I tell my children that "This house is not yours, we will sell it before we die so don't bother. So better begin to plan how to build your own." I'm not from money, you have to really work hard, and that's why my son said "Being a medical doctor is not enough, so I have to add more jobs or quit medicine and look for other means that I can get more money to build a house for myself." So when those children come there and see the kind of life you have lived and how much discipline you have and your passion for the country, you want to live that kind of life. Secondly is that you give them opportunities when they come. When I got Adebola Williams to manage the public relations part of our campaign, I didn't consider how young he was and I gave him the money to get the assignment done and that gave him exposure, so he then went on to Ghana to do great things. I don't care if you're male or female or you're from Lagos or the South or from Kano, what is important is that you're a human being and a Nigerian and you have a capacity to do that. Even if you don't have the capacity, you can work towards attaining that capacity. I tell people I don't give money because I don't have but I create opportunities for as many people as I meet. Imagine the number of children that were trained by the Rivers State government when I was a governor. Imagine the number of children that are being trained now by the Ministry of Transport. Now, CCECC is training about 300 children in China free of charge for four years. Just like we trained thousands when I was a governor. So when you get to the airport and you see a young man or woman greet you and you ask "Who are you?" and they reply "Oh my name is XYZ, I was among those scholars you sent overseas", it makes me happy.
Speaking of Rivers State, how often do you go back?
I don't because it puts me off.
What's your relationship like with Governor Wike these days?
When I was a governor, I built primary schools and secondary schools. I was constructing a university. Electricity. We had farms. There was a hotel in the farm for people who would want to come and rest there, there were hostels for the farmers. There was a banana farm. Then we have a governor who's only interested in building bridges and road, nothing more. So where is our money going to? And they believe we won't ask that question, we will ask. The only reason why we're not asking now is because people will say "Oh you've governed for 8 years, allow the governor to govern for 8 years." It is not by abusing people and shouting down at people and thinking you can intimidate them from asking questions. It is not about accusing people of corruption thinking you can intimidate me. I hardly get intimidated. So there's nothing personal between Governor Wike and myself. I respect him as the governor of Rivers State. Nobody has any choice but to know that he's the governor of Rivers State. However, we have to identify where our funds are going. Where they go to, I don't know. People are crying to me that things have worsened since the time I left office as the governor. When we see that the crime rate has worsened, it is because of poverty so you deploy resources. Award more contracts, pay contractors who in turn will go pay their workers, their workers will go to the market and market women will sell and so on. It is a multiplier effect.
How do you feel about the allegations being levelled against your wife?
Oh please! We filed the petition with the IG and then we were told to proceed with libel. However, we won't reply to him (Jackson Udeh) anymore. We'll wait for the state to proceed. He's a ridiculous person who doesn't care and just wants to mar someone else's reputation.
Let's take it back to your early days of activism. Can you tell us how it all came about? Your journey.
It is a long journey, a long story that started out of the struggle to fight poverty. I was unemployed before and after my NYSC. You know the feeling when you finish with your national service and what was staring you in the face was unemployment. So I took interest in politics and here we are. Probably if I had gotten employed – I went for an audition interview as a broadcaster at a few TV stations including the NTA and they came back to say no vacancy – it would've been difficult getting into politics.
What do you think it would take to bring about change in Nigeria?
Currently, there's a movement towards change. The first thing that you would see is if you say corruption has not been eliminated, it is a used tactic. Don't forget that before Buhari's government came, corruption wasn't the problem. You'll be leaving and you'll see a governor waiting for money that they're bringing to him. In fact, governors don't even care. It's no longer the same as at now. I hope you know the policies against corruption. One is that if your gateman sees you carrying money, he can blow his whistle and he'll get 5%.
How would you like to be remembered?
As Chibuike Rotimi Amaechi.
Who did what? Or didn't do what?
See, that's a lazy man's way of asking and I'll tell you why. If I tell you I want to be remembered as Chibuike Rotimi Amaechi then you have the link to begin to search. After which you get the information that he was a Speaker. "What did he do as a Speaker?" That will lead you to what he did as a Speaker and the controversy surrounding his becoming a Governor. Then you now go on to ask "What did he do as a Governor?" By the time you finish studying that, you will see that it will take you to how he ended up being a Minister. Then you'll now know what he did as a Minister. So when you ask me what did I want to be remembered for, then I've already answered the question for you. If you did that research, you would know that there were roads that were built in Port Harcourt, that it was when I became governor that we started having the expansion of roads in Port Harcourt. We had narrow roads, people were scared of taking people's houses down to expand roads
Let's talk about the All Progressives Congress. I know the role you've played in the party over the years. The party currently has a caretaker committee that is led by the Yobe State Governor. We've had postponements of your Congress, when is this going to actually happen?
I don't know, you have to be a member of the caretaker committee to answer that question. I'm a member of the party, I don't dabble into all that.
You're one of the leaders of the party.
No no, I'm just a member of the party. For that one, I have a card so there's no question asked. However, I think there must be a reason why they're postponing. I've not asked because I'm busy with the railways. Buni is a disciplined governor.
What is the ethos of the APC?
Come, we are running for power. If we win, you join *laughs* How many Nigerians actually join a political party for its ideologies? In the UK and US, you'll see people who are in the party because of the ideologies. People just join these parties in Nigeria because they're a pathway to power and not because of any ideology. Like I said, I joined politics because of unemployment. Nigerians don't want to hear it, they keep telling me to stop saying that and I said "Should I lie?" With Nigerians, it is more about the winning parties, not about the ethos. However, do we intend to make changes? I think we've made a lot of changes as a party. Nigerians may not appreciate it now but in the nearest future, they will know.
But why do Nigerians have the overriding sentiment there? That unhappiness with APC
It is bound to happen. However, when you say Nigerians, it is not all Nigerians. I went to Kano today and I saw a crowd. If we are so disliked, we won't be winning elections. However, why do the elites complain? That's a better way to put the question. They complain because you and I know the truth: the economy has been run as a chop-I-chop kind of economy. In this economy, a governor dips hands into public funds and gifts a friend $100 million. The friend gives his mother out of it, his mother gives her tailor, the tailor buys gives his pharmacist and so on, nobody bothers to ask where the money is from. They just praise the governor as generous, whereas it is a Commonwealth fund. With our government, the governor can't access that fund, so he wouldn't have been able to gift his friend that huge sum and that spirals down to the bottom, causing a strict cash flow. That then looks like a poverty economy. The President came in and said no, why are we importing rice when we can make it ourselves. Now we're growing rice locally. Why are we importing meat? When we can actually take a cow and grow the cow in Nigeria. We could have ranches. Of course, the president will be "unpopular" in the eyes of the elites until we're able to turn the economy from where it is to a productive economy. It's not going to be an easy thing. You have to, first of all, change the psyche of the Nigerian elites to move from quick money syndrome to working. Why are our elite not into agriculture? Because it doesn't produce quick money. The gestation period is a bit long, so you harvest it in the next one to three years unlike going to the governor's office and carting away with our resources which is a now now now thing. So it's not that Nigerians don't like us, it's that majority of the elites complain.
You've been very quiet, considering that there've been a lot of debates and talks about constitutional reviews. I'd like to know your take on resource control, power devolution, and all those other issues that are really heating up the politics. Because it is very unlike you not to have said anything on record.
Is there anything new you want me to say? Haven't I made any comment about all these things you're saying now? It is the dance of a mad man to continue to repeat what you have talked about before. I'm saying I'm tired. When I was a governor, we tried to do it, it didn't work. This state police debate, I was on top as chairman of the Nigerian Governors Forum. We did all we could and it didn't come to fruition.
So what frustrated it then?
I don't know. All I know is that I don't want to talk again because I've spoken about it, I've acted on it, I've been at the forefront and by then, E.K. Clark was quite close to President Jonathan and we were pushing President Goodluck Jonathan to do something about it. So E.K. Clark was in a position to make those changes and it was for 6 years. Constitutional review shouldn't take up to a year, so if we pushed when Clark was in power and we were not successful, his speaking now won't change anything.
A lot of things have changed now. I was in an interview with Sowore some 7-8 years ago and they were more interested in seeing dollars in my pocket than what I said that time. I was in America, so of course, I had dollars on me. I remember saying if we continue the way we were going, the first thing that would occur is that the rich men's children will protest against the system. The police would be sent out to go after them and because they are rich men's children, they will be afraid to die and they will run into the house. Once they run into the house, the ordinary Nigerians, the poor man's children will come out and chase both the rich and the police away.
I remember as a student when went to the streets to protest against bad governance and politics in the 80s and 90s under the military governments.
That was NANS, right?
Yeah NANS.
But NANS is so weak today.
There's no NANS. Don't say it's a disappointment. I am so angry because you have to have a tool with which you check the excesses of the government. It goes to show how bad the morals of the society has gone. We were so dogged back then we couldn't be bought. Nowadays, you see a NANS president with a convoy and complimentary cards. Who bought him those cards? There were about four factions of NANS presidency. There was something we called "WIN", Women in Nigeria. They were people who knew what the struggle was about, how to limit the excesses of the government and the excesses of the middle-class. When a government is doing well, they work with that government to reach the larger society. You had it in journalists. Nobody can deny that the Nigerian journalists have been very active and played a prominent role in the liberation of Nigeria. There was no Jackson Udeh then to blackmail you *laughs*.
It still boils down to the fact that our universities are no longer making leaders for tomorrow.
No, not just about leaders. Nigerian universities as it is now cannot produce qualified graduates. Try to interview a Nigerian graduate in recent times and you will get up and walk away. How many of them read? I don't read my texts because if you see the kind of texts they send to you, even if you had the opportunity of creating employment for them, you won't want to create it and it's a bit embarrassing. I don't know what the problem is, whether it's the government not providing quality infrastructures in place to aid the learning process or the lecturers not putting their best efforts anymore perhaps they have their focus elsewhere. Whatever it is, I need to say that government needs to put more money into education.
What's your favourite Nigerian attire?
Always the Rivers dress.
Are you an Igbo man by any stretch?
Should that be a question you want me to answer? I'm just a Nigerian. I'm a Nigerian, I don't like to be identified as a Hausa man or Yoruba man or Igbo man or Fulani man, I want to be identified as a Nigerian because I will treat you as a Nigerian, I won't treat you as an Igbo man, neither will I treat you as an Itsekiri man. That's why you see amongst my friends, we have Yorubas, Hausas, Fulanis, Igbos, everybody and they're given fair opportunities. See the appointments we made in the Ministry.
Are you being political in answering these questions?
I don't even know how to play that politics, I'm just being as frank as possible that I won't judge you by where you come from, so don't ask me the question of where I come from, ask me the question of what will be my contribution, how will I treat other Nigerians. So I go for merit. Also, most of these people are people I've dealt with. I may have made mistakes in the way I judged them, but I judge you based on the fact that you're a Nigerian and you love Nigeria; you're passionate about the country, you want to contribute to the progress of the country, but most of these people have made their own contributions to the progress of Nigeria.
Where did Rotimi come from?
Unimportant. Because the name you bear is a dictatorship of your parents. We were not asked "Young man, what name do you want to bear"
Is it Olurotimi?
Oluwadurotimi
So what's your Rivers name?
Chibuike
Chibuike is an Igbo name though!
I don't know what you mean by that when I say I was named Chibuike by a Rivers man.
Okay, did you have a Yoruba mother?
I thought I told you that names are the dictatorship of a parent. I will show you where my father was buried so you can wake him up and ask him.
Did you ever ask him why?
Why should I?
Just out of curiosity
Why should I be curious when I know that I didn't have the right to contribute to naming.
You seem to have a lot of disdain for the elites.
I do
Why is that?
Because look at the way they've run the country. Or are you assuming that the country began with President Buhari?
No, I'm not
Exactly! There was a period that oil was sold at 110-120 Naira, what did we do with the money? You people were clapping for the government at the time.
But you were part of that government and also in the same political party.
I'll start by saying, the monkeys in my village, when you're felling the trees for you to be able to plant and reproduce, he's jumping about celebrating the felling of the trees, but at night, that's his bedroom. That's when he realises that he has no place to sleep. The same thing with Nigerians who don't realise that when those moneys were being shared, that was our Commonwealth that we've stocked. Now as soon as the money is consumed, everyone is complaining. To answer your question about what I did despite being a part of the government. If you've been to Rivers State, the acknowledgments that they gave to me. Don't forget I told you I'm not a governor who just built roads, I built about 4-5 flyovers, and I built the flyovers because of traffic, I didn't build them for fun. I built monorails which they eventually abandoned. I built primary schools in literally every village in Rivers State. I provided first-class infrastructures. I employed teachers, 13,200 of them. Because I went to schools and I saw that most secondary schools have just 2 teachers. With power, we built 190 megawatts of power; we completed the one that Odili started. We invested heavily in power only for it to be abandoned by the next government who had zero plans for power. To tackle unemployment, we went with agriculture. What did we do? We decided to create different farming communities. So in a community, we were going to build primary and secondary schools there, accommodations for those who would live there and go ahead to give each of them 10 acres of banana farmland. Everything was in place including the budget to start. This current government came and chased everything and everyone away. Chased away the Mexican who was using his own money to start the banana farm, despite our contributions. Today, the place is dead. As at the time we were leaving, they were beginning to generate their own money to pay their own salaries first. We built health centres; over 150 of them in nearly every village and each health centre had a quota for nurses and doctors. We built secondary health facilities, so there was a dental centre with over 20-seats. We paid the doctors' bills diligently. It was so efficient that people were coming from Akwa Ibom, Aba, Owerri for free medical treatment. Our secondary schools started with analogue learning and a few weeks after, morphed into digital as we handed out tablets. I have met 3 families who withdrew their children from the UK to enroll them in our schools. The project was managed by Indians. So tell me, what could we have done that we didn't do?
By speaking against the ills?
Unless you were born today. That's one of the greatest dislikes. That's what you mean by controversy because I stood out to call thieves "thieves." That's the first line you get: Amaechi speaks his mind, too brash.
Me, at that age, papers were covering what I said. Don't forget that I was the chairman of Nigeria's Governor's Forum. Whenever there was a meeting, Nigerians knew there was a Governor's meeting going on. We criticised the government with the way they spent our excess loan account. Ngozi accused us of saying they should share the money. That's not correct. Ngozi lied to the nation. What we said was that anytime we attended a meeting, they would tell us they've taken $1 billion and we'll ask "How can you be taking a billion dollars from the money that belongs to everyone?" Next meeting again, they will say they've taken another billion dollars. We spoke, we criticised.
But there's this notion that the same thing is happening in your party today but the difference is that it's an in-house thing, it's being hidden by those that are doing it and they're not flaunting it like they did under Jonathan.
Then I'm happy you said they're not flaunting it. I'm not saying they're not doing it. However, if they're doing it like you said – because I don't think we can eradicate corruption in one day – but at least there's a movement towards change. Now, if you say under the previous government, they were flaunting it. Nowadays, it is done with respect and fear. It slowed down the construction of houses in Abuja. Before, what used to happen was that as you are leaving government, you offload what you bought or the things you built to the incoming government, then the incoming government would have stolen their own money and buy those properties and launder it when they're leaving. However, when we came in, you saw there was a huge lull. People couldn't build in Abuja, they're scared that Buhari will arrest them. So like I've said, it's the elites that would criticise us and you can't fight corruption in that manner and be popular with the elites.
Things are changing. It may not be at the pace everybody wants it to, but everybody must be ready to make more sacrifices because we have to move this economy from that rent economy to a productive economy. We must focus on agriculture, power, logistics which is transportation, and public housing because it is that public housing that would create employment. Things that could create employment; that's the sacrifices we have to make. Things will improve over time.
Thank you for your time Honourable Minister. It will be great to do this again sometime before the end of this government.
Thank you too.