Oddbod & The City: Unlearning & Growing
Sex, Love and Goop
A good friend put me on to this series, an easily consumed 6-episode affair on Netflix. It really should be something that could be completed in an afternoon, but I found the content constantly needed further rumination. I kept having to come back to it after I had taken time to digest and assimilate what I had seen and learned—these days I am practising the habit of sitting in my feelings. An exercise my avoidant self is finding all kinds of uncomfortable. So, I would watch a couple of episodes and have to really sit with the emotions it triggered before watching anything else.
Gwyneth Paltrow—actress, the producer, Goop founder, and polarising celebrity. I was shook to find out that I may be the only person in my friends circle to be proper obsessed with her. Goop, her "wellness company" has its trials and tribulations. Some love it for its alternative advice, but others (deservedly so) criticise it for its promotion of unsound and sometimes unsafe alternative wellness treatments—many of which are blooming expensive.
With this project though, she knocks it out the park, by treating the project with care and respect. Love her or hate her, this docuseries really was a necessary public service. The show stars several couples from different walks of life and in different stages of their relationship and chronicles their journeys with different types of relationship and intimacy practitioners.
Enlightenment, breakthroughs, tears, laughter, hope, and orgasms. With work, consistency, and education anybody can be taught to break cultural shackles and have a wonderful, satisfying, spiritual, and frankly earthshattering sexual relationship with themselves and with others. Sign me up!!!
The series has some genuinely moving moments and I of course found myself crying like a baby on several occasions and despairing that one does not have access to the California-based practitioners. I have told everyone I know, married, single, or otherwise engaged to watch, and now in the spirit of completeness, I am telling you!
I Wish I Knew This Earlier Lessons on Love – Toni Tone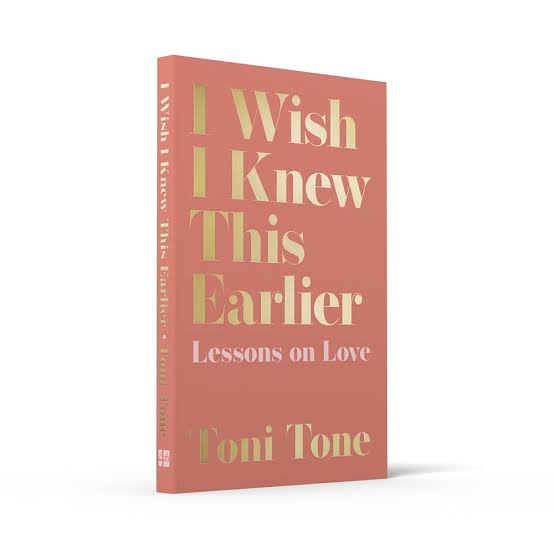 The author of this book nailed it with the title—the whole time I was reading it, I was snapping my fingers and thinking, "I wish somebody had told me this earlier in my life. It would have saved me a whole lot of wahala." Almost every scenario she outlined directly correlated with a past experience I could relate to, sometimes the relationship in question was a non-romantic friendship or with a family member.
There is nothing new under the sun. For me, here is a perfect example of how there are genuinely more things in this human experience that unite us than those that separate us. The book reads like getting sound advice from a big sister (that's what I said. I don't need any smarty pants reminding me that I am actually older than the author, right! Good).
There are three main sections that you can read in any order depending on what feels more relevant to you. Are you dating? In a committed relationship? Getting over heartbreak? It's all covered. The book expands on the value of trusting your intuition, having the courage to tackle difficult conversations, and taking responsibility for your choices and actions.
Most importantly, and my biggest takeaway was that you must take the time to understand yourself. Know what you want, be bold enough to ask for it, be smart enough to cherish it and be brave enough to walk away when it isn't right.
Its alternate title really should be Adulting 101: Relationships. Period.
Odunayo Ogunbiyi is an ex pharmacist with a passion for food and pampering. Writing about her exploits wherever in the world she may find herself is just her way of staying sane in this zany world.