Nigeria's Fashion Independence: Ade Bakare And Paolo Sisiano Axplain How The Industry Has Come Of Age
Sixty-one years since we reclaimed full control of our governance, land, and its resources, a particular sector has seen perhaps the most evolution of all sectors. Nigeria, a country filled with several wealthy cultures, has since the colonial days, fed on the crumbs of western fashion. The story is different nowadays as we have finally come to terms with the fact that we can't keep running from our indigenous arts and fashion. A feat that we have been able to achieve thanks to the amazing fashion designers who have chosen to bring their craft back home.
To celebrate Nigeria's independence, the DOWNTOWN trio of Onah Nwachukwu, Editor, Kehindé Fagbule, and Tilewa Kazeem, writers, spent the morning with two designers cut across different generations: the Legendary Ade Bakare, and from a younger generation, Paolo Sisiano. Both could be said to be among those responsible for gradually pulling the country out of the colonial shadow we've been under for ages past.
What's the story behind your tattoo? Why 'always'?
Paolo Sisiano: It's my favourite word because it's a conviction to self and the path that I've chosen and just know you'd always be there for yourself. Through tough times I'll always be there to pull myself out of the rubble.
Let's journey back to baby Sisiano before fashion and before dance. Why did your mum call you 'fantasy boy'?
PS: I am the third child of five to a single mother. As a kid, I was very jovial and I was known for breathing life into every room in my home. I dreamed while I was awake and my mum called me a fantasy boy because it seemed like I was always overreaching. I wanted to do everything. Singing, acting, and all that. And it seemed that way thanks to my mum. Growing up, my mind was unrestricted and it had no boundaries. It was like a horse allowed to run free across acres of even grass. As long as you could dream about it, you could do it. Taking that mindset into school I want to do those things. I started off singing but my voice broke at some point. After that acting caught my eye and I started going for auditions.
And how did that turn out for you?
PS: Not so good actually. I went for two auditions for two reality shows at the time and they said I was too young for the role they needed. I was 17​-​years​-​old for the first one and 18 for the second. I was told to return when I was a year older and I remember leaving the venue in Ikeja and taking a bike to see a friend at his church's dance rehearsals and I found dance. I asked the instructor if I could try and she said ok and that was it. The rehearsals went on for four months and we got absorbed into the Spirit Of Life Gospel Dance Group. Apparently, at the time, they were a big deal and I was oblivious of that. Fast forward to the next year we'd started training and around that time I had just gone for another audition having told myself I'd focus squarely on dance if I didn't get the role. Within the timeframe of getting told to 'try again next year', I was selected to perform the opening number of Celebrity Takes Two in 2009. After the show, I just gave up on acting and turned to dance. Through that, I performed on a plethora of reality shows. I was on Maltina DanceHall as an instructor. With that, I got into stage acting for Bolanle Austen-Peters Production and I'm still a resident choreographer there as well.
Where did the fashion come from?
PS: A friend of mine Kemi said to me ' What happens when you break your leg? What would you do then? You need to look for something else' I hadn't really thought about it but her statement made me ponder on what next. In addition, I was ​​beginning to outgrow the income of dancing. I started drawing sketches and the fact that I was already designing costumes for dancers helped.​ So branching out wasn't entirely a hassle. I made designs but no one really saw them until one Sunday. I had a few friends over Bayo Oke-Lawal of Orange Culture being one of them and they stumbled on my envelope of designs and they urged me to start and I said I'd think about it.
A few days later, I made a collection and shot the lookbook. I applied for the Young Designers Program under Lagos Fashion Week and that was 8 years ago.
The design direction of the Sisiano Brand is unlike anything that came before it. Why free-flowing clothes?
PS: In all honesty, I just wanted to make beautiful clothes. I find that in my designs I tap from the different things that I'm doing unconsciously. Initially, I just wanted to create clothes for a clean modern woman because growing up my mum was very fashionable even till today. She had pieces you wouldn't see elsewhere. The way she blends other pieces together as well spoke to her impeccable style. Seeing that, I just wanted to create pieces that you could pick up and make as interesting as possible. Eventually, I found I was tying into movement. It didn't come as dance but as movement. I would listen to the whooshing of the breeze and I'll paint the movement of that or drawing inspiration from the subtle breeze on a flower was the part of the idea. Dance was the most movement I've had to do in my life so mixing movement and dance is a reflection of what Sisiano is. Now I'm conscious that I'm really about the movement. It might seem like it's about free fitted clothing but it's not really that it's about movement. There's no limitation to dance, that's why there are many forms in dance. If I want to make tightly fitted clothes it would be to study movement. When I look at my clothes I'm glad they are a reflection of who I am.
Elucidating on textiles, as a Nigerian designer, how do you feel seeing our cultural fabrics and textiles strutting across international runways? And how does it strengthen our voice in fashion?
PS: Personally, I don't think we ever lost our voice as to who we are. Our biggest problem as an industry(fashion) which I'm guilty of as well is we always seek validation from the international space and it's like they're telling us what it should and shouldn't be and the rest of us have to listen. When I started fashion it was all about press. I wanted to get into Vogue and GQ. But as I rose through the ranks it became evident that it wasn't about any of those things. It's about sales and recognition for your work which begins with you. The attention is nice but right now the international scene is looking to take from other cultures as it has always been. So I don't mind it and I don't get carried away, I just mind my business.
However, as an industry, I am happy that we are now aware of who we are. There are so many designers in Nigeria. I said to a friend the other day, we give you the headache of having to decide what to choose. Going overseas, you'd see that there's not much but here you have a variety from different angles. People are minding their work and it's a beauty to watch. We are trying everything to push our narrative which I believe would take us to wherever we need to be.
Apparently, Paolo Sisiano also paints. How do you have all the best gifts?
PS: *laughs* I come from a family of artists. My older brother paints. One of my sister's knits, the other one does everything I do better and my younger brother draws. We all just learn different ways to express ourselves and all kudos to my mum.
I was already drawing and painting before I started dancing. Learning dance was another way to express myself. Fashion was another place I could channel my energy​ as well. In my family, it's not a big deal if you can draw because everyone can draw. It was just me adding more knowledge because no knowledge is wasted. That's why I do all the things that I do. Theatre, choreography, painting, and fashion are me keeping stock of things that can be of use to me.
Of all the Nigerian fabrics you've worked with as a designer which have you had the most fun with?
PS: I work with a lot of crepe fabric. I also started dying myself because at the time I would've liked to print my own fabric when I started but I couldn't afford to. Now I get fabric printed and sent in via people who hand dye silk. I am also falling in love with cotton because I have done a lot with crepe. I know what to expect in terms of movement.
As a designer how grateful are you that everything you need can be found in your country?
PS: I love Nigeria because it pushes you to thrive. We have things that are limited but we learn as Nigerians to make it work. When you go hunting for fabric in Lagos, you often don't get a lot but as designers, we make a lot from that little. The system pushes us to work more. It's not the best way to teach but it gets the job done. It teaches us to think out of the box and create something stunning. It also teaches you what you can do with limited resources that way when there is an abundance of resources you do more.
Coming from a different era in fashion do you look back to past eras to get a piece of inspiration?
PS: When it comes to design I don't reference back. I have had conversations with people asking me why I don't. It doesn't suit me. I keep to myself and I don't follow trends. If I'm looking back at anything it would be my past catalogues. By the time I was in my second year I was referencing my first year and by the time I was designing my 5th year I had 4 years to look back on. My archives are my inspiration and that's how I do it.
Congratulations on celebrating 30 years in the industry. How would you reckon Nigerian fashion has evolved from that point?
Ade Bakare: When I studied fashion then, Nigeria was very focused on things being done abroad and I think that had a lot to do with quality because during the oil boom in the 80s, there was a lot of wealth in Nigeria, so a lot of people used to go abroad and buy things. Then, there was a focus on what they used to call "ready-made" which basically meant clothes that were well made, and they would go abroad and buy a lot of that. So I sort of witnessed the tail end of that.
Tell us about your journey back home. At what point did you decide you had to return?
AB: There was a time I stopped designing because I then wanted to be more in Paris, so I went there looking to work for a powerful fashion house to no success. I also travelled to other top countries of the world and met the same outcome. By that time, Google was already around and all the couture houses gave the same response: "We've just googled you and saw that you've been around doing your business. Why do you want to work for us? Are you a spy or something?" *laughs*. So I went back to England and that was when I started coming to Nigeria to do shows. Before you know it, I got sucked into the Nigerian system and opened a shop here.
You were then the official designer for the ex-first lady, late Stella Obasanjo. Was she the one who brought you back here?
AB: She didn't bring me back fully but the role introduced me to the market here because she introduced me to a lot of people and clients, and I kept on going back and forth having to deliver to them and then back to England with my business still running over there.
I started selling from my first collection because it (the clothes) was well made. It wasn't until the recession started in England when problems started settling in that I switched from ready-to-wear to couture. When I started couture, Dele Momodu (for Ovation magazine) wrote a story about me designing for one of the Princesses of Monaco and I think that garnered some sort of interest in me from Nigerians because a lot of people were then coming to me, especially for their wedding dresses because they were too pricey but when it came to weddings, there was no expense spared. We do that for a lot of major families in Nigeria, and that's when I started having more exposure and understanding of what Nigerians are doing. So I would always be invited to fashion shows, I would see the other designers and look at what they are doing.
At the time, the Nigerian market was really opening up and was very fertile. So a friend found a shop here for me and suggested that I set up one here as well. Which is where we have been for almost 12 years now, going strong.
Who were some of your fashion influences when you started looking inward?
AB: I had a very good friend, Remy of Lagos, she's late now. She was ahead of her time with impeccable designs. The likes of Frank Oshodi and Maufechi were the designers who have been doing beautiful works from back in the day.
Silk Adire has become your signature fabric. What inspired that?
AB: When I started coming to Nigeria, I used to take a lot from the environment and look at African textiles. That is how I started doing silk adire, right in 2004. A friend whose mum used to do adire brought it to me and I said I didn't really like it. So he asked why exactly I didn't like it. I replied that I found it very hard and the design uninteresting. He further asked me what fabrics I work with and I handed them to him because I had some with me in Nigeria. I didn't hear from him for some time until one day he came and showed me some fabrics. "These are so lovely, I could totally work with them," I said gleefully. He then said "these are the fabrics you gave me. Adire is a process, and it can be applied to any fabric." So that was the genesis of me doing silk adire. Even then I always knew that I wanted mine to stand out, so I stuck to a few styles and patterns and that became almost my signature.
In 1980, when I was invited by Tunde Kelani (veteran Nigerian filmmaker) to do a film I did a lot of research and discovered that adire had a lot of meaning those days. It still does, and that's what I try to capture.
In addition to that, by nature of my developed training, I came up with my own styles. Now we have Ilari (comb), Ododo (flowers), Coco which was inspired by the first lady of Kwara State, Mrs. Folake Abdulrazaq.
At 61 years old, do you think our fashion is independent yet with regards to how desperately we seek western validation?
AB: Evolution is a process and we are getting there. If we go a bit further in the past, there has been a lot of colonial mentality and brainwashing which is bound to happen because we were conquered and ruled by them, they were here for such a long time, and even our educational system is still based on their curriculum, so we are slightly beheld to them but we are beginning to come out of that to recognise our own.
Also, I think Nigerians are beginning to understand that fashion is not a hobby, it is a profession. It is not something you dabble into if you can't make it at the conventional professional career. I always feel education is the gap that needs to be closed.
I was fortunate to come from a background that is pro academia. It was from the education that I got the training and confidence to do other things in fashion like designing uniforms for airlines, restaurants, and hotels.
Another thing I want to touch upon and this is very salient. People would always say "oh you're in the west and you came to set up in Nigeria," and I say "yes, there's a huge market here." As an entrepreneur, you go to where there's a market; so you have a lot of English designers going to Italy, French designers going to America. I feel that Nigerians have to recognise the fact that there is a market here. Before you start looking to sell in Paris, Milan, New York, have you sold in Enugu, Kano, and Lagos? Because at the end of the day, fashion is a business and businesses are about turnovers.
Projecting this to Africa now as a continent, what do you think about fashion independence in the continent in terms of synergy?
AB: I think it will come with experience and development. There are certain things you just can't jump, they have to develop naturally and I feel that will. Having said that, some shows are organised annually or bi-annually that a lot of African designers participate in, but they are more francophone based. This has been going on for years but Nigerians are not aware of it because I feel that when they look at Nigeria, they see us as too westernised, so they don't think that we're bringing anything new to the table. They feel that we wear all the labels and brands, whereas a lot of other African countries, francophones especially, have always embraced themselves. For example, countries like Ivory Coast have always worn African prints. Even down in the Benin Republic, they always wear ankara.
I think we've only just started embracing Nigerian prints like adire recently. We are not seen as authentically African because even when we go abroad, we're always seen in the latest brands and labels; they don't necessarily represent us to the world. When you tell fellow Africans you're from Lagos, they only talk about the richness of Lagos, they don't talk about anything to do with the culture.
As a researcher, I did my findings and discovered that a lot of those African countries don't have African textiles, they re-invent or borrow, whereas we have indigenous African textiles such as aso-oke, adire, akwete, and so on. It just happens that a lot of them are not 'too westernised' and that's maybe because they don't have the resources, network, or time that we invest on western platforms, so they've not been brainwashed as much as we have. Thank God we have Nollywood so we can still put a bit of our culture back on our own platforms.
The fabric industry has witnessed a stunted growth with fewer than 25 of over 300 textile companies in operation today. Despite this administration's policy to ban textile importation, people still find their way around that, causing failure within the local sector. What do you think can be done to revive it?
AB: It is very sad. I believe that the government has to intervene to lift the fabric importation ban because if you're not producing enough, how can you ban importation? Rather, make it that the fabrics coming in are taxed very highly so that people are then forced to look at what's available locally and people who are manufacturing locally can then have an audience. This is because, if a company were to set up today, the Chinese imports would kill them. It's sad because we don't even check the fabric we import as they come here by the bail, so what happens is that we often get fabrics with a lot of faults. Almost like we are a dumping ground for Western countries. Whereas we have a population of almost 200 million people, no manufacturer wouldn't thrive doing business here if the people bought from them. But then the biggest challenges are logistics and the electricity situation. I recommend that the government create an enabling environment for them, especially in terms of electricity, because the machines are moving at such a fast precise pace, if there's a power outage for just 30 seconds, about 100 yards of the material could be ruined.
Before, a country could move from a third-world country to a developed country by meeting the major criteria which were manufacturing. Nowadays, even if Nigeria ramps up on the manufacturing phase at this late stage, we still wouldn't be considered developed because the criteria have been shifted to artificial intelligence.
Seeing as fashion is cyclical, what are some of the designs from previous generations you have drawn inspiration from?
AB: My latest collections are trying to take influences from Africa or Nigeria directly as opposed to before that my collections have been influenced by 18th century French or Spanish, and so on. I did a collection recently which I called "Emily Oni Kaba" because in the 80s, a lot of Nigerian ladies wore foreign dresses, and their friends would often call them a generic name, Emily, and refer to the dresses as Kaba (Yoruba) or in the East, they call it "Mary Amaka," they all have to do with wearing pretty western dresses. That is the theme of my latest collection which I showed in England, Nigeria, and a lot of other African countries.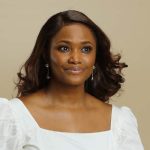 A lawyer by training, Onah packs over a decade of experience in both editorial and managerial capacities.
Nwachukwu began her career at THISDAY Style before her appointment as Editor of HELLO! NIGERIA, the sole African franchise of the international magazine, HELLO!
Thereafter, she served as Group Editor-in-Chief at TrueTales Publications, publishers of Complete Fashion, HINTS, HELLO! NIGERIA and Beauty Box.
Onah has interviewed among others, Forbes' richest black woman in the world, Folorunso Alakija, seven-time grand slam tennis champion, Roger Federer, singer Miley Cyrus, Ex Governor of Akwa Ibom State, Godswill Akpabio while coordinating interviews with Nigerian football legend, Jayjay Okocha, and many more.
In the past, she organised a few publicity projects for the Italian Consulate, Lagos, Nigeria under one time Consul General, Stefano De Leo. Some other brands under her portfolio during her time as a Publicity Consultant include international brands in Nigeria such as Grey Goose, Martini, Escudo Rojo, Chivas, Martell Absolut Elix, and Absolut Vodka.
Onah currently works as the Editor of TheWill DOWNTOWN.