MOVIES REVIEW: 10 Of The Best Movies Of 2022
2022 was a bit of a mixed bag for the film industry. On the one hand, a sense of normalcy returned to the moviegoers' schedule, as some tentpole releases that had been advertised since before the pandemic and then pushed and pushed were finally released. On the other hand, the sheer volume of the releases we did get still pales compared to pre-pandemic years. In other words, there was a slimmer selection of movies to make this list from than expected. However, that doesn't mean that there weren't some bangers this year. What 2022 in film may lack in quantity, it does make up for in real quantity.
Below are some of the highlights of a relatively quiet year.

Top Gun: Maverick
There's so much about this movie that shouldn't have worked. Releasing more than 32 years (!) after the original, this sequel had been held back more than two years post-completion just so that it could get a full theatrical release. $1.454 Billion later, and it's easy to see why. This film is nearly flawless. Replete with some of the best performed (and filmed!) action scenes of the decade, a brisk pace and, of course, the ageless wonder that remains Tom Cruise, this movie has everything you need for the wildest thrill-ride of 2022. A very rare better-than-the-original sequel.

The Woman King
I must admit I wasn't expecting to like The Woman King as much as I did. I didn't watch too many trailers going in, and expected it to be a by-the-numbers Colonial Africa flick. When I left the cinema, I walked out feeling a bit silly. Gina Prince-Bythewood has delivered a gem of a flick with The Woman King. Powered by the smouldering intensity of Viola Davis's brilliant performance, this film manages to juggle both a coming-of-age story and a sociopolitical historical drama without neglecting either. Paced brilliantly, this film makes heroes of the (real!) all-female warrior clan, the Dahomey Agojie, in a way that feels genuine. The level of emotional history and character relationships present here feel lived in, almost familiar even. A must-watch for the whole family.

The Northman
Robert Eggers is a visionary, plain and simple. And it's thrilling to see him painting on such an oversized canvas. Set in the 10th century, this uncompromising grasp for massiveness stars a very
good Alexander Skarsgard as a Viking warrior hungry for revenge after his father and king (Ethan
Hawke) is murdered. The Northman has a primal power (and beauty) and a star-studded cast that you get the sense would follow the visionary Eggers just about anywhere—Nicole Kidman,
Anya Taylor-Joy, and Willem Dafoe. Eggers's maniacal attention to period detail is dazzling, and haunting, each shot looks like it could be framed and hung on a wall at Norway's Lofotr Viking Museum.

The Batman
The first Batman movie to fully lean into the "World's Greatest Detective" moniker, The Batman is
a grimy 70's era Noir flick in the skin of a superhero movie. Directed with a deft hand by Matt Reeves, this version of the Caped Crusader is certainly the most comic-accurate one we've gotten yet. His influences are worn on his sleeve here, from Se7en to Taxi Driver, yet never feeling derivative. Set in a perpetually rainy, filthy Gotham City, the film tells a winding tale that challenges the very existence of its main character and shows his character development in a way
that remains true to the essence of The Dark Knight. Special praise must go to Paul Dano as The Riddler. His effervescent performance breathes new, sinister life into a character typically rife for ridicule and is easily the best cinematic Batman villain since Heath Ledger's iconic Joker. Colin Farell is transformed by the magic of prosthetics into the stunted Penguin and steals the show. The sequel can't come quickly enough.

Brotherhood
Another surprise hit (for me) this year was the Loukman Ali-Jade Osiberu collaboration Brotherhood. Nollywood has come a long way in the last decade, with numerous indigenous
movies hitting it huge at the box office, but Brotherhood is unique amongst these as it is, first and foremost, an action flick. Ali's strong cinematography and editing hand guide what could've
been a messy affair and sculpts a story that has familial tragedy at its heart. Basketmouth is a gem as gang leader Shadow, and both Falz and especially Tobi Bakre show their action chops as very believable sides of the same coin. I asked for a sequel in my original review, and I'm using this
medium to do so again.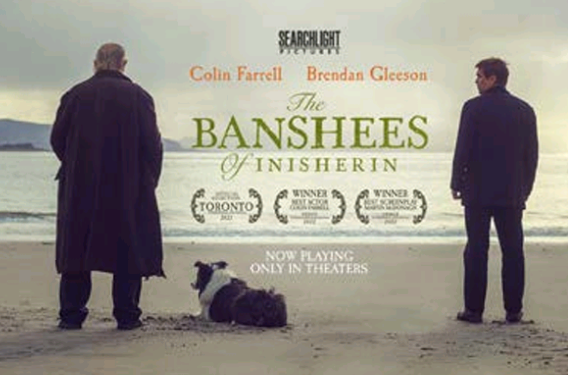 The Banshees Of Inisherin
Marking the return of Martin McDonagh – who excels at serving up biting humour wrapped in misanthropy – The Banshees Of Inisherin is his best work yet. In the early 1920s, on a (fictional) Irish Ireland, Colin Farrell (incredible) is Pádraic, a well-meaning, good-hearted fellow… or at least he starts off that way, before his best friend Colm (Brendan Gleeson – also incredible), bored of idle chit-chat, capriciously decides he doesn't want to be his friend anymore. From there, McDonagh explores a disintegrating relationship, flame-throwing into the mix politics, art, donkeys, and dismemberment. With an excellent supporting cast providing various degrees of heartbreak – including Kerry Condon as Pádraic's sister Siobhán, and the ever-reliable Barry Keoghan as a horrendously troubled young man – McDonagh gives us a note-perfect piece of upsetting melancholia that socks you in the gut.

Prey
Predator prequel Prey unlocked more than its share of achievements upon release this summer. Firstly, it made an instant movie star out of no-nonsense heroine Amber Midthunder, whose Comanche hunter Naru capably slaps seven shades out of a technologically advanced alien with just a bow, a dog, and a tomahawk-on-a-rope. More surprisingly, however, it took a franchise that has been on life support for decades and shocked it back to rude health with a potent combination of an authentic period setting, simple yet effective premise, and precise, efficient direction from director Dan Trachtenberg. Not to mention twisting a monument to over-inflated '80s masculinity into a modern, feminist action thriller. While it's almost criminal we couldn't experience it on the big
screen (it went straight to Disney+), Prey succeeded in defying all expectations: a welcome return to the screen for Trachtenberg, and a stunning new lease of life for the demon that makes trophies of men.

Everything, Everywhere, All at Once
Buckle your seatbelt and get ready for the trippiest and most delirious film of the spring—and also one of the season's most under-the-radar success stories. Directed by "the Daniels"—a collaborative project between directors Dan Kwan and Daniel Scheinert. It's the far better of the two "multiverse"- themed movies that came out this year (sorry, goateed Benedict Cumberbatch). The always-wonderful Michelle Yeoh stars as a put-upon Chinese-American immigrant teetering on the edge of an existential crisis..
The movie then takes a wild sci-fi detour as Yeoh's Evelyn is warped into a series of alternate realities that offer her the hope and skills she needs to triumph over her obstacles. The Daniels pull this low-percentage, high-wire act off beautifully, dazzling you with their creativity and sheer audacity. In an age of been-there-seen-that movie formulas, Everything Everywhere All at Once is the rare movie that serves up something you've never seen before…and quite likely will never see again.

Nope
A fresh, original vision from Jordan Peele is always an instant 'Yes please'. But even by his standards, Nope feels special – a step-up in scope from Get Out and Us, combining his horror instincts with sci-fi spectacle for a film that interrogates our desire for (and exploitation of) the spectacular. If that sounds dry, Peele grounds his sometimes abstract thematic explorations in a thrilling, scary alien-encounter blockbuster with stellar setpieces. Threading it all together is Daniel Kaluuya's low-key but nuanced turn as the grieving OJ, leaving plenty of room for Keke Palmer to steal the show as his livewire sister Emerald, intent on claiming their place in history by capturing the extraterrestrial phenomenon on camera. Nope is a Spielbergian blend of horror and wonder that reveals itself anew on every rewatch. Its stunningly beautiful final reel dares you to look away. Spoiler: you won't.

Glass Onion: A Knives Out Mystery
There was a very short period in 2019, after the release of Knives Out, when you couldn't move without hearing someone slurring, in their best accent, lines from that year's hit whodunit, Knives Out. In 2022, with the eagerly-anticipated return of Rian Johnson and Daniel Craig's gentleman detective Benoit Blanc, the impressions geared up again.
Glass Onion is a lighter, fluffier, warmer affair than the crispier, crunchier original film, but no less satisfying, continuing Johnson's satirical streak and light ribbing of the rich and idiotic. This time, it's tech bro billionaires (or self-appointed "disruptors") under Blanc's microscope, with Edward Norton as an Elon-Musk-in-all-but-name eccentric who hosts a murder mystery party on a private island, only for a real murder to be committed. Cue twists, turns, a wildly entertaining ensemble (shout out to Janelle Monae, in particular), and the promise of more brilliant Benoit Blanc mysteries to come. Let the impressions continue!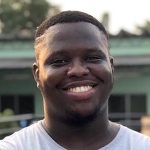 Boluwatife Adesina is a media writer and the helmer of the Downtown Review page. He's probably in a cinema near you.