GBEMISOLA ABUDU: Slam Dunking Her Way From Nigeria Across The Globe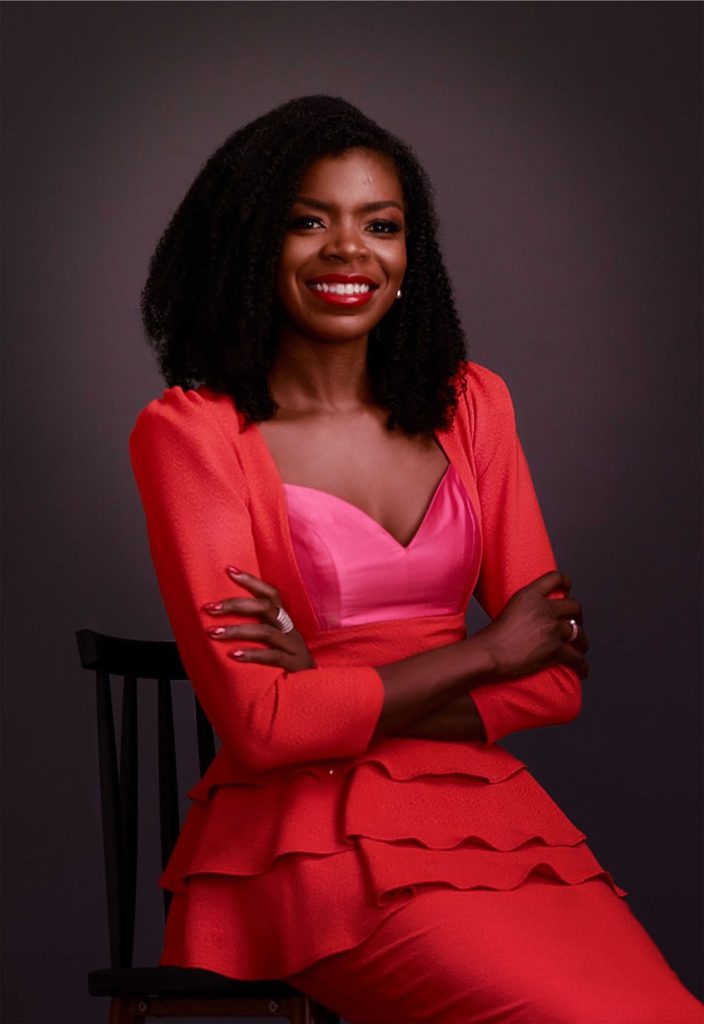 A company's ecosystem is an integral part of its culture. And it is the same for the National Basketball Association (NBA) globally. When Gbemisola Abudu was named NBA Africa's Vice President and the Country Head in Nigeria, the goal was simple—to serve as the officiating minister to oversee the matrimony between culture and basketball in Nigeria and Africa. If you know anything about sports, especially one like basketball that so readily takes a backseat to football here in Nigeria, you would know just how challenging that could be. But Abudu is a woman on a mission, dribbling and slamming idea executions, one at a time.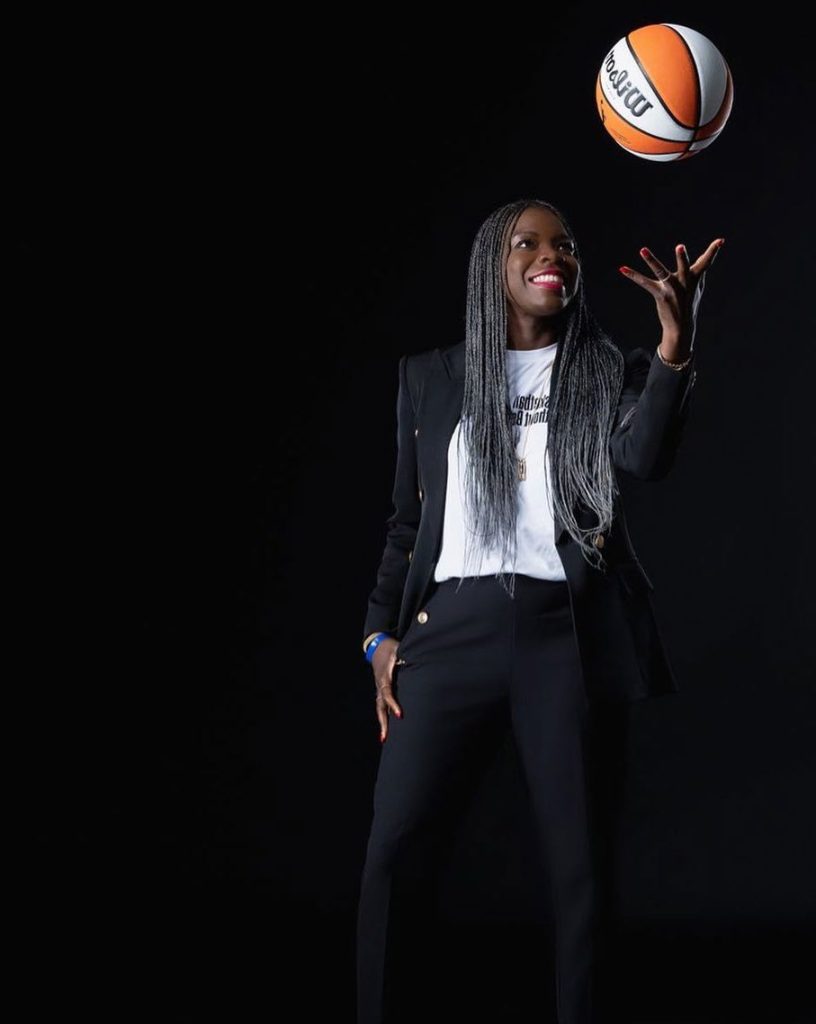 As established as the National Basketball Association is— the leading basketball body in the world, it hasn't exactly spread its tentacles around the world. How do you build a repeat of that business model in the most populous black nation on earth? How do you indoctrinate its youth in this sport? Who is the best person to ensure the holistic marination of basketball with every single facet—music, art, fashion, film, education, and so on—of our mightily rich culture?
Cue in Gbemisola Abudu. Abudu, who wasn't a professional basketball player, has been very busy since the announcement of her position last year. Unless you live under a rock, you must have seen, read, or heard about one major moment—of the many since last year, for her and the NBA Africa team. The Afrobeats NBA All-Star halftime show performances. The first of its kind that can only be described as historic. And to say the performers did a phenomenal job would be an understatement. From ensuring that there is mass participation in basketball by boys and girls across Nigeria to finding ways to infuse all elements of culture into the positioning of the NBA, NBA Africa is focused on increasing the footprint of basketball in Nigeria.
TheWill DOWNTOWN's Editor, Onah Nwachukwu had an exclusive with Gbemisola Abudu about that proud moment when Afrobeats stars Burna Boy, Tems, and Rema took the stage during the NBA All-Star Halftime show in Salt Lake City, Utah, by storm and their (NBA) plans for the years to come.
You were appointed NBA Africa Vice President and Country Head of NBA Nigeria. What was that like for you, considering you had worked with different brands in different industries?
This one was different! This is probably because I am a huge fan of the game and have a strong affinity for the NBA. My love for basketball and the NBA has been with me since secondary school. Interestingly, I never played the game, but I have been a huge spectator of the game for as long as I can remember. I am inspired by the dedication, discipline, and tenacity displayed by basketball players, notably the late Kobe Bryant. His mamba mentality made a significant impression on me growing up and greatly impacted my religiously following the game.
Also, I have basketball to thank for a lot of incredible friendships I have. So, this one differed from every other job because it was deciding to work full-time on one of my passions and hobbies. In addition, what made it extra special was the opportunity to work for a great brand like the NBA at home and utilise the platform to empower our youth and showcase our excellence.
Another reason this was special is over the years, I have had the privilege to watch the growth and influence of the game due to the incredible foundation laid by many over the years.
We are where we are today in Nigeria because of their work and contributions. It felt like the baton had been passed on to me to build on what they had built. Now that I have the baton, it is my responsibility to run my part of this race to the best of my ability and create something sustainable that will stand the test of time.
Now, to your accolades, so to speak, it's been a year, and in such a short amount of time, you've managed to do a couple of things; let's talk about them. You created a partnership with Hennessey, and there was a floating basketball court. What conceived that idea? I don't think it's ever been done in Nigeria.
I can't take credit for that. I am someone who always ascribes credit where it's due. The floating court was already in the works when I came on board. It was the first project I worked on with the team, but much of the heavy lifting was done before I came on board. Regarding Hennessy, we have a global partnership with them which extends to our engagement with their brand in Nigeria.
The floating court was part of one of our joint initiatives called the Court Beyond Limits series.
The series was designed to honour the NBA's 75th Anniversary Season, where first-of-their-kind basketball courts were unveiled in unique locations globally. For Nigeria, we unveiled a floating basketball court by the Lekki-Ikoyi bridge. It was the first in Africa and has since been replicated in other parts of the world.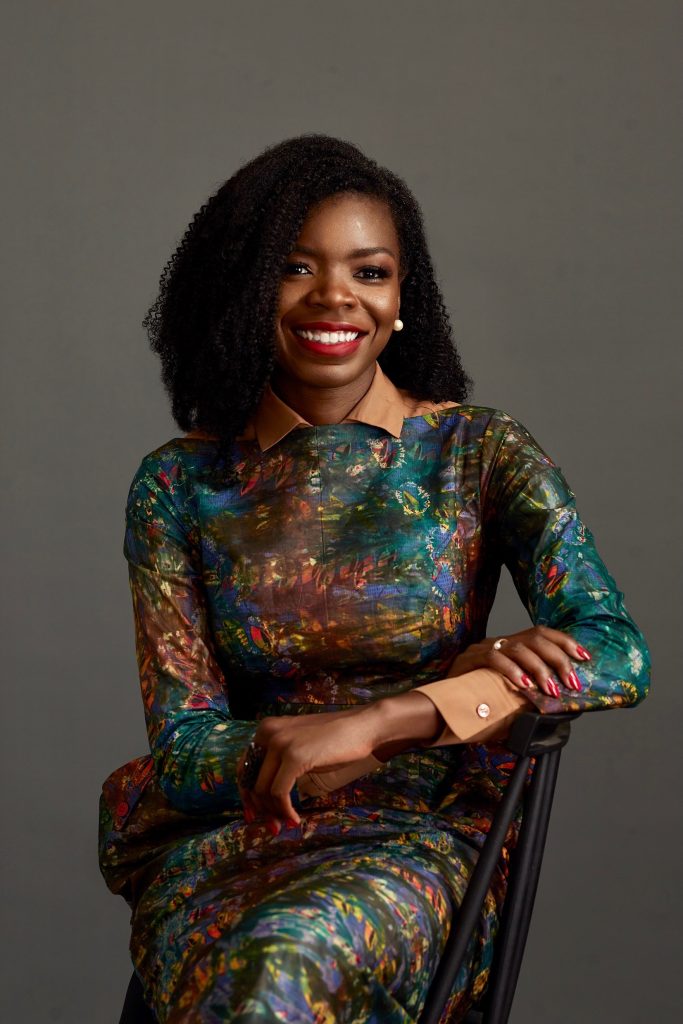 So, let's talk about the other things that you've been able to achieve. I know you've taken a couple of people out of the country and entered many partnerships with celebrities. Let's talk about the different ones that you've done.
Although the NBA is an established brand, the reality is that it's a new brand being introduced into the market in Nigeria. That means we had to go through the typical market entry process and put all the building blocks required to build a brand. We couldn't cheat the process.
We spent a significant part of last year putting all the right foundational building blocks in place to enable us to build a profitable and sustainable business in Nigeria. From assembling the right team to finding the right agencies to work with to determining the right partners, these are crucial elements that have given us a suitable springboard for success. In addition, we had to understand the Nigerian market through the lens of the NBA and determine the right approach and positioning of the brand with our fanbase. Once we had all of that in place, coupled with the right team, we created a great runway for success.
As you know, Nigeria is one of Africa's leading purveyors of culture. From art to fashion to music and film, we are known for our vibrant culture, rich heritage, and excellence. We quickly determined that we wanted to lean into the culture as we positioned the brand and found creative ways to infuse all the attractive elements of culture into the brand in Nigeria.
In the United States, the NBA sets trends when it comes to fashion, music, art, etc. This is part of the NBA's DNA, which has made it an easy integration for us in Nigeria. However, we had to determine a seamless way to do it. This is why we launched the NBA meets Culture platform last year, which started with the NBA Meets Art event (an event designed to celebrate art through the lens of the NBA) that took place in November last year during art week. It was a huge success for us! We intend to follow that with the other pillars of culture: Fashion, Film, Music, and Tech. Let's take fashion for example.
The tunnel (when NBA players arrive at arenas and walk into their locker rooms) has turned into a major fashion runway, turning basketball stars into luxury, most valued players to showcase their collections. People care about their kicks, accessories, clothing, etc. All these pillars of culture give us an incredible opportunity to engage with our fans and the community in ways unique to our brand and Nigeria. We work with brands, celebrities, and influencers who align with our core values and have an affinity for our brand.
Co-branding with brands and influencers is part of our strategy in the market, and you will see more of that in the coming months. A good example was for the NBA All-Star weekend, which we just concluded in Salt Lake City. We invited the musician, Ladipoe and actor Tobi Bakre to showcase their experience to our fans through their lens.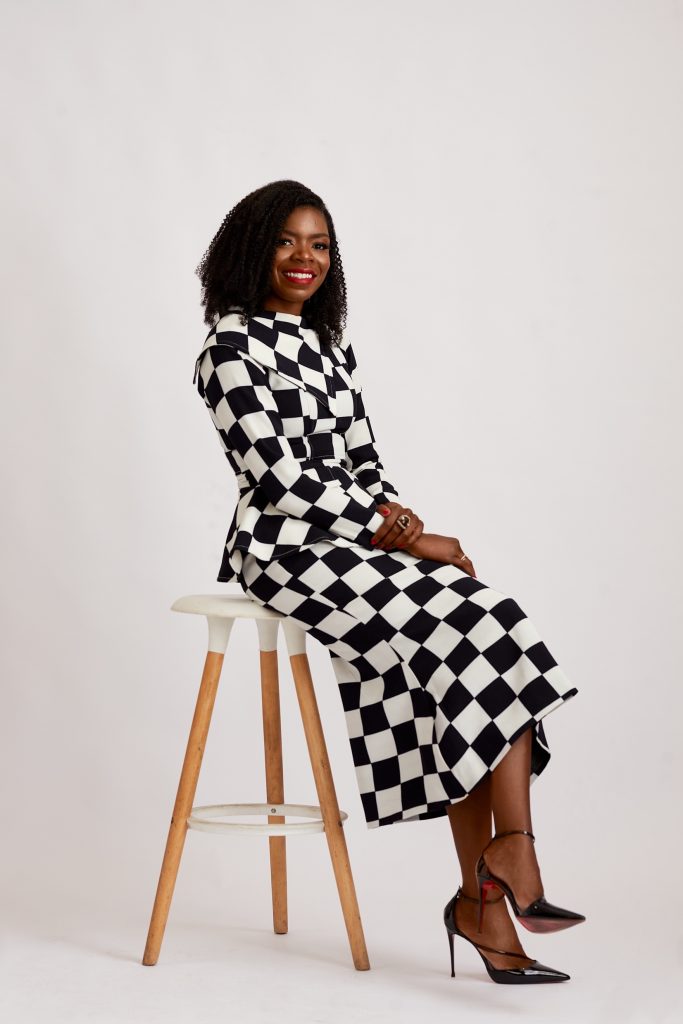 Let's back up a little and talk a bit more about the history of the NBA in Africa and Nigeria. Then, let's include that in our previous conversation about culture. I am curious whether you think we will have a spectacular Nigerian basketballer, mainly home-grown, home-trained, and home-based, who, like Michael Jordan, will have a fashion line courtesy NBA through your tenure?
Hmmm… that's a good question. I will start with the first part of the question. When we talk about NBA in Africa, it goes back to 1959 when Bill Russell travelled to Libya and Ethiopia when the decolonisation movement was spreading through Africa. But when we talk about the physical manifestation, we look at 1984 when Hakeem Olajuwon was drafted into the NBA.
Since then, we've had many players of Nigerian parentage (one of their parents is from Nigeria) play in the NBA. In the history of the NBA, we've had more than 120 players of African heritage, with more than half of them being of Nigerian descent, and that tells you what Nigeria represents to the NBA. In 2010, the NBA opened its first office in Africa in Johannesburg, South Africa, and has since opened three other offices, with the latest being in Egypt.
Under the leadership of Adam Silver, the Commissioner of the NBA, and Mark Tatum, the Deputy Commissioner and COO of the NBA, Africa has become a significant priority in the NBA's international growth plan, which has had a tremendous positive impact on the work we do. This was a catalyst for the launch of the Basketball Africa League (BAL) three years ago. The BAL is the NBA's first league outside of North America.
It's an elite professional league in collaboration with FIBA. This means that for those who want to go to the United States to play for the NBA, that opportunity is there. However, the BAL has created an avenue for elite players wishing to remain on the continent. I am happy to say that Nigeria will be represented in Season 3 by the Kwara Falcons, which tips off in Dakar, Senegal, on Saturday, 11 March 2023.
To answer the second part of your question, I believe the answer is yes. I think it's inevitable with our work in Nigeria and on the continent.
Part of our work is to help facilitate a sustainable ecosystem that we know will catalyse a viable basketball economy (businesses generated through association with basketball). Furthermore, as we work to create an adequately defined pathway that makes it easier for the youth in Nigeria to play basketball from a young age to the elite level, we believe this will further unlock many opportunities in the basketball industry for them. My point is that we are facilitating interest from all angles and change within the ecosystem in Nigeria. And it will have a domino effect whether it's our work influencing fashion, music, art, or film. As we ingrained elements of culture into the positioning of the brand, I believe this is inevitable. So, the idea of a basketball player being home-grown, coming out of Nigeria, and as a result, having a fashion line and, or endorsements will happen in the long run. Will it be directly traced to my tenure?
I honestly don't think of things that way. For me, whatever work I do, I focus on doing the best possible work and ensure that my work is a catalyst that makes it possible for other things to happen. So, whether in the long run, development is directly traced to the work we do now or after, I think it's irrelevant. I am focused on the goals we have set before us for NBA Nigeria. How do we ensure that whatever we are building is sustainable? How do we make sure we are impacting lives? How do we reach as many young boys and girls as possible in Nigeria? How do we utilise our platforms as a tool for nationbuilding? How do we ensure that we are focused on talent identification and that our youth get the opportunity to maximise their potential? How do we ensure that more people have easy access to NBA and the BAL games? How do we bring more NBA experiences to Nigeria for our fans to experience? How do we bring the game closer to our fans? How do we increase the affinity of the brand? All of that is what matters to me, and I genuinely believe that all of those are achievable as we focus on what matters and the work at hand.
Apart from the obvious industries and pillars we've identified, I genuinely believe that as we progress in the work we are doing in Nigeria, we will impact and touch on additional areas and industries.
What is your aim in Nigeria? What do you hope to achieve? Are there any players in Nigeria that have already grasped the attention of international buyers, and are you looking to buy players or send them abroad soon? How does it work?
I alluded to some of our goals in the previous question. Let me further expatiate on them. Our goals in Nigeria are broken down into five buckets: First, we want more boys and girls to participate in basketball from a young age. This means how do we ensure that basketball is included in the curriculum in schools, and how do we ensure that the proper infrastructure is easily accessible to them?
We know that only a small percentage will play basketball professionally; however, we know that basketball instils life skills such as team coordination, communication, leadership, resilience, etc. which are crucial employability skills that allow a person to be a positive member of society. Second, we want to make watching the NBA and BAL games very easy.
The way football games are easily accessible on T.V. and mobile devices, we want that to be the same with our games. Third, we want to bring NBA experiences to our fans in Nigeria. Like the NBA Crossover in partnership with Hennessey to the NBA meets Art event to the BAL IN Lagos experience, we want our fans to have more opportunities to interact and engage with our brand. Fourth, to influence the basketball ecosystem. We intend to continue to work closely with all stakeholders with a vested interest in the growth of basketball in Nigeria. We are allowing our presence in the market to be that catalyst for a collective understanding and alignment in basketball and sports.
Finally, to facilitate a basketball economy. From research and development to sports tourism to sales and trade of sports products, all these elements can significantly contribute to a country's GDP and create jobs.
When harnessed correctly, sports can be utilised to bridge the employability skills gap and serve as a driver of economic growth and prosperity. Research shows that sports only account for .005% of our GDP, whereas, in countries that have tapped into its potential, it contributes about 5% to their overall GDP. We believe our work will help facilitate the basketball economy and create opportunities for many.
Regarding the players and buyers, it doesn't work that way for us. At NBA Africa, we are focused on creating a talent pipeline that enables players to play either play in Africa through the BAL or go to one of the NBA leagues in the U.S. We have a defined pathway for players from Jr.
NBA programming to our academies that enable talented athletes to be identified by coaches in all spheres of the basketball world. Therefore, identified talents can play in whatever path works best for them, whether at home or abroad.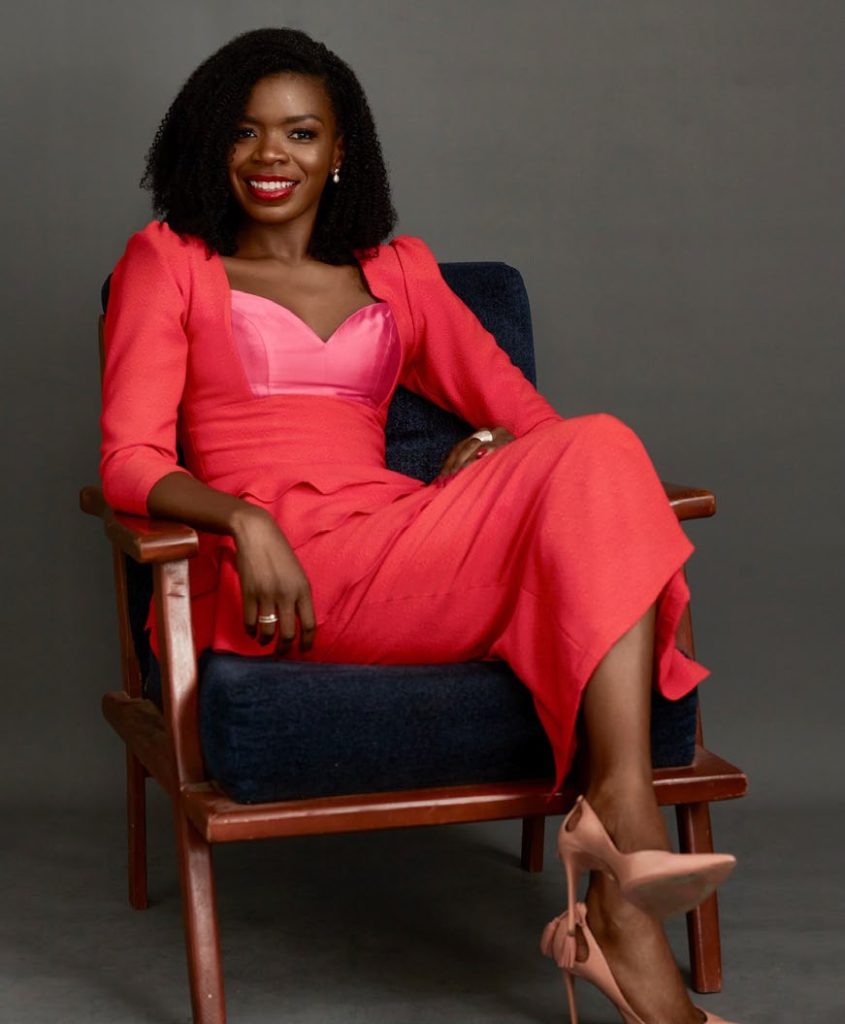 What's the economic impact of having our players go abroad to play? Also, please share examples of the economic impact the NBA will have in Nigeria.
That's a great question. Nigeria has one of the highest diasporas remittances in the world.
Nigerians abroad invest heavily and contribute to the GDP of Nigeria.
This is the same with professional players, who are Nigerians; they do the same as well. The potential impact of sports on a country's economy is tremendous. Let's use what just happened in Utah as an example; the impact of the NBA hosting the All-star game in Utah is outstanding. Now, look at that on a national level. Let's bring it closer to home. The BAL has hosted the finals in Kigali, Rwanda, for the past three years, which has had an outstanding impact on the economy in Kigali. From tourism to retail to job creation to an entertainment standpoint, etc., the BAL's presence in Kigali has significantly impacted its economy. That's how we impact the economy anywhere we do business. One thing that is worth pointing out is that the government's recent reclassification of sports from a recreational to a business sector further shows the understanding of the potential sports can play on Nigeria's economy.
I believe the work NBA Africa is doing on the continent is making a case for the sustainability of sports using basketball as our vehicle in Africa.
That's exactly what we are doing in Nigeria. For the direct economic impact, I mentioned the different ways while answering the previous question.
Earlier, you mentioned NBA academies. Can we talk about them? Are you guys looking at going to different schools to start scouting for young talents so that they come to this academy? Can young talent apply to attend? What's the plan?
The NBA Academy is a set-up for elite players. People don't apply to the academies; our scouting network in different countries identifies elite talents and invites them to join our academies.
Our academies are at the top of the talent pyramid from the youth developmental perspective. We have a lot of talent here, and we must allow them to harness and develop their skills. We hope to find partners with whom we can open academies within Nigeria.
To further enable this, we want to ensure that our boys and girls are playing basketball at an early age by incorporating basketball as part of the academic curriculum in schools. This facilitates the opportunity for them to play basketball consistently and increases their exposure not just to the fundamentals of basketball but to the life skills it equips them with. The thing about basketball is it's not just about playing basketball. We are aware that a tiny percentage of the youth that goes through our programs will go on to become professional basketball players. We focus on the impact and the life skills they acquire from playing basketball. Basketball is a team sport; you learn about teamwork and coordination from a very young age. There is no work you do that doesn't require working with others. You learn about critical thinking, communication and listening skills, confidence, and basic skills you need to succeed. Research shows that when people are instilled with these skills at a very young age, they get a leg-up in life, so for the NBA, our Jr. NBA programming provides that opportunity.
March is right around the corner, and it's Women's History Month. How do you feel about what you represent in sports as a woman in your position?
Honestly, I find it interesting when I get asked that question because I didn't think about that when I got the job, and I still don't think much about it. I have always focused on striving for excellence in whatever I do. When an opportunity is presented, I demonstrate why I am the best person qualified for the job. So literally, at that point, that's all that matters. Can you deliver what is required at the highest level possible? However, I have come to understand what it represents when I get messages and calls from women in sports and young women saying the significance of what it means to them. It is not lost on me. I see it when I am the only woman in rooms I find myself in. But to be honest, I am just focused on creating a sustainable business in Nigeria and representing my person, country, and family the best that I can. I believe that will speak for itself.
Let's talk about the halftime show everyone is currently talking about. How proud were you of having Burna Boy, Tems, and Rema perform at the NBA All-Star Halftime show? That must have been a lot of hard work. How did it come to be?
I don't think I have words to describe how I feel yet. When working on a project like this, I tend to get on autopilot and laser-focused on getting the job done. This conversation has forced me to take a step back to reflect and really grasp the magnitude and impact of what we created and achieved.
The vision for the halftime show was birthed during the weekend of the NBA meets Art. We hosted the Deputy Commissioner and COO of the NBA, Mark Tatum, in Nigeria. During his visit, we put together activities focused on cultural immersion that showcased different elements of our culture and the opportunities our culture presents to the NBA. Several of our investors and other NBA executives were also in town. It was an incredible four days filled with great activities focused on art, music and different aspects of life in Lagos.
During one of my conversations with Mark, he asked how cool it would be to bring Afrobeat to the U.S. I got excited because I knew exactly what he meant. He explicitly stated that we should make it happen for the All-Star halftime show. It is worth stating that Mark is a fan of Afrobeat. At that time, I didn't realise that he made calls while he was still in Lagos to discuss the possibility of Afrobeat being featured in the halftime show. All I know was when he got back to New York, I got an email from him with the NBA Entertainment team in copy (who oversees the halftime show). His emails said that I should work with the team to determine what an Afrobeat-themed halftime show would look like. This was an opportunity of a lifetime, and I immediately jumped on it. That's how the journey began!
I had the opportunity to work with an incredible team of people in New York and L.A.; this meant we worked late hours and through the holidays to ensure we were able to secure the right artists for the show. For me, it was important that the show was very reflective of our culture and showcased African excellence.
We ended up with three African giants (Burna Boy, Tems, and Rema), who all brought different dynamics and elements to the show.
It hadn't been done before in the NBA, where the halftime show featured an all-African artists lineup. We were all aware of the show's significance while we worked on it. We worked tirelessly to ensure that we created a great show. If you told the average person seven years ago that we would have a halftime show focused on Afrobeats and a lineup of just African artists, I don't believe they would have thought it was possible. For me, the whole experience is a testament that nothing is impossible. There is nothing that you want to do that is not achievable. I always believe that whatever you want to do, if you set your mind to it and are willing to make the sacrifice required coupled with the right support and people backing you (this is so instrumental), then the sky is the limit.
I must give major kudos to the Deputy Commissioner of the NBA for being a visionary who was willing to take a risk to do something that had never been done, and I thank him for believing in me. I thank Victor Williams, CEO of NBA Africa, and George Land for providing the needed support to get this over the line. The NBA Entertainment team was committed to delivering an experience that represented our work in NBA Africa, and I thank them for all their work.
When you have the right support and team and are given a platform to showcase your culture on a global stage, you take it and run with it by ensuring you get to the finish line. And that's what we did.
For three months, I worked closely with an incredible production team (Charles Rosenzweig, Amanda Black, and Rudy Crew) to bring this vision to life. We all worked tirelessly to ensure that we delivered an authentic African experience that every African would be proud of. I can't thank them enough for going on this incredible journey and creating something truly remarkable. In addition, I want to thank Tunde Folawiyo, one of our investors in NBA Africa, who made himself available and picked up my calls whenever I needed his assistance during the process. Last but not least, the incredible artists and their management teams for being part of this historical moment and putting on an incredible show that showcased African excellence. As I have said on several occasions, it really took a village for us to pull off this historic moment.
Finally, what keeps you going? Where do you get all this energy from?
Hahahaha, I get that question all the time. I do have a lot of energy. I will say I am laserfocused on the fulfilment of purpose. First, I am very grounded in my faith and God. That's my compass in life. I believe we have all been given an assignment to contribute to the development of this world. This is the assignment I have before me at this moment in time, and I am focused on running my race and fulfilling the work. I have a personal mantra that I live, which is "to live a rich and fulfilling life that pleases God while impacting the world around me." The NBA aligns perfectly with my mantra, and that gets me going even when the going gets tough. Secondly, I am blessed with a great support system from my family and close friends. My family has been there and continues to be my rock, and for that, I am thankful to them.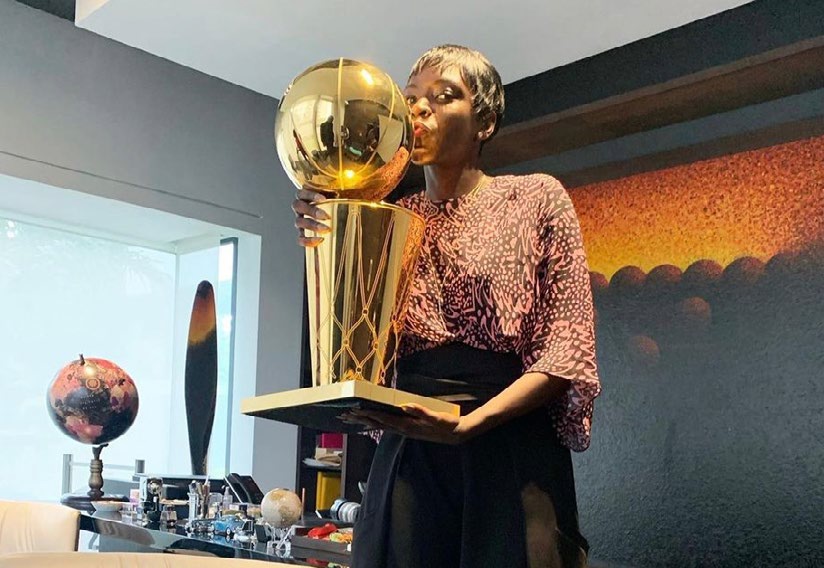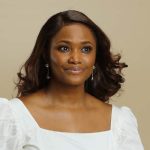 A lawyer by training, Onah packs over a decade of experience in both editorial and managerial capacities.
Nwachukwu began her career at THISDAY Style before her appointment as Editor of HELLO! NIGERIA, the sole African franchise of the international magazine, HELLO!
Thereafter, she served as Group Editor-in-Chief at TrueTales Publications, publishers of Complete Fashion, HINTS, HELLO! NIGERIA and Beauty Box.
Onah has interviewed among others, Forbes' richest black woman in the world, Folorunso Alakija, seven-time grand slam tennis champion, Roger Federer, singer Miley Cyrus, Ex Governor of Akwa Ibom State, Godswill Akpabio while coordinating interviews with Nigerian football legend, Jayjay Okocha, and many more.
In the past, she organised a few publicity projects for the Italian Consulate, Lagos, Nigeria under one time Consul General, Stefano De Leo. Some other brands under her portfolio during her time as a Publicity Consultant include international brands in Nigeria such as Grey Goose, Martini, Escudo Rojo, Chivas, Martell Absolut Elix, and Absolut Vodka.
Onah currently works as the Editor of TheWill DOWNTOWN.