Watch Of The Week: Ticket To Paradise
For such a storied genre with so many impressive critical and commercial hits, romantic comedy has migrated entirely to streaming in the last ten years. Only a handful has enjoyed a major theatrical release in the past ten years, with Crazy Rich Asians being the most critically and commercially successful of the bunch. You still have some great examples working their way out, most recently with the likes of Always Be My Maybe and Palm Springs.
Ticket To Paradise arrives in cinemas at a strange time for the genre and yet, the pairing of George Clooney and Julia Roberts together in a romcom is a cinema event and deserves a theatrical release. Moreover, it's exactly the kind of movie you frequently hear people complaining that they don't make anymore — a good old-fashioned romantic comedy with a charming cast, a witty script, and a gorgeous location to take in (seriously, after seeing this, I need to visit Bali expeditiously).
Everything about Ticket To Paradise feels like it could have been produced ten, twenty, or even thirty years ago when Roberts and Clooney were in their primes. Clooney plays a successful architect while Roberts plays an important art gallery Person who divorced before the movie and are happily divorced. Kaitlyn Dever, meanwhile, excels in her role as their precocious but still formidable daughter, and the dynamic she shares with both of them works well. Really, though, where Ticket To Paradise gets its power is from Roberts and Clooney riffing off each other with ease.
The pair are masters of this genre, and after so long away from it, neither Roberts nor Clooney miss a step. They're both able to slip into the snappy dialogue and the physical pratfalls with complete ease and style. While Clooney may have more experience via his time with the Coen Brothers, Roberts is just as adept at goofing it up when required. Indeed, director Ol Parker, and the script from him and Daniel Pipski, give them all the time and space they need for it.
Ticket To Paradise doesn't try to reinvent the wheel, and it's not subverting the genre. It's not taxing the brain or even trying to be anything other than what it is — an old-school romantic comedy. People who love old-school romantic comedies will love this because it's very much that with two titans of the genre. Ultimately, the failings of Ticket To Paradise are equally its strengths — it's incredibly predictable, it's fairly unbelievable, and it follows a rigid structure with little or no deviation from it. Ticket to Paradise is in Cinemas nationwide.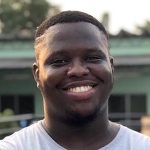 Boluwatife Adesina is a media writer and the helmer of the Downtown Review page. He's probably in a cinema near you.