Watch Of The Week: Spiderhead
Chis Hemsworth has proven time and time again that he's more than the muscle-bound, hammer-wielding God of the Marvel Cinematic Universe. From his unexpected comedic turn in 2016's Ghostbusters to brutal action hero in Extraction, Hemsworth continually brings his A-game to all his roles. And he does the same in Netflix's latest original movie, Spiderhead.
Spiderhead's story features a facility of the same name, where convicts have the opportunity to shorten their sentences by volunteering to undergo drug trials. The nature of the experiments and the end goal is a mystery, but having the luxury and freedom that conventional prisons don't offer is certainly appealing to the subjects. The person administering these experiments is Steve Abnesti (Chris Hemsworth), who's very passionate about the good that his work will bring in the long run. One of the convicts and the main protagonist of this story is Jeff (Miles Teller), who came to Spiderhead after a terrible accident landed him in prison.
The movie begins by establishing that Abnesti, and his trusty but nervous sidekick Mark (Mark Paguio) have already perfected some drugs, such as one that makes the convicts laugh no matter how sad the situation. The drug they're testing now, however, is a love drug, which literally manipulates the volunteers' emotions and feelings for one another. During the course of this story, Spiderhead's perfectly run operation begins to crack as Jeff and Abnesti come to odds about the philosophical nature of the experiments versus the moral consequences.
Spiderhead had potential as a thriller, but its execution doesn't match up to the interesting premise. While a certain mystery box element in the first half of the movie is a bit lacking, the cast and their talent are able to keep the viewer engaged in the story, thanks in no small part to Hemsworth's performance.
Hemsworth is totally immersed in his role as a highly motivated and passionate man trying to achieve the impossible. He's quirky and eccentric, and it's clear that Hemsworth is having the time of his life. Abnesti is dizzyingly charming, which adds to the intrigue of his experiments up until the final frame. He shares amazing chemistry with Teller and Jurnee Smollett, who plays another convict in the facility. Smollett herself gives an undeniably powerful performance as a woman hiding from her dark past.
Spiderhead works as an enjoyable thriller that checks all the boxes of shock and awe, suspense and mystery, bolstered by great performances. It's a short movie, which makes it a serviceable watch, despite its issues. Tune in if you want to see a Hemsworth performance that's a departure from his usual clean-cut action hero roles.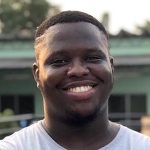 Boluwatife Adesina is a media writer and the helmer of the Downtown Review page. He's probably in a cinema near you.