Watch of the Week: Man of God
Young Sam (Nifemi Lawal) watches, bored, his father, the Prophet Josiah Obalolu (Jude Chukwuma). Perhaps the kid doesn't find much spiritual traction in his dad's sermon. Sam sneaks out, and pays the price – his old man beats him with a belt. The scene occurs repeatedly throughout Sam's childhood, his father wailing on him, his mother comforting her child but doing nothing to stop the violence, Sam vowing to leave and never return. Which is exactly what he does. Several years later, Sam (Nnani) leads a scorching-hot Afro-jazz group while attending the University of Lagos. He hasn't spoken to his family in three years, and never replies to his mother's letters. He smokes. He drinks. He has sex with women, three of whom play key roles in his life: Rekya (Dorcas Shola Fapson), a dancer in his group, is his sort-of girlfriend; it's complicated, but at least the open door vibe appears to be mutual. His relationship with Teju (Osas Ighodaro) is platonic, even though she has romantic interests; she assists him with his studies and tries to get him to attend Christian fellowship meetings with her.
Through Teju, Sam meets Joy (Atlanta Bridget Johnson), and we immediately hear heavenly piano music, implying that she's The One, perhaps sent by God himself, because she's also a music lover and, most importantly, the only one who successfully encourages him to join the fellowship.
Muh to Teju's despair, Sam pursues a relationship with Joy, who maybe almost gets over his bad-boy reputation for a while, until her pastor labels him a player.
Meanwhile, Rekya drops out of university, dealing drugs for fast, easy money; she shows Sam her swanky new apartment and encourages him to live the high life with her. He declines, pinning his hopes to Joy, who leaves for several months on a service trip. Her communication becomes sporadic, and his worst fears are realized – she went off and married someone else. Years go by.
Sam and Teju marry and start their own ministry, which takes off like a rocket. They enjoy a swank home, cars, and money. Maybe it has something to do with Rekya – Sam's sleeping with her on the side, and her dirty money is funding the ministry. So much time has passed, and Sam remains wayward. Will he find the straight path? And where will it lead?
Man of God starts out quite strongly, with the leads imbuing the story with zest and energy. You really do buy into the story because of this. However the third act feels quite rushed, leading to me feeling a bit unsatisfied. I really did like where the film was headed but it felt like scenes had been removed from the third act. I'd still recommend it to viewers, but that caveat does remain.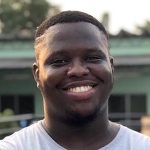 Boluwatife Adesina is a media writer and the helmer of the Downtown Review page. He's probably in a cinema near you.