The Business of Making Movies With Charles Okpaleke
There's no denying that the Nigerian movie industry has improved in leaps and bounds. Gone are the days – we hope- of poor sound, unbearable soundtracks, and effects that leave you wondering what the crew, including the executive producer and director, were thinking. These days, more Nollywood movies are making their mark internationally, and a few producers can take credit for this based on their delivery. Charles Okpaleke, co-founder and CEO of Play Network Africa, is one of them.
Okpaleke didn't always toe the line of the movie industry. In fact, before adding movie-making to his portfolio, the Medical Sciences graduate and Health Economics master's holder ran a hospitality business with his brothers, Elvis and Jeffery. But he didn't focus on the hospitality business alone for too long. A conversation with his wife led him to take a trip to Owerri with his friend, Ramsey Nouah, to acquire the rights to his first film, Living in Bondage: Breaking Free. The movie went on to win several awards apart from the seven it won at the Africa Magic Viewers' Choice Awards in 2020. Since then, the sky has been the limit for Okpaleke as he continues to produce one Nollywood remake after another, each better than the last. The latest in his instalments of Nollywood remakes is Glamour Girls, which according to him, is scheduled for release sometime in June this year. Apart from remakes, Okpaleke has many other plans for Nollywood. He reveals these and so much more in this interview with DOWNTOWN's Editor, Onah Nwachukwu.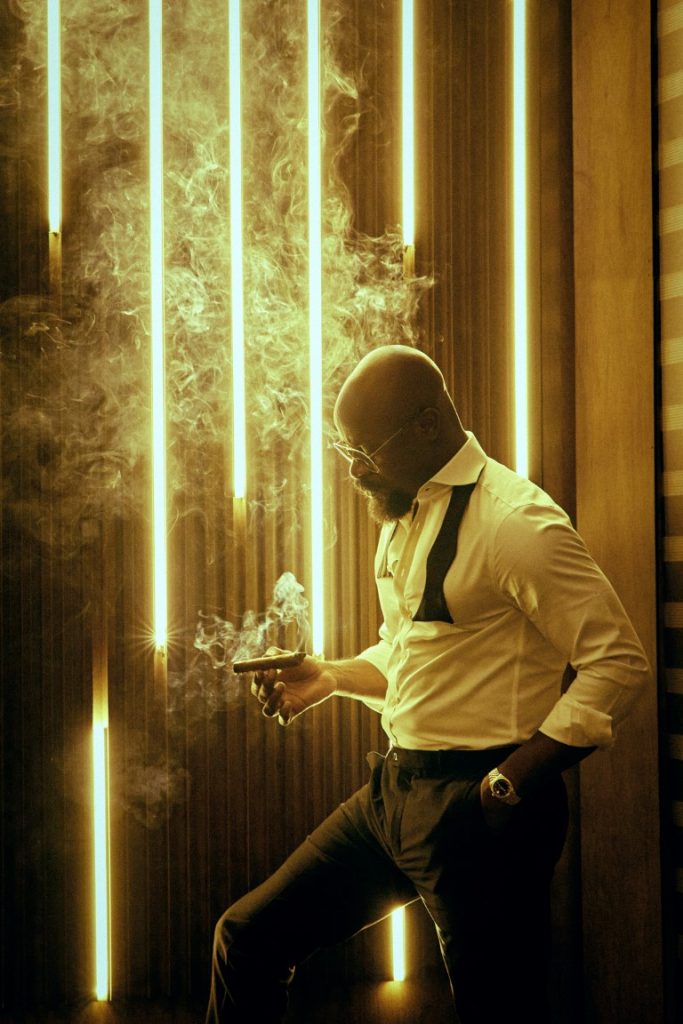 Knowing you and your company Charles, you started in hospitality. You had a sports bar and grill, then you gradually made your way into production. Tell us how that all began.
I started as a health economist, I have a full health background. I have a BSc in Medical Sciences from the University of Nigeria, and I also have an MSc in Health Economics from the University of Birmingham. I used to consult for the United Nations and I also lectured postgraduates on Health Economics at the University of Nigeria. But while I was doing that, I still opened up a sports bar with my brother and that's where we birthed Play. My brothers, Evis and Jeffery, and I, are co-founders. We started Play Network as a place where people came to watch football, grab a beer, and have drinks. Eventually, it became an after-work spot even if there was no football match to watch; we were a group of like minds who just moved to Abuja and would meet there.
We saw beyond that business as a sports bar, it was more of a networking hub because we kept meeting people we hadn't seen in years and we kept making new friends. For us, we saw it as a networking avenue, a networking spot and decided to run the entertainment business as a series of networking hubs and that's how we started opening different businesses. It wasn't just to sell alcohol or food, it was basically to create an experience and create an avenue for people to network. After a couple of years, a decade-plus, I was watching CNN and they talked about Nollywood and how it was the face of Africa. They started talking about the movies they (Nollywood) produced back in the day then the thought that it would be a good idea to recreate some of those movies and bring back that nostalgic effect to create a fusion across both generations came. And then it hit me to remake Living In Bondage.
The idea hit me on a Wednesday, I called Ramsey Nouah that night —he's my friend and back then, he used to be the only one I knew in that industry— and I told him 'you know I've been telling you I want to get into this industry right, I think I have an idea' he asked what it was and I told him I want to remake Living In Bondage. He was a bit sceptical and I told him 'I think it's going to work and I'm calling because I know you know who produced this movie. I want to get to this person, I want to get the rights off this person.' He added that the person had left the industry and that he was now a pastor. But I'm adamant and he eventually reached out. The producer of the first movie told us that he was no longer in the entertainment industry and that he had moved to the east but that if we were interested, we could come to see him. The next day Thursday, I and Ramsey were on a flight to Owerri. We landed, drove to his village, sat with him and he said, he liked the idea and that nobody had ever thought about it. He gave us a price and within a week, we paid and got the rights. I bought the rights in 2015 and I released it in 2019, so it took me at least four years.
You already had a name in terms of business and hospitality but what about your degree in health economics; how did you fuse it with your business acumen to prepare you for your role in production. And how difficult was it to raise capital for someone relatively new in Nollywood?
So health economics, in any way, didn't help me get into the industry. I'm a medical professional and that's basically where it ends. In terms of business acumen, I think it's just my hunger for a good life. I like to enjoy myself so for me, I like to invest in businesses. I take a lot of risks because no risk no reward. That's how I look at it, so my health background had nothing to do with it because based on my health background, I would still be a consultant or probably be in the 9-5. I'd say what had an influence would be my lifestyle. And your other question regarding raising funds, in all honesty, I've never been one to take a loan from the bank. Don't get me wrong, I don't have anything against it but if I want to take a loan, I wouldn't take a loan from a bank for a business I do not know anything about because if it goes wrong, I'll be in debt. So I had to raise the money myself from other businesses.
And how difficult was it?
The good thing was we shot in three or four different stages. The first quarter of the movie, somebody had to travel which kinda gave me a break. Then we came back to shoot the second quarter. By then, I had recouped and I had some money available as well, then we stopped again for Christmas break which gave me another one month break and then we came back again though it cost more money. The thing is when you stop production your budget increases because you have to bring everyone back again. But thanks to that I was able to stagger my investment which was a good thing.
One question I've always had after watching your movies is how much of an improvement it is in terms of delivery but you also took a chance on new actors, something nobody does for first-time movies. What made you choose to do that?
To be honest, let me tell you something not many people understand. Living In Bondage was Ramsey Nouah's directorial debut; it was the first movie he ever directed. It was also Nicole Asinugo's writing debut; that was the first movie she wrote. And I feel we have a lot of talent in Nigeria that is hidden and untapped. They never get the opportunity to showcase what they have. I own a chain of nightclubs and I was in one of them one night and Nicole, who was a writer, came to me and was like 'Charles, I heard you just bought the rights to Living In Bondage. Omg, I want to write it.' I'm like 'Ah, Nicole when did you start writing?' She was like 'Sir Charles, trust me, give me the opportunity and I'd kill it.' Ramsey was in town that night and he came to the club as well. I told him to guess who is writing the script and I tell him Nicole and he goes, 'Who is Nicole?' [He chuckles] Ramsey said to me 'Charles are you joking? Abeg, let's go and look for a writer.' And I told him to trust me and he was still pretty insistent on us hiring a professional and not someone who says they can write. But I took a risk on that and it paid off. Nicole killed it, she did an amazing job. The thing is you'd never know somebody can do a good job unless they aren't given the opportunity to. The actor, Jide Kene, did an amazing job. That was one of his first major movies. I had never known Jide Kene but Ramsey Nouah believed in him and put him through. I feel like these hidden talents, if they are not given an opportunity to act, at some point, we'd be stuck with the ones we know. And then, the ones we know would stop acting and start investing in the movie industry. They'd become executive producers etc, and they will look to this younger generation to play these roles. So if you don't get them now, it can be late, there would be a gap in the market and that would be a problem. I believe in young people; I started my business when I was 24, so I feel like we need to imbibe that culture in Nigeria as a whole. It's always good to give the young lads a try.
When you went to people through whom you raised capital for the movie were they excited about the idea of the movie?
I didn't go to anyone to raise money.
So you paid from your pocket? You were willing to take that financial risk all by yourself?
Yeah. The thing about life is you have to believe in yourself. But recently, there are one or two people that are beginning to invest.
In terms of sound, we all know how subpar soundtracks and background sound used to be in those days, but how were you able to get masterful sound engineers and the right soundtrack for your movie?
If you remember Soul Food, it had an amazing soundtrack. And why I remember the movie Soul Food today is because of its soundtrack. It was an amazing movie. Best Man with Morris Chestnut and Taye Diggs also had an amazing soundtrack. So I just felt like, why is it that we don't invest in soundtracks? We need to start doing this thing differently. I told myself you know what, for Living In Bondage, I'm going to get the best of them. So I called Davido and I said, "David I want you on my soundtrack." I give him a brief of the movie, and he give me a song. He and Larry Gaaga did a song. Larry Gaaga produced it. He brought Phyno, Flavour and Tuface on board. Everybody in the industry came aboard to produce something for this iconic movie which I think was brilliant of us as a team. The soundtrack was superb. It was a standalone business idea, a standalone project as well that won awards at the AMVCA. It won the Best Soundtrack award that night. The entire Living in Bondage project won seven awards.
You're working with Netflix on some movies, correct?
Glamour Girls is a Netflix original and it's coming out sometime in June, I think. I bought the rights to the movie as well and we put a lot into it. We shot in Abuja, Lagos, South Africa, and we went to Beirut as well. I hope you guys like it.
Seeing that you've set a standard with the previous films, do you ever worry that people will be disappointed?
Obviously, I worry because now the standards are higher. And what people don't understand— which I'm thankful for this opportunity and avenue to speak up —is that it is harder to make a sequel than to make an original movie. In an original movie, you have a script from nowhere that's nice and works. But to redo a movie or to make a sequel, you have to ensure that you are aligning with those that saw it years ago and it is in tune with what the current generation wants to see. No matter how good Living in Bondage was, some people were still vexed that we touched it. That it has been ruined. There will always be people who are not happy because it's a sequel. Most people just want to leave it as a classic but you just can't because it will be forgotten. You just have to, somebody has to do it. If you leave it and ignore it because of what people would say then that title will end up dying off. It will become extinct. Why let that happen people will outlive you. Let me give you an example, I just got the rights to shoot a biopic for King Jaja of Opobo. So you can imagine that kind of story. If you don't tell it, in another 30 years it will be forgotten. These are stories that if you don't touch in our generation, they're gone for life.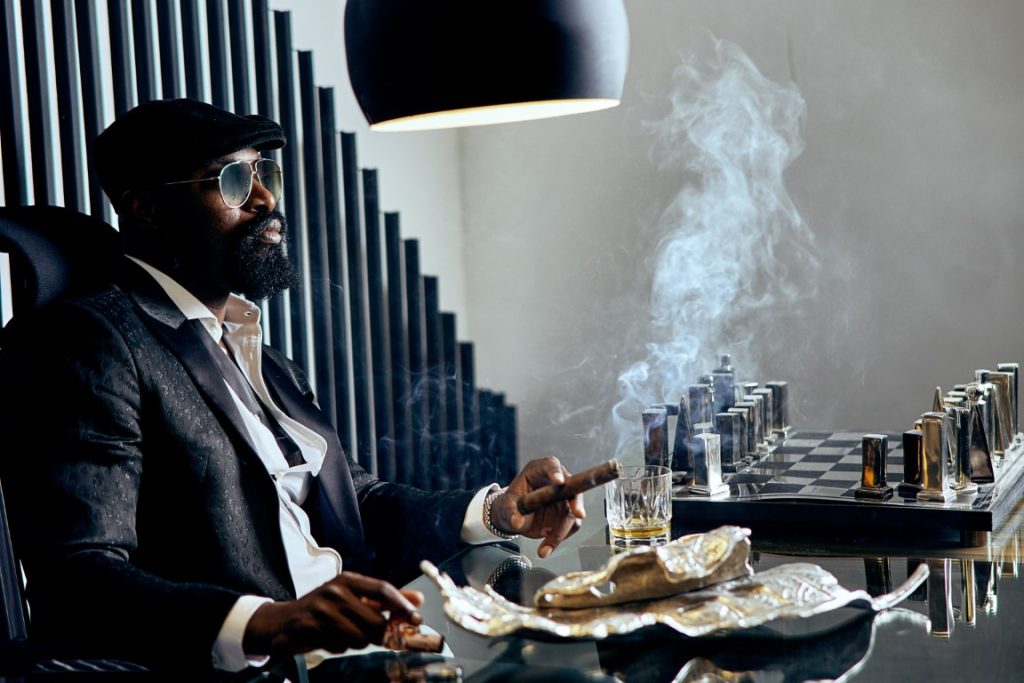 So do you have any originals coming out soon?
Yes, I plan on making my own original. The project we are working on with Native Media right now is the Hijack 93. So in 1993, some young guys between the ages of 18 and 24, four of them, had hijacked a plane going to Abuja and diverted it to Niger. They hijacked it to protest the annulment of the 1993 election because they were rooting for Moshood Abiola. So they diverted the plane to Niger Republic, and held the passengers hostage for three days. This is a true life story and these guys were sentenced to prison for 12 years. Of course, today they've been released. I interviewed them last year. They told me their story and we are shooting a movie about it. We're going into production in July. What my experience in the industry has taught me is not to drop dates because production can take longer than he would expect so you don't want to be caught in the midst of that. So when you are done shooting, and you go into the post-production phase, you can decide on a date.
Do you care to tell us about The Six? It was supposed to be released in 2021, yes?
So The Six is going to be one of our most expensive and most delicate projects because it's a combination of Living In Bondage, Rattlesnake, and Nneka, The Pretty Serpent. It's a huge story and we're still writing. We have a Shina Rambo movie in the works. He used to be a notorious criminal in the early 90s. He terrorised them in the South-Western region of Nigeria. He's now a born again christian and we interviewed him last year and he told us his story and we are making a movie of that as well.
How important is it to have a supportive wife to keep you grounded amidst all the… as we used to call it those days, "sucking blood"? You're an incredibly fashionable man, and because of your job you have women come around you, how important is it a supportive partner in all of that to help keep you grounded?
Honestly, it's God. It's been amazing, my wife works for the UN and she's pretty busy and I try as much as possible to respect myself. I feel like there's nothing that can phase me in that regard. It's only when the man doesn't respect himself that s–t hits the fan. So I try as much as possible to respect myself, I try not to cross boundaries. I think we're good, we're good. I can't complain she's been amazing, she's been quite supportive because it can be difficult to marry a husband who is out there but I think the most important thing is trust.
With the alarming rates of domestic violence happening in the world, being a father of two identical twin daughters and another daughter, how are you raising them to stand up for themselves and not be reined in by a man till things get volatile and domestic violence comes in? What culture do you want to imbibe in your little girls and how important is starting this education early?
I think the most important thing is to always remind them that if anybody pushes you, you push the person back. If anybody hits you, you hit the person back and if anybody hits you and you can't hit the person, call mummy or call daddy. The whole domestic violence situation is sad. You don't have to hit a woman. How can you hit a woman? If you do that then you don't love her. I don't know how you can hit someone you love. I hope none of my daughters ever encounter that kind of thing. It's better to be heartbroken than to be beaten. Just leave the relationship if you're tired rather than hitting the woman.
Should we expect you to upscale from telling Nigerian stories and culture to working in an international capacity?
Well, that is growth but I am not eager to do that. Africa is good enough that it doesn't phase me. Africa is the future. The earlier we understand that Africa is the future, the better. I am more concerned with building a legacy in Africa. I'm not eager to work with Hollywood. Africa is enough. We have a lot of countries which means a lot of stories to tell here. If it comes, why not. You can't turn down the opportunity to grow. But, I think it's something that I should lose sleep over. What I should lose sleep over should be taking over Africa in terms of production.
As far as talent management goes you've signed the likes of Liquorose, Nengi, Kim Oprah and Ike Onyema. Looking at the rise of reality shows in recent years, is that something we should expect from you?
I was going to do a Mr and Mrs Play Network. It was an idea that hit and I'm still talking to my team about it. I don't like to jump into something I know nothing about if my team comes back with a positive response, it is something I could give a try. If I don't get the green light, I will just leave it.
You happen to be an ambassador to several alcoholic brands. Is owning your liquor brand your business mind has thought about or you're fine with just being an ambassador?
Owning your own liquor brand needs attention and I really don't have that attention to give. Number two, you would have to bring in those people that can actually make it. I don't think production of brandy, cognacs and wines can be made in Nigeria and you will need to have your own factory set up here in Nigeria. I would rather just watch and invest in other things like mining, agriculture, there's oil and gas and a lot of other things I can invest in.
---
Cover Story Images & Creative Direction: George Okoro @georgeokoro
Concept: Onah Nwachukwu @onahluciaa
Clothes: From Charles Okpaleke's Wardrobe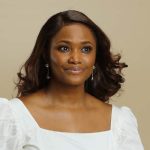 A lawyer by training, Onah packs over a decade of experience in both editorial and managerial capacities.
Nwachukwu began her career at THISDAY Style before her appointment as Editor of HELLO! NIGERIA, the sole African franchise of the international magazine, HELLO!
Thereafter, she served as Group Editor-in-Chief at TrueTales Publications, publishers of Complete Fashion, HINTS, HELLO! NIGERIA and Beauty Box.
Onah has interviewed among others, Forbes' richest black woman in the world, Folorunso Alakija, seven-time grand slam tennis champion, Roger Federer, singer Miley Cyrus, Ex Governor of Akwa Ibom State, Godswill Akpabio while coordinating interviews with Nigerian football legend, Jayjay Okocha, and many more.
In the past, she organised a few publicity projects for the Italian Consulate, Lagos, Nigeria under one time Consul General, Stefano De Leo. Some other brands under her portfolio during her time as a Publicity Consultant include international brands in Nigeria such as Grey Goose, Martini, Escudo Rojo, Chivas, Martell Absolut Elix, and Absolut Vodka.
Onah currently works as the Editor of TheWill DOWNTOWN.