Super Agent Drew Uyi: On Branding, Football and Entertainment
The football industry has become one of the biggest markets in the world. Every day new players are discovered and get shiny opportunities to ply their trade, usually in a foreign land. Often, players look to agents to bring them to these lands and help them grow. Drew Uyi is an FA licensed agent and brand strategist who emphasises the branding aspect of the sport. He started as an entertainment industry man, with involvement in the AY Live comedy show but he eventually moved back to his first love, sports management. Today, he has worked with talents like Wilfred Ndidi, Victor Moses, Ahmed Musa, and Odion Ighalo. In this interview with DOWNTOWN's Editor, Onah Nwachukwu, and writer, Boluwatife Adesina, he goes into his life experiences, some branding advice, and much more.
How exactly did you get into being an agent?
I've always known from day one that I would be an agent. I grew up in Benin City, Edo State and when I was in secondary school, I knew that I wanted to study sports management. But by the time I finished secondary school, there were no University courses like sports management. There was only marketing and advertising, so I started with that before eventually, the course was available. However, by the time I graduated, the barriers were very high to becoming an agent. They were so high, it was easier to get into the entertainment industry and that was when the likes of Tuface, Styl-Plus, Basket Mouth, AY, P-Square were all coming up and they needed someone in the UK to represent and manage them internationally and that was how I started building my clientele. So by the time FIFA then changed the rules to allow us to connect directly with our FA (Football Association), and we didn't have to travel all the way to Switzerland to write exams and the tedious process that was initially required, I went to get my licence from the English FA and with the platform, I'd already gotten, I didn't have to start from zero.
You've managed and worked with some big names in sports, African music, and the entertainment industry at large. What would you say is the common ground and how were you able to switch industries so effortlessly?
Sports is real-time entertainment and the main stakeholders are talents. Managing an athlete and managing an artist is more or less the same. The difference is that they come from different backgrounds. An artist can just emerge from the streets, while in football, they go through an academy, so they're more grounded and there's a structure in that than in music. My experience working with talents over time has made me know if an artist is ready to work or not. It is not easy because working with talent is a talent on its own. It looks glamorous but it is not easy, it is a cut-throat business.
Victor osimhen commanded a 70 -million fee potentially rising to 80 million. Before that, Nigerian stars had always been undervalued. Why do you think this is?
Osimhen has been an interesting footballer from day one. He played the Under-17 World Cup for Nigeria, so there's been a buildup. As I've always said, it's not too early to start branding. From the beginning, he knew what he was doing, he started his branding from the Under-17, he was quite the character. After they won the tournament, he was transferred to Germany where he had a few injuries and a slow start which saw him go to Belgium. His career really picked up when he joined Lille (in France). Lille is very good with Nigerian players with Osaze Odemwingie making a name for himself there in the past as well. Apart from his good performance, there is a branding team around him. He was fortunate to be in that club because they positioned him in a way that his brand value then affected his market value. Firstly, his performance was on point, but his performance alone couldn't take him to where he is today. And that is the same thing Napoli is doing now; they are positioning him for greater heights. It is a business, so I am not surprised by his market value and I believe that it will still rise higher.
Speaking of marketability, Nigerian footballers don't play for top clubs in Europe and this is quite worrisome. How do you reckon that could be fixed?
It depends on the players as well. Are they putting themselves out there? I think it is about time Nigerian players started having a strategic team around them, a proper structure as opposed to having groupies or just people around. Football is a serious business. They need to work with football agents that focus on them, not just an agent that has about 300 players on their clientele and they are just one of the numbers. They need to work with agents that pay attention to them, have their interest at heart, and don't just think about negotiating a contract and going home to sleep. They should start working with agents that are good for marketing and branding. There's a lot of work to be done for them to be signed to the big clubs.
Let's talk about marketability right now and putting themselves out there as you've said. These days, social media is very significant and it has been integrated into sports. In terms of finances and income streams, do you think a player's digital footprint is just as important as thier on-pitch activities? Yes, the off-pitch is very important and it is something they have to invest in. You cannot leave your club or agent to do that for you, you have to do it yourself, especially if your agent doesn't have an idea how to go about it. I've asked a few agents what they were doing for their players as regards branding and they couldn't be bothered. I think that is the wrong approach. I don't advise my players to use social media because I will do it for them. I will put a team around them that will be running their social media, and that is not limited to just Twitter and Instagram, it is with YouTube as well. Social media is nonnegotiable as far as I'm concerned because if you're not on there, your career is dead.
What other ways aside from social media do you promote your athletes?
I have over twenty years of experience in media, PR, and entertainment. Although it is inbuilt, the experience over time helps me a lot, it comes naturally. If you want to put yourself out there, it is 'give and take.' It is a very simple principle: you have to give something to get something in return, whether it is financially, with visibility, or by being available. For instance when a charity organisation asks to collaborate, even if you're not giving them money, you give them your time. That is how you put yourself out there and people believe that you are not just about the money or yourself, but about giving back.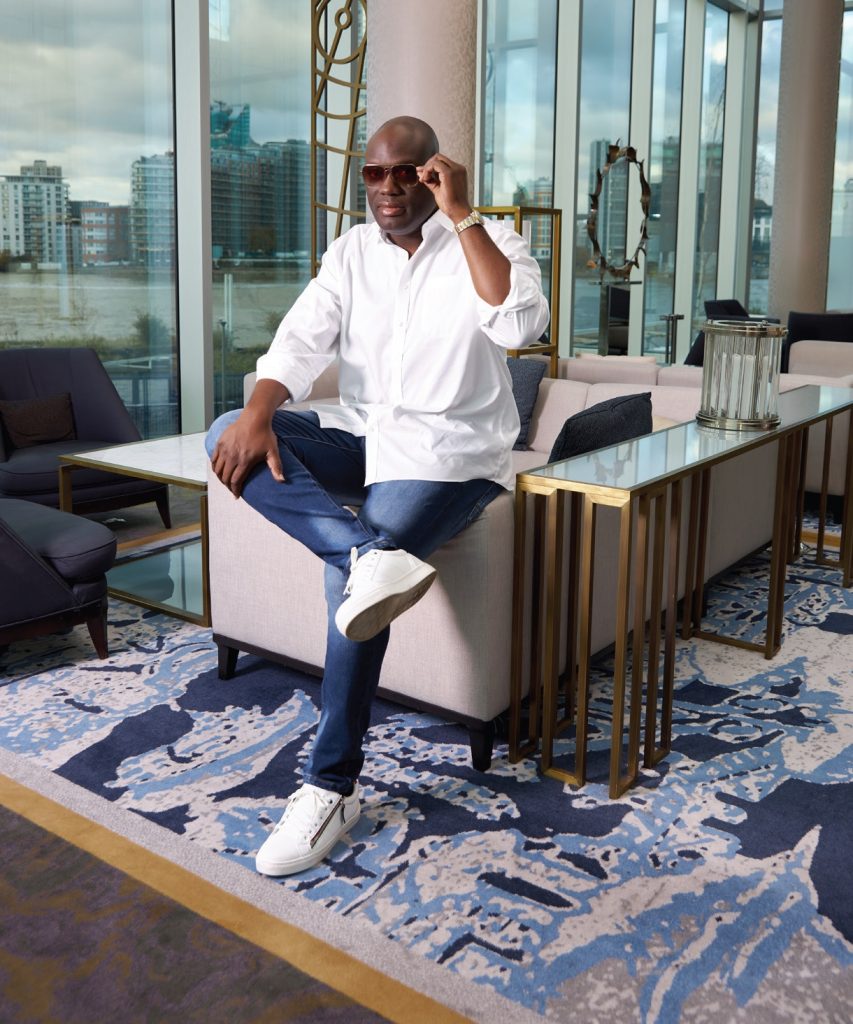 Do you ever try to do some scouting yourself?
Yes, I do some scouting when I come but I'm not a scout. I see football from the marketing and advertising point of view. When I see a player, I try to size them up to know what else they've got apart from football. I ask myself, "How can we monetise this talent?" You have to be more than an athlete. You cannot bring me a footballer that doesn't have an education. You need to have a basic education. Also, I come home and see some players but most times, these players are not ready psychologically, and if they are not ready mentally, there's little you can do for them. According to statistics, 83% of Nigerian players that move abroad fail trials because they are not ready.
Wilfred Ndidi has been in the Premier League for four and half seasons now. He has established himself as one of the top players in his position. He's recently just won the FA cup and perhaps life is good at Leicester with fellow countryman, Seniorman Kelz. But ultimately the best players want to play for the biggest clubs in Europe, playing Champions League football regularly. Could you give us an insight into what the situation with him is like?
Working with him closely, I think he's doing pretty well at the moment. Leicester is not a small club, they are playing in the Europa League. Facility-wise, they have the best training ground in England, if not in Europe, they've just opened it a few months ago, that is an incentive. They are also planning to build a new stadium. So far so good, bigger clubs are looking at him. Eventually, when the time comes, he will go to where he's destined to be.
At the same time, I'm not his agent, I work with him in a different capacity, where he has seen the results. We will keep pushing and hope it eventually pays off. You might be the best player but if you don't put yourself out there, you won't get where you ought to be. He is a really quiet guy, but at the same time, Kanté is a quiet guy as well. There's a way you go about it. My job is to give these athletes the eyes to see beyond football.
One of the biggest names on your clientele is the Super Eagles captain, Ahmed Musa. He recently decided to sign for the Nigerian Premier League dub,kano pillars, during the df-season. Asides from keeping his fitness level up, what was that move about? And what were your thoughts on it?
The best marketing doesn't seem like marketing. Interestingly, Ahmed Musa is not from Kano, he's more or less from the middle belt of Nigeria. He can do a lot of stuff for himself without people knowing it. His teammates think that he's just your average player, but he is not. He is so aware of things happening around him. He has the fanbase, he's the biggest player in the north and they have the highest numbers. He has done a lot of things deliberately like giving a lot during their Muslim festivals, so they now see him as a Kano indigene. He's the kind of guy that would share three trailers worth of rice with people. Politicians want to talk to him, people want to have dinner with him, they want to be associated with him because he's gotten people on his side. His move to Kano Pillars was strategic. As a professional athlete, you have got to be strategic, and that is why he has registered over 100 caps for the Super Eagles, it is not a coincidence.
Having worked with some of the biggest names in African football; the likes of Wilfred Ndidi, Victor Moses, Ahmed Musa, Odion Ighalo, and a host of other top African players, is there anyone you probably missed an opportunity to represent and still hurts till this day?
I think it is the other way around. They missed an opportunity to work with me because the truth of it is that they stand more to gain from me than me gaining from them with all humility. A lot of ex-players have come to me to tell me that they wished they had someone like me when they were playing. For most of them, their biggest challenge was having a lot of people around. They have a lot of groupies that will stop the people who really want to help them. I see it as a win-win situation because obviously, I'm not running a charity. I'm giving you value and getting just 10% for it in return. I feel sorry for the athletes because at the end of the day they miss so many opportunities. I don't like saying it but they have a short shelf life, so when they hang up their boots, the money stops coming in and nobody is going to call your phone.
As an agent, do you put things in place for your clients to fall back on after retirement? Something they can keep up with, that is close to the lifestyle they lived while they are still hot on the shelf. A lot of them tend to slip into oblivion and some of them end up poor because deals and endorsements don't come in anymore, whereas you have a David Beckham who has been retired for a while, yet recently just signed a 150-million pounds deal to be the face of the Qatar World Cup. How do you position your player such that even after their shelf life is up, they are still able to have endorsement deals?
Anyone that follows my post will know my mindset. For me, I am always a step ahead, I see the end from the beginning, so any player under my management will never go broke. I can beat my chest on that because first and foremost, I will not even allow my players to spend their salary when they have endorsements. But then, how many Nigerian players have endorsements? Now I'm educating players and you will be surprised that all these guys know is football. Unfortunately, they have people around them that can't do the job and are blocking people from doing it. If I have a player that is submissive to me, I will make sure that he doesn't spend his salary. The salary will be for investment and he will be living off his endorsements and that is very possible.
The commercialisation of sports has given rise to Mino Raiola and Jorge Mendez. How did these agents garner such influence?
These guys have been doing this over time and it is thanks to people giving them that opportunity to work. I have given so much value that I should be managing the majority of Nigerian players. The players want to work with me but the people around them are proving to be a stumbling block. I'll give you a scenario; there's a player that wanted to work with me and asked me to talk to his 'boy' to give me access and everything I need to work. The particular boy was scared thinking that Drew will come in to outshine him. That was his bread and butter and he wasn't prepared to let anyone in. The superagents you mentioned have all been in positions where people believe in them and those are the footprints I'm following. I know where they are coming from because I've been in the system. These guys are all about investment, wealth creation, monetising and maximising. Those guys are good at what they do, and it is word of mouth. But at the same time, they wouldn't be there if it were a Nigerian situation whereby people are blocking them.
Some of the negative press around agents seems to revolve around young players getting exploited by them. Do you have any tips for upcoming players to avoid getting caught up in that sort of experience?
That question is a bit difficult because these young players are extremely desperate. Also, there are few spaces for them, so the competition is crazy. How many clubs are in Europe? Where can they fit in? You can only play 11 players at a time. There are a couple of people who impersonated me to exploit young players. The players eventually reached out to me and I will tell them outrightly that I don't know that person and they shouldn't pay anyone. They will still go ahead and pay the impostor. They are gullible and just want to play.
You've regularly emphasized self-branding foe players on your Instagram. What are some of the key tips that you give to athletes?
That is my unique selling point. The values I share online are just 10% of what I know, so obviously there is more in the bag. Some players come to me to ask about branding and I look at their page, they are not ready. You are not going to get verified if your page is private. The first thing to do is get verified. As a brand, this helps a lot with people's perception of you which in turn helps for business.
Your job takes you all over the world, how do you maintain ties back in Nigeria? How often do you visit?
My immediate family is all based in the UK apart from my parents and they come to London every year to visit. I have friends in Nigeria though but it is a global world and you can communicate with anyone from wherever you are. I keep in touch with Nigeria and try as much as possible to visit as often as I can.
Who are some of the best-branded athletes in your opinion? People that have been able to leverage sports into much more than just their salaries.
It is not even the loudest people that have done that, some quiet people have done really good for themselves. The blueprint is from the United States which is home to people like LeBron James. Michael Jordan has done a lot for himself as well but I will pick James over him because he's done more for his community. But there are so many obvious names such as Cristiano Ronaldo and Zlatan Ibrahimovic. Most people in Europe see sports as a business, so they run it like one. We mentioned David Beckham, he's done brilliantly well for himself. Also, his compatriot, Marcus Rashford, whose impact has been nothing short of amazing. There are also players who despite not having the big branding, have done very well with their investments. Investment and branding are two things that most European footballers have done very well but several African players don't even know about.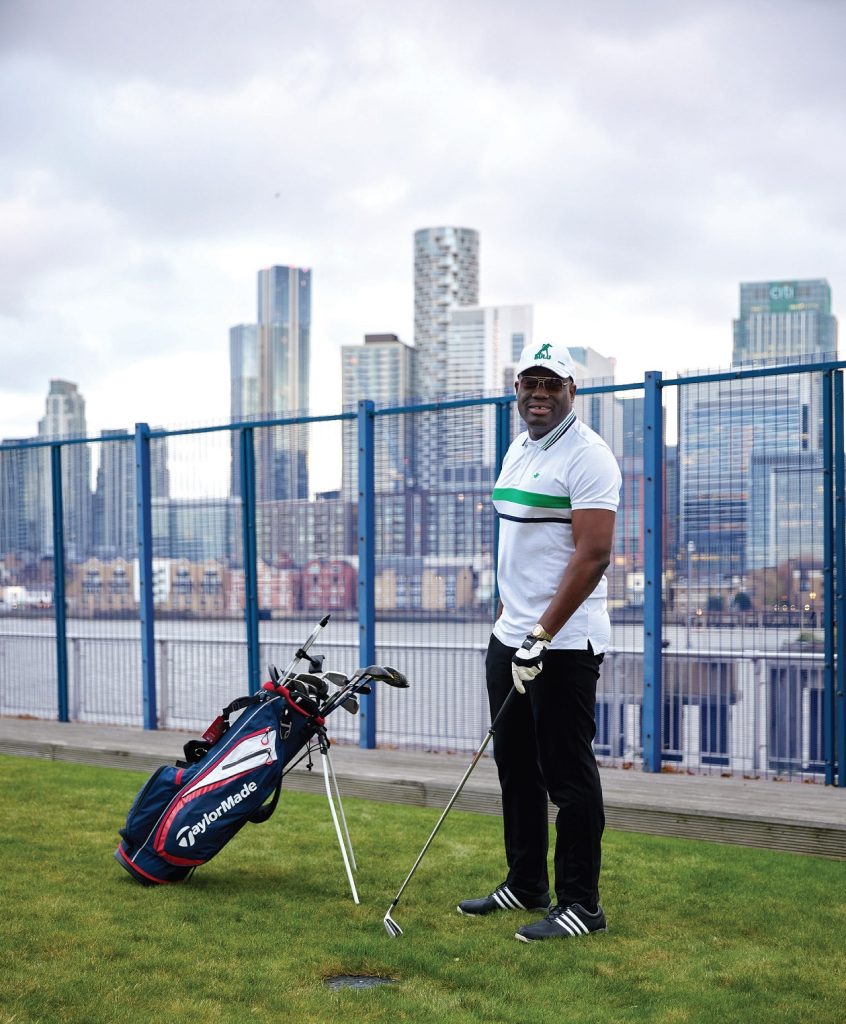 How did COVID-19 affect how you do business? In those months that there were no sports, how were you managing your time?
That was the best time for me because that is when you really work. For the Americans, the off-season is when they really do stuff, that's when they invest in their brand and tell their stories. So during the pandemic, we encouraged the athletes to go live on Instagram so their fans get to know them better. Branding is all about numbers, so how do you get your numbers up? It is by showing who you are. For instance, if you are a Catholic, tell people that and that will be the connection between you and your fans. Take Victor Osimhen, he identifies as a Lagos boy because that is where he grew up and he's made that his brand. He could've played the Edo State card as that is his state of origin but he chose not to. This works for him as Lagos is a city with over 25 million people. You are the author of your own story, so tell it in the way that favours you. Branding is an act, it is not just what you read in books, it is your experience over time to know what works and what doesn't.
How different is the life of a real agent from the ones depicted in Hollywood films and TV?
To be honest, it is a reflection of real life. It is a glamorous job, you have a lot of people that want to work with you, and some shadow you. Everyone likes sports and entertainment, and as I have said, it is a cut-throat business, especially in the Nigerian space because a lot of family members and childhood friends don't know these things, yet they want to put themselves in there and it is sometimes overwhelming for the players.
If you could manage anyone in sports, who would it be and why?
Being an agent for me is purpose-driven. My purpose is to help African players, precisely Nigerians. So I'm not even looking outside the box, I just want to help black players. Any player that I want to work with has to be on a one-on-one basis, that way I know that we can achieve a lot together. I'd also rather work with young players than the ones that are past their prime but I can work with any player. The likes of Samuel Chukwueze and Chidera Ejuke, don't need to do much. You just need to give them simple instructions, tell them what to do so as not to distract them from their sport. There's a player I'm working within the UK right now, Emmanuel Dennis of Watford. These boys know what they want but at the same time, people around them are feeling threatened. There are a lot of these young lads coming up that I would like to extend my arms to help them but they have to be willing to work as well.
What are some of the tips you would give to someone starting to be a football agent?
It is like every other job, you have to look for a mentor, you need to shadow someone. The truth of the matter is that it is based on relationships and gaining people's trust. To start up, there are not a lot of agencies that will take you on, that is for sure because like I've said, I went out and took a different approach. Football is a very close-knit business, nobody is going to just take you off the streets. I think doing a course related to management or law will also help.
What is your favourite part of being an agent?
It is being able to help. It is a passion for me, the satisfaction of getting the job done. Putting smiles on my clients' faces, making sure they don't go broke after their career. The satisfaction of creating a legacy. I enjoy the results. I think at this stage of my life, I've seen it all. What I enjoy most is giving back, helping out, letting people know when they are going about it the wrong way.