SHOWMAX WATCH OF THE WEEK: DIICHE
Having watched the first two episodes of Showmax's original Diiche, I find myself drawing comparisons to the numerous whodunnits I've been able to see and find that the show is smartly made and has successfully adapted the classic murder mystery for a Nigerian audience. Diiche's premiere follows the eponymously named main character as she is struck by the tragedy of her fiance's death and the resulting suspicion of her as his killer. Utilising flashbacks in a manner reminiscent of How to Get Away with Murder, the story is told both from the past and the present, with two police inspectors on the case, interviewing suspects a la Knives Out.
However, this version of the classic genre has a very Nigerian spin, with native doctors and indigenous languages being spoken. The show's music is also very well done, with the notes swelling at precisely the right moments.  The second episode of the ShowMax original picks up where the premiere left off, with one of the police inspectors found knocked unconscious. (I must say I do really like the show's title sequence. Dark and foreboding, it's a good mood setter). She is awoken and angrily storms off to Diiche's house, who she believes is somehow responsible.
Diiche herself meanwhile, continues to be plagued by nightmares with a recurring water/drowning motif.  She jolts awake and is made to answer more questions from the inspectors. The hubbub of reporters around the house makes Nnamdi's (the deceased) mother believe that Diiche has been arrested, but she is quickly made to realise this is not so. To heap more pressure on Diiche to "confess" she resorts to a method that puts her at the mercy of the court of public opinion.
The inspectors continue with their investigation with a smartly edited and scripted interrogation scene. Multiple suspects are questioned with the end of one suspect's sentence and the beginning of another suspect's words. The How to get Away With Murder-style flashbacks continue, revealing that Nnamdi was in business with a gangster known as G-Money.
Jimi was not a fan of this partnership, as we are made to know. This starts a streak of erratic behaviour for Jimi throughout the rest of the episode, culminating with a police car chasing him through the streets of Victoria Island and his being arraigned as suspect Number One.
Was Jimi Nnamdi's killer? He has been established to be very close with Diiche. Maybe it was a crime of passion? He has also been cooking the financials. Maybe it was a monetary issue that led to him offing Nnamdi.
All will be revealed in Episode 3, with new episodes releasing on ShowMax every Thursday.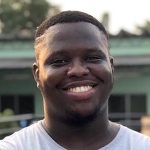 Boluwatife Adesina is a media writer and the helmer of the Downtown Review page. He's probably in a cinema near you.