Movie Review: Anikulapo
2022 seems to be a coming-of-age year for traditional epic films in Nollywood, with audiences being treated to culturally rich films. Earlier this year, King of Thieves stole hearts in the cinemas, now Kunle Afolayan excites us with Anikulapo while Biyi Bandele's Elesin Oba waits in the wings. Anikulapo is a Yoruba traditional epic set when the Òyó empire reign dominated Yoruba land. With this latest Netflix entry, Kunle Afolayan transports us back in time with a story inspired by the Ifá mythology, a true and proper display of culture.
Saro (Kunle Remi), a traveller from Gbongan arrives in Òyó Ilé looking to establish himself as a cloth weaver. He is a dashing young man and he immediately catches the eye of a rich businesswoman, Awarun (Sola Sobowale). In return for sexual favours, she helps him get on his feet. Saro is handsome and an eligible bachelor, and he soon begins to catch the eyes of other women, maids and maidens. He eventually catches the eye of Princess Omowumi (Eyiyemi Afolayan) and the Aláàfin's youngest and favourite wife, Arolake (Bimbo Ademoye). Saro and Arolake start an affair and plan to elope to live in love together, but they are outed by the heartbroken princess when she discovers their secret.
Saro is violently mobbed and left to die in the forest where he is resurrected by a mystic Akala bird who gives him another chance at life depending on the reason for his death. The Akala bird does not find him worthy of another chance, but before it can banish him back to the afterlife, Arolake, who has been watching, chases the bird away and retrieves the ado (gourd) it used to bring Saro back to life. When they get to the town of Ojúmó, Arolake sees a boy's death as their chance of a new and better life; she gives Saro the magical gourd to use to resurrect the boy. News of Saro's act spread, and he is given a new name- Anikulapo, the master of death. Anikulapo's fame spreads far and wide, and he becomes rich and powerful, but his hubris and irresponsibility prove to be his downfall.
Like in all Kunle Afolayan films, the vast amount of effort put into research and other elements of filmmaking is evident. The attention paid to the setting, language, and cultural practices is impressive. Anikulapo's plot is driven by an interesting story, but I found it difficult to hold on to a particular plot point as another minor plot point would arise and render the previous one useless, all without tying into the main conflict.
Furthermore, unnecessary scenes with unimportant details that can even count as mistelling of history needlessly extend the runtime. There's a new trend of retelling African stories with narratives that absolves them of responsibility for ugly practices done in the past. In some scenes, it is made to look like the Òyó empire vehemently opposed slave trade. This is ridiculous considering the fact that the Òyó empire was known as one of the biggest facilitators of slave trade and even practised it before the white men made it more profitable, but then this is supposedly fiction. We digress.
Anikulapo's story is captivating and beautifully told, the use of Ìjìnlè Yoruba for the dialogue makes it even more interesting, but one can't get over how slowly the dialogue is delivered; could this be because of difficulties with the diction? While Anikulapo presents a rich display of culture, the depiction of the pottery factory and the use of an Asohun Oba (King's mouthpiece) being highlights, some details could have been better executed.
Anikulapo is filled with a star cast of top Yoruba actors, seasoned veterans that give efficient performances in their roles, especially Sola Sobowale (King of Boys: The Return of the King), who excels in a different role than we usually see her in. Kunle Remi (A Naija Christmas) gives a good performance, but he struggles in some scenes and sometimes with the ìjìnlè Yoruba used for the dialogue. This also seems to be a problem for debutant Eyiyemi Afolayan who plays Princess Omowumi as the lines do not roll off her tongue as they should, and this affects her performance. Bimbo Ademoye (Breaded Life) continues her run of impressive performances as she embodies her role perfectly.
The plot of Anikulapo is elevated by the good execution of the technical aspects. The sound design and music help to set the mood and tone of the film with a score that helps to reinforce context and is easy on the ear, while the cinematography ticks all the boxes, aiding the storytelling with great shots.
Overall, Anikulapo tells a fascinating story, all in the native language of the location and period, while being a stylish piece of work. Watch it wherever you can.
Rating: 7/10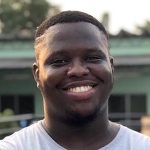 Boluwatife Adesina is a media writer and the helmer of the Downtown Review page. He's probably in a cinema near you.