Peeling Me Softly
Having super smooth skin is every woman's dream. Attaining that goal, however, is a different story, especially when you have reached a certain age. Yes, with age come wrinkles, spots, and everything in between, so the question still remains: how do we get rid of them? Although there are a lot of new beauty trends and products that can help you achieve smoother skin, a safe solution that combats these aging signs, such as wrinkles and skin blemish, which also happens to be quite popular, is a Chemical Peel. Adding a chemical peel to your regular beauty routine guarantees better-looking skin. For the sake of those of you who have never heard of this beauty trend, we'll start at the very beginning. What is a chemical peel?
A chemical peel is a type of deep exfoliation of the skin that involves controlled damage to the skin, which eventually peels off to reveal clearer-looking skin… and yes, it also works on dark-skinned people.
There are different types of chemical peels: light, medium, and deep, and each one targets a specific problem.
Light Chemical Peel
This type of chemical peel targets and eliminates the superficial layer of the skin, ie, the epidermis. A light chemical peel can be repeated every two to five weeks for treatment of dry skin, acne, superficial wrinkles, and uneven skin tone.
Medium Chemical Peel
A medium chemical peel targets the epidermis and the upper-middle layer of your skin, AKA dermis, removing skin cells from them. It can be repeated every five to nine weeks, and it fights visible wrinkles, acne scars, and uneven skin tone.
Deep Chemical Peel
It works on removing skin cells from the epidermis and portions of the middle to lower layer of the dermis. For this reason, this procedure can only be done once. It removes deeper wrinkles and scars, or even pre-cancerous growths. It usually involves a pretreatment for up to eight weeks.

THESE PEELS SHOULD BE DONE BY A PROFESSIONAL RECOVERY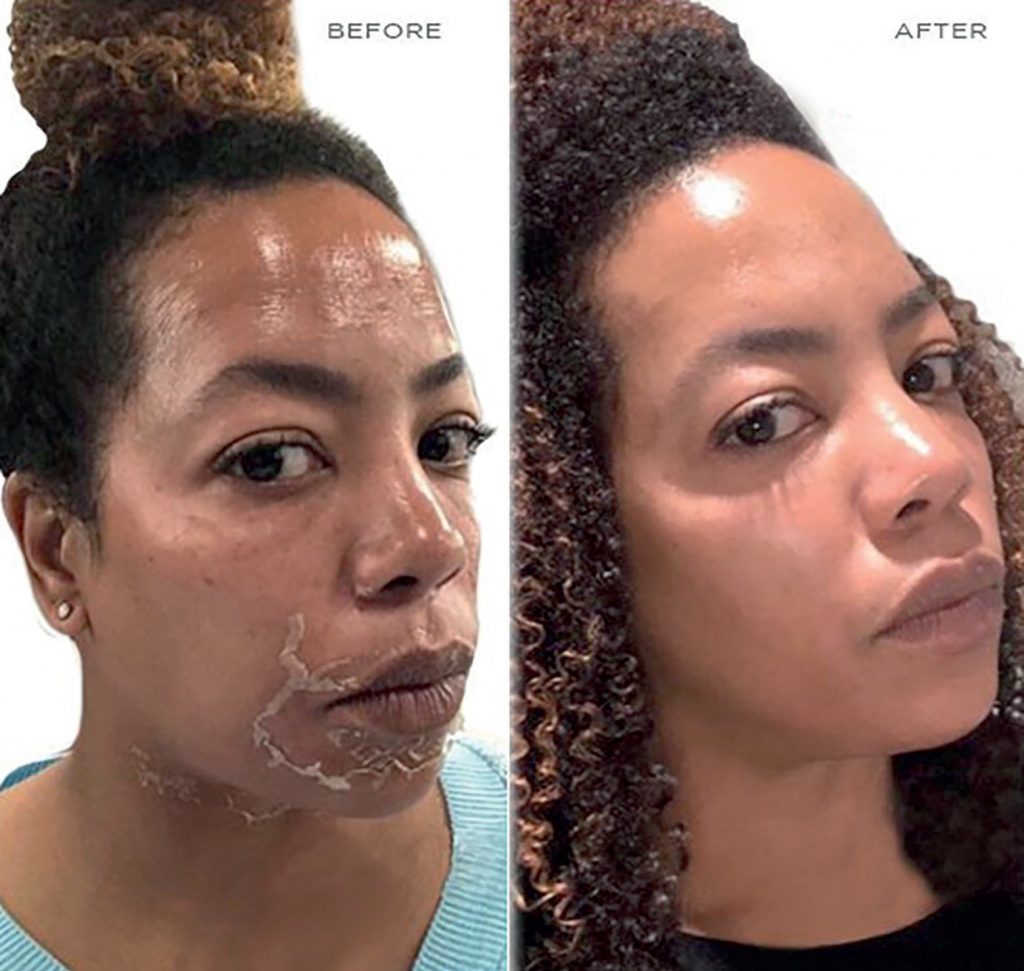 Generally, it takes about seven to ten days or more, depending on the type of peels used, for your skin to recover from a peel. As with most skin treatments, during recovery period, stay away from the sun because your skin a quite sensitive at this time.
DIY PEELS
While you are advised to leave the more advanced peels to professionals, there are peels that can be done from the comfort of your home; they simply have a lower concentration of the ones used professionally. So you can rest assured that you will also have the benefits of a professional peel without the downtime. The trick to it is to look out for certain ingredients like exfoliating acids which help reveal fresher skin and target lines and wrinkles, and then, there is the super vitamin C which helps with dark spots.
Another point worthy of note is that although at-home chemical peels are not as concentrated as the ones used by your dermatologist, it is important not to over do it, otherwise you will set your self up for an infection. Remember that this is a form of exfoliation and excessive exfoliation will expose the skin and cause inflammation.