My God! How am I Going to Secure Another Interview with Roger Federer?
We had interviewed our cover personalities for last week's issue about seven weeks before because I figured they'd be too busy planning the wedding in another month, and I wasn't willing to take any chances. A few weeks after
the interview and photoshoot, I received an email from one of my teammates informing me that he had been robbed and his phone had been stolen.
I didn't even remember the interview then; I only asked him if he was ok. As for the interview, as far as I was concerned, it was already transcribed and secure. However, a few days later, it crossed my mind to make doubly sure, so I placed a call to my other teammate and asked who had the interview.
I almost passed out when he said they had split it between themselves for faster transcribing. My next words were," Oh, my God! Is M.I's interview safe?" Luckily, as I always tell them, he had already saved it OTA (over the air), so it's safe somewhere if anything happened.
I was calm again, but that incident took me back eight years to when I had an important interview with recently retired 20-time Grand Slam tennis champion, Roger Federer. It is a rather interesting story: In 2014, I was privileged to have been selected among a group of luxury lifestyle magazine Editors from around the world to interview the tennis champion.
Even more humbling was that I was the only person chosen from Nigeria and West Africa, so as you can imagine, I didn't want anything to go wrong. We arrived at the prestigious Le &—Moet and Chandon's exclusive Orangerie in Epernay, France, and after some refreshments, I sat waiting my turn. A young-looking French man walked up to me, calling my name.
There's an unspoken acknowledgement, and he tells me, "We are ready for you now." I walked behind him to the Residence Trianon, where another lady met and read me the rules—dos and don'ts before the interview. "This way, please," she said when she was done. The door to another room opened, and standing in front of me in an exquisitely tailored suit was Mr Federer.
We exchanged pleasantries and then proceeded with and finished the interview. I returned to the waiting room for some more food and champagne while other Editors got their turn, and then I decided to listen to the interview. I played it back, and, no voice. It was blank!
I promise you my spirit jumped out of me. I couldn't breathe. All I was thinking was, 'my God, how am I going to secure another interview with Roger Federer? We all had our time slots.' I must have looked dead because my chaperone ran to me asking, "Onah, Onah! Is everything ok?" I didn't want to alarm her yet, so I feigned a smile she saw right through.
"You look like you just saw a ghost, and you were about to fall and pass out right here, so something is wrong," she said. I convinced her I was fine, while in my head, I was saying, 'please go away, I need to figure out what just happened with my recorder.' I said a short prayer asking God to help me (I made some promise) and then turned the recorder back on.
Trying to stay calm, I clicked on the file again, and a voice that suddenly sounded like the sweetest voice I had ever heard came from the speakers of my recorder. It was Roger Federer'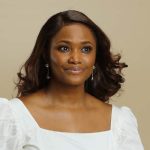 A lawyer by training, Onah packs over a decade of experience in both editorial and managerial capacities.
Nwachukwu began her career at THISDAY Style before her appointment as Editor of HELLO! NIGERIA, the sole African franchise of the international magazine, HELLO!
Thereafter, she served as Group Editor-in-Chief at TrueTales Publications, publishers of Complete Fashion, HINTS, HELLO! NIGERIA and Beauty Box.
Onah has interviewed among others, Forbes' richest black woman in the world, Folorunso Alakija, seven-time grand slam tennis champion, Roger Federer, singer Miley Cyrus, Ex Governor of Akwa Ibom State, Godswill Akpabio while coordinating interviews with Nigerian football legend, Jayjay Okocha, and many more.
In the past, she organised a few publicity projects for the Italian Consulate, Lagos, Nigeria under one time Consul General, Stefano De Leo. Some other brands under her portfolio during her time as a Publicity Consultant include international brands in Nigeria such as Grey Goose, Martini, Escudo Rojo, Chivas, Martell Absolut Elix, and Absolut Vodka.
Onah currently works as the Editor of TheWill DOWNTOWN.