Movie Review: Sisu
Ostensibly a middling entry meant to satiate our cinematic bloodlust during the lull between John Wick 4 and The Equalizer 3, this period neck-snapper from Finnish filmmaker Jalmari Helander may not only surpass both those films, it could end up taking the gore-splattered crown as the most satisfying, over-the-top violent action movie of the summer. Something akin to pure cinema run through a Nordic meat grinder, Sisu tells an elemental story and features a lead character who doesn't bother uttering anything above a grunt until the movie's final frames.
Both he and the sliced-to-the-bone spareness of his story serve as necessary and timely antidotes to the quipand-blast continuity noodles that action films have morphed into in the age of Marvel and always-extending IP. In the waning days of World War II, a retired soldier (Jorma Tommila) hits it big while mining for gold in deserted Finland. (The isolated northern region of Finland is painted in an intoxicatingly war-blasted autumnal light by cinematographer Kjell Lagerroos.) The man comes upon a Nazi tank battalion executing a scorched earth campaign on his homeland, and instead of being murdered, kills them all in manners that vary from thrillingly efficient (knife through the brain) to wonderfully inventive (landmine tossed like a shot put).
As his increasingly terrified adversaries learn about him, so do we: his name is Korpi and before he went the prospector route, he was a legendary Finnish commando with some 300 Russian kills to his name. But the few segments in which things are explained with words are when Helander's film is at its least intriguing or instinctive.
(Mimosa Willamo, playing one of a group of female hostages being transported by the Nazi convoy, will later explain the film's title, an impossibleto-translate Finnish term meaning whiteknuckled grit and unbreakable determination.) Visual cues—dog tags, a wedding ring he wears despite his only companions being an amber-hued horse and a poodle-like dog, the deep scars visible along his torso when he bathes—provide us with more than enough information, as does Tommila's masterful performance.
With barren eyes that signal both profound trauma and a chess master's command of strategy, he combines raw physicality and emotional restraint in a performance that recalls both Clint Eastwood and the late Max von Sydow. At 64, Tommila is as delicious to watch exacting revenge on-screen as the preeminent silver-screen killing machine, Keanu Reeves.
He projects authenticity even when surviving the most impossible of situations (at one point he catches a ride on the belly of an airplane with the help of his mining pick). In the process, he single-handedly refreshes and redefines the concept of "geriaction." Much in the manner of Sylvester Stallone's 1982 First Blood (an essential film to which Sisu serves as a poetic tribute), Sisu is effective as both a straight story and as a cathartic treatise on the power of individuality against the unjust machinations of those who claim to be in charge.
Where First Blood—the only Rambo movie worth returning to—bristled with fury about the indifference with which America treats its war veterans, Helander's film is cool, calm, and collected in its bloodthirsty repudiation of fascism and the authoritarian inhumanity at its heart. As a result, this Finnish stunner is not just a rare example of excessive movie violence done right, it is also just may be the most essential action movie of the year.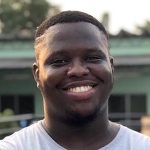 Boluwatife Adesina is a media writer and the helmer of the Downtown Review page. He's probably in a cinema near you.