Movie Review: Guardians of the Galaxy Vol. 3
It's been nearly a decade since James Gunn's Guardians of the Galaxy, still one of Marvel's most pleasurable entries, first hit theatres — long enough for the writer-director to deliver an even loopier and more emotionally driven sequel, get dramatically fired from its follow-up after offensive tweets resurfaced online, then miraculously rehired, and ultimately rise even higher in Hollywood, land the top job running rival DC Studios.
And so Guardians of the Galaxy Vol. 3, in finishing out its miniature trilogy within the larger Marvel Cinematic Universe, is also likely to serve as Gunn's farewell to the studio, at least for now, making the sequel's sense of emotional closure — and its full-throated, open-hearted defence of the need for redemption and second chances — feel resonant on multiple fronts. That Vol. 3 deepens the series' preoccupation with its heroes' hard-won healing and their joint struggles to move past troubled individual histories into a brighter tomorrow is consistent with the story Gunn's been telling from the start. But as these characters — whose messy attempts to overcome their own painful pasts have, for what it's worth, involved no shortage of aggression and shock humour — take care to affirm one another's intrinsic worth amid all the banter and bloodshed, it's not hard to sense the touch of a filmmaker who's spent the past few years personally consumed by an unexpected, disorienting succession of endings and beginnings.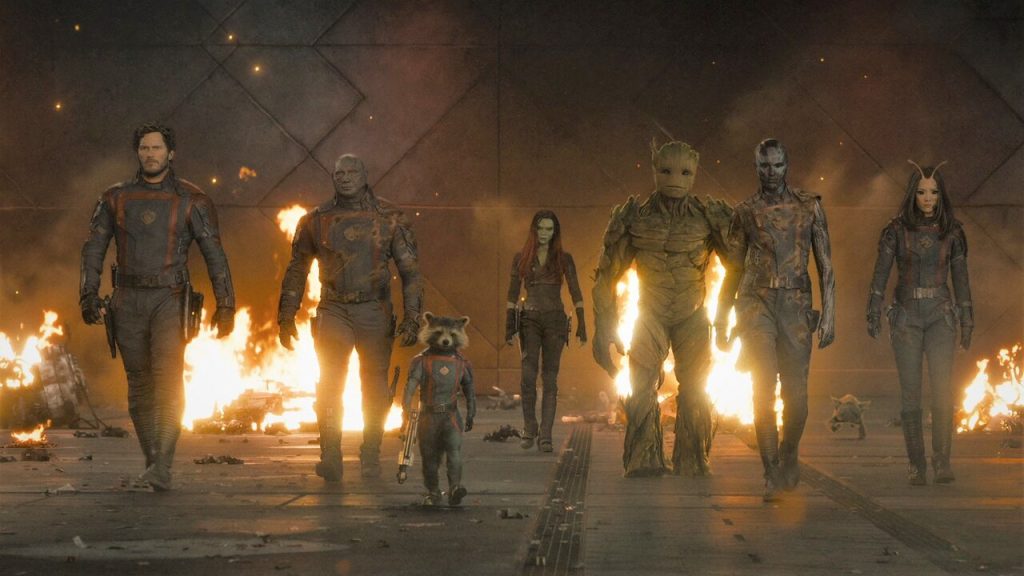 We pick up with the Guardians in an uneasy stasis, camped out at their base on Knowhere, a spaceport that resembles an alien's severed head. De facto leader Peter Quill (Chris Pratt), the lonely Star-Lord, remains anguished over the loss of Gamora (Zoe Saldaña), who died during the events of Avengers: Infinity War and came back to life post-Endgame with no memory of her past relationship with Quill or travels with the Guardians. She's instead taken up with a group of marauding space Ravagers, led by the grave Stakar Ogord (Sylvester Stallone). Rocket (voiced by Bradley Cooper), meanwhile, is struggling to make peace with the horrifying abuse he suffered years earlier at the hands of the High Evolutionary (Chukwudi Iwuji), the Dr. Moreau-esque scientist who made him. When golden-hued Adam Warlock (Will Poulter, in a fairly bland cameo) arrives to kidnap Rocket at the High Evolutionary's behest, seriously injuringhim instead, the Guardians learn that their furry comrade was outfitted with a chip that prevents the type of surgery he needs to survive.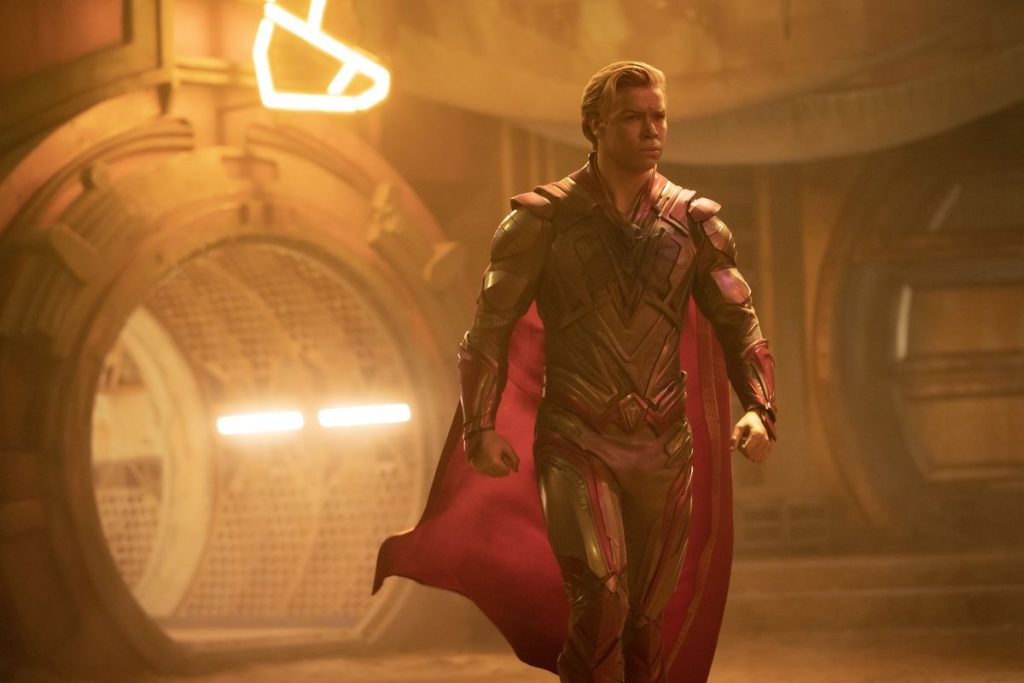 And so it is that the Guardians set off in search of the High Evolutionary, a megalomaniac still hell bent on creating a utopian civilization through sustained genetic manipulation and who still requires Rocket's mind to do so. (Now running things at DC Studios, Gunn is the poster boy for geeks inheriting the earth, but he still has a bone to pick with abusive overlords who demand perfection and cast aside all who fall short of it.) The stakes couldn't be bigger or more intimate for the Guardians; correspondingly, Vol. 3 scales up with an excessive 150-minute runtime but commits that length to splashing Gunn's signature brand of gooey sentimentality across the biggest, loudest, most colour-mad canvas that a Disney budget can afford. What results, while surprisingly sombre and brutal in its crafting of a tragic backstory for Rocket, is one of the most visually bombastic and engagingly tactile Marvel films to date, yet one that rarely loses focus on the found family at its centre.
Whether it's bringing the Guardians to infiltrate a fleshy Orgosphere (which a perfectly smarmy Nathan Fillion patrols in a Michelin Man-esque bodysuit) or setting them down on the High Evolutionary's Counter-Earth (which resembles a Twilight Zone episode in its freaky and furry inversion of America), Vol. 3 rarely lets a scene pass without an abundance of fleshy globules, fluorescent viscera, or molten-faced alien creations on screen. The film's obsession with practical makeup effects (its use of them is so extensive as to have set a world record) holds your attention and pushes back against the numbing CGI overkill that's been more disastrous by the movie for Marvel.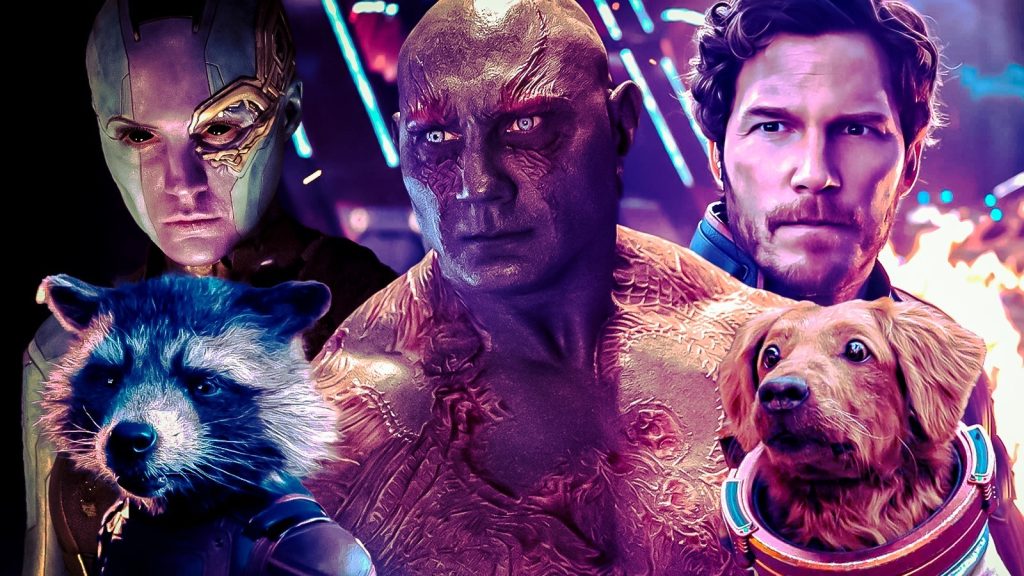 Invitingly bright and bold in its colour palette, even as it's surely the grisliest and dirtiest film to come out of Marvel, Vol. 3 feels like Gunn gone wild in more ways than one, a kind of creative vindication befitting his last ride. That the film's story also involves an outcast creation taking the fight back to his creator, making it a fantasy of empowerment and revenge, only amplifies the sense of a filmmaker delivering some of the most giddily self indulgent work of his career before closing this chapter and turning the page. And the needle drops, as ever, deliver a pleasurable double-whammy of catharsis and nostalgia play, even as they creep steadily forward from the golden '80s into some well-placed 2000s-era toe-tappers. In sending off his beloved band of misfits, Gunn has made a film about facing the music and moving incrementally forward — an emotional and energetic finale that defies its studio programming by insisting, without apology and with ample feeling, upon the sense of an ending.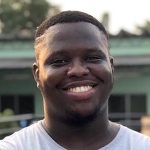 Boluwatife Adesina is a media writer and the helmer of the Downtown Review page. He's probably in a cinema near you.