Lanre Dasilva Ajayi: Making Statements Through Fashion
Seventeen years ago, Lanre DaSilva Ajayi birthed her self-named clothing brand, LDA. The brand's mission was simple, to figure out how best to showcase the femininity and power of women through clothes. But what used to have a Victorian aesthetic has morphed into more contemporary pieces, which the designer says attracts people of all ages, significantly younger. As for which design aesthetic she has come to prefer, Lanre DaSilva Ajayi maintains, "Both have interwoven applications over the years and have evolved without anyone being more acceptable than the other." Her latest designs, the Renaissance Collection, embodies bold fashion and has kept with the mission of the brand— women's empowerment through the clothes they wear by merging history with the present day, bringing to the forefront what beauty, power and femininity in this age genuinely mean. However, one thing remains a daunting challenge for Nigerians in the world of production, and the fashion industry isn't left behind; the cost of production.
Based on the high cost of production, designers tend to price their products at rates one would assume would discourage a consumer from purchasing, but Lanre doesn't think so. In her experience, clients are happy to pay for top value at a premium. But there is an art to selling these designs. As a designer, if you decide to stock at a retail store, you must know the right one for your brand. Lanre DaSilva Ajayi discusses this, along with the challenges faced by the fashion industry and possible solutions, with DOWNTOWN's Editor, Onah Nwachukwu.
The Lanre DaSilva Ajayi (LDA) brand has certainly evolved; from Victorian aesthetics to more contemporary ones. What prompted the change?
The only thing constant in life is change. LDA has always been curious about how best to showcase the femininity and power of women through clothes. So, it's not a move. It's an evolution of what our society represents. My priority as the creative director is to always ask myself specific questions: Is this bold and flattering? How would this garment feel? What feelings do I hope to elicit from the woman who wears an LDA piece? These are my guiding principles, and if you look through the history of LDA until today, you will find that the answers are all the same. We listen to what women want and produce items that answer them.
Which of the two design inspirations do you prefer?
Both have interwoven applications over the years and have evolved without anyone being more acceptable than the other. The Victorian aesthetics gave birth to the contemporary designs and, in certain instances, have been juxtaposed into more compelling pieces. Perhaps the contemporary pieces attract a younger demography, but they both have strong and significant value for women today. Many designers have pointed out the issue of copying their designs by other designers, but you seem to be okay.
How have you been able to create signature pieces that haven't been copied?
I strongly believe in the LDA brand's creative process, which is how we have been able to coin signature pieces. It's a work in progress, and we are continuously improving our back-end processes with a unique combination of fabric selection, tailoring, accessories, and exquisite detailing.
Your latest work, The 'Renaissance Collection' is a true testament to creativity. Where did you draw inspiration?
The "Renaissance collection" is a 15th-century inspiration depicting the timeless woman of elegance. It embodies bold fashion, striking colours, and masterpiece structures and represents women's empowerment through the clothes we wear. I wanted to merge history with the present day, bringing to the forefront what beauty, power and femininity in this age truly mean.
Let's talk about the business of fashion. Many designers tend to target foreign celebrities. Their thinking is when they wear their items, they have 'blown.' Why do you think this is the case, as opposed to targeting our local/indigenous celebrities?
This notion has been completely eclipsed and is now antique. Today, there is no such thing as a local celebrity in Nigeria, as they are all global brands in high demand across the industry. Our entertainers are on global stages. In essence, times have changed, and the industry has evolved beyond this.
The cost of production is high, making the end product very expensive to purchase. Do you think the Nigerian market—your clients, can keep up with these high rates?
I have seen over time that Nigerians are willing to pay for goods and services where they derive value for their money. Producing unique designs with a personal touch is one of the ways we create value for our clients. The critical element here is maintaining the right balance between price and value.
If the balance is preserved, the customer is happy to pay for top value at a premium.
How can we make production cheaper?
We need to grow local capacity. The advent of sustainable materials and recycled products is positively impacting production costs. Investing in unique skills and training for tailors will create a larger pool of talents and resources, which can help alleviate the production cost.
Retail marketing has become popular over the years. How does a brand know the right retail store to stock?
Finding the right retail stores involves careful research into the stores within the localities where your target audience exists. There is such a thing as market misalliance, so brands need to be aware of their market to swim the tides that is retail marketing. A brand needs to know its target audience and conduct extensive stakeholder mapping to find ways to link the product to the consumer. The challenge is finding the right marketing mix and alignment with brand ideology. Once you know your market and its consumption traits, you can activate a retail marketing strategy to deliver results.
What are the significant challenges you and other Nigerian designers face regarding creation and sales?
The major challenges in the fashion industry are not decoupled from what the other industries face. Perennial challenges such as power supply, transportation, foreign exchange fluctuation, skilled resources etc., inhibit the sales process. Infrastructure deficits affect all aspects of socioeconomic life.
How can these issues be solved?
One industryspecific challenge, such as a shortage of skilled manpower, is being resolved via collaboration and training programs to expand the resource base and create jobs. Others will require more concerted effort and the will of the larger society.
What do LDA as a brand and LDA as a Creative Director hope to be known for?
First off, I am very thankful for the journey so far. It has been 17 unbelievable years where I have had the pleasure of providing services to some of the most loyal customers that anyone could wish for. Aside from creating timeless pieces that my clients completely adore, I am a people person who enjoys helping people navigate through their own goals, especially in the fashion world, where I have gained a lot of experience and worked with several upcoming designers. Sharing knowledge and building the next generation of fashion designers in the industry is an integral feature of what the LDA brand strives for, and what a privilege to do that while making garments that empower women across the world. Let it be known that LDA was a brand that cared deeply about the positive representation of women.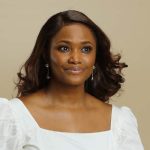 A lawyer by training, Onah packs over a decade of experience in both editorial and managerial capacities.
Nwachukwu began her career at THISDAY Style before her appointment as Editor of HELLO! NIGERIA, the sole African franchise of the international magazine, HELLO!
Thereafter, she served as Group Editor-in-Chief at TrueTales Publications, publishers of Complete Fashion, HINTS, HELLO! NIGERIA and Beauty Box.
Onah has interviewed among others, Forbes' richest black woman in the world, Folorunso Alakija, seven-time grand slam tennis champion, Roger Federer, singer Miley Cyrus, Ex Governor of Akwa Ibom State, Godswill Akpabio while coordinating interviews with Nigerian football legend, Jayjay Okocha, and many more.
In the past, she organised a few publicity projects for the Italian Consulate, Lagos, Nigeria under one time Consul General, Stefano De Leo. Some other brands under her portfolio during her time as a Publicity Consultant include international brands in Nigeria such as Grey Goose, Martini, Escudo Rojo, Chivas, Martell Absolut Elix, and Absolut Vodka.
Onah currently works as the Editor of TheWill DOWNTOWN.