How To Successfully Pull Off The Monochrome Look
Monochrome fashion has been around for sometime now, and from the look of things, it isn't going anywhere. It doesn't matter whether you've been a monochrome sceptic or even ready to embrace a singularly focused colour palette; there are so many ways you can pull off the monochrome trend this season. You look more put together without putting in too much effort when your outfit is all in one colour. Opting for neutral colours is one of the easy ways to rock the monochrome trend. Going for colours like grey, tan, or black will give you a coordinated look without being too bold. You can make a statement when you know the right colour to work with.
(1) MIX TEXTURES IN YOUR MONOCHROME OUTFIT
Remember to mix textures within your monochromatic outfit. Adding depth, visual interest and dimension to your look isn't one-dimensional or boring. There are so many texture combinations you can try pairing together. They include denim and chiffon, suede and silk, and leather and cotton.
Regarding texture, you must consider your shoes and boots; they play a vital role in making your
outfit more interesting.
(2) ENDEAVOUR TO ACHIEVE BALANCE
When combining pieces, always try to achieve balance. In achieving balance, you need to play with proportion. It's a basic rule for every outfit, not just monochromatic ones.
(3) ACCENTUATE THE RIGHT AREAS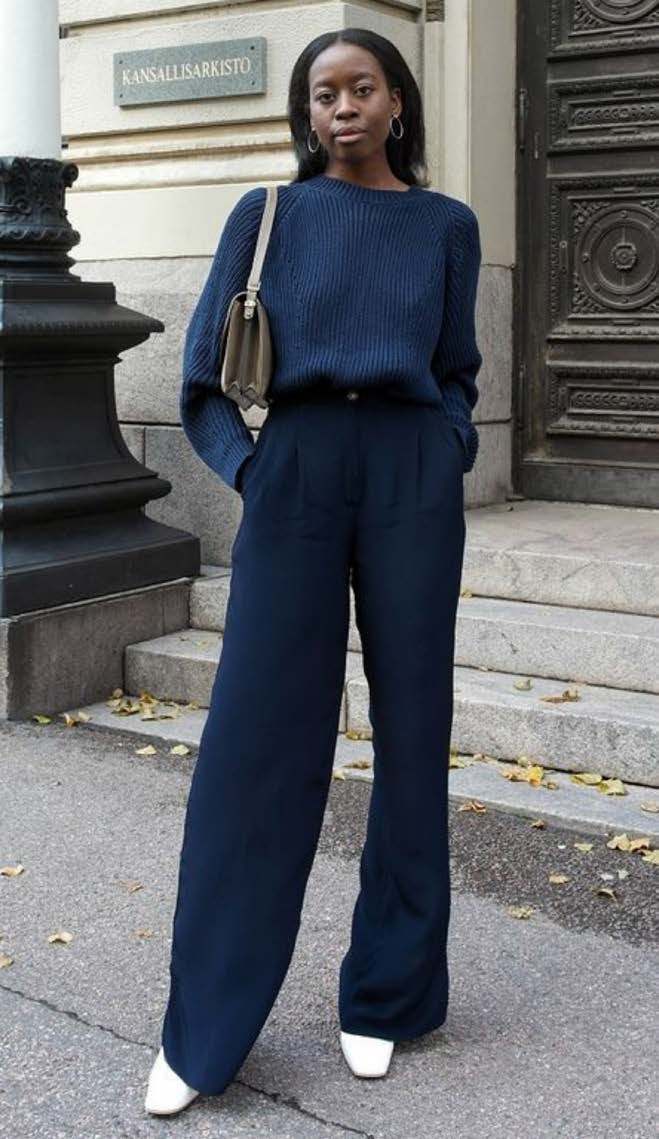 You can do this by choosing the right colour. If you are wearing the same colour in different shades and tints, you need to pay attention to how dark or light each piece is. To accentuate your waist in monochrome colours, you can use a belt. A belt should be your goto when adding some definition or structure to your outfit.
(4) GO FOR THE RIGHT MONOCHROMATIC COLOURS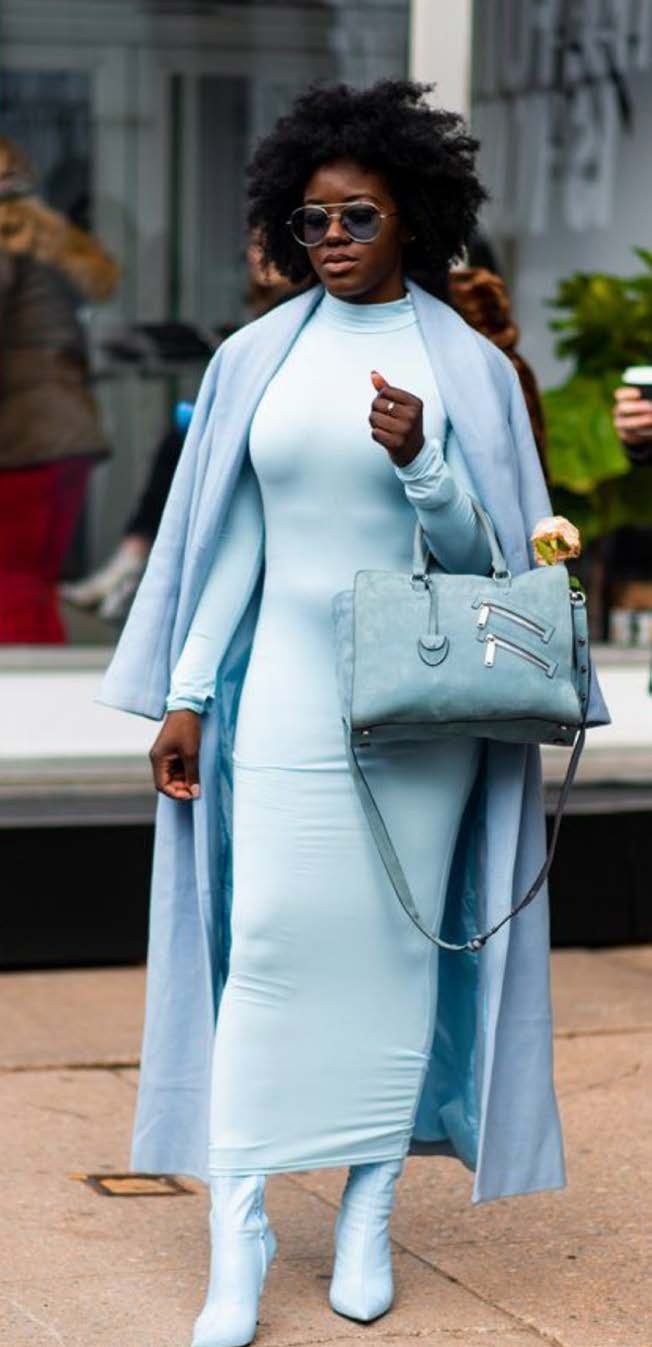 You must pick a colour that looks great on your skin tone and hair. For instance, if you have tanned or dark skin, you can wear a deeper colour like burgundy or eggplant. If you are new to the monochromatic look and are unsure of what colour to choose, you can start with dark neutrals like grey, brown, navy and black. If you want something bold, you can try darker, richer
monochromatic colours like hunter green.
(5) INCORPORATE PATTERNS OR PRINTS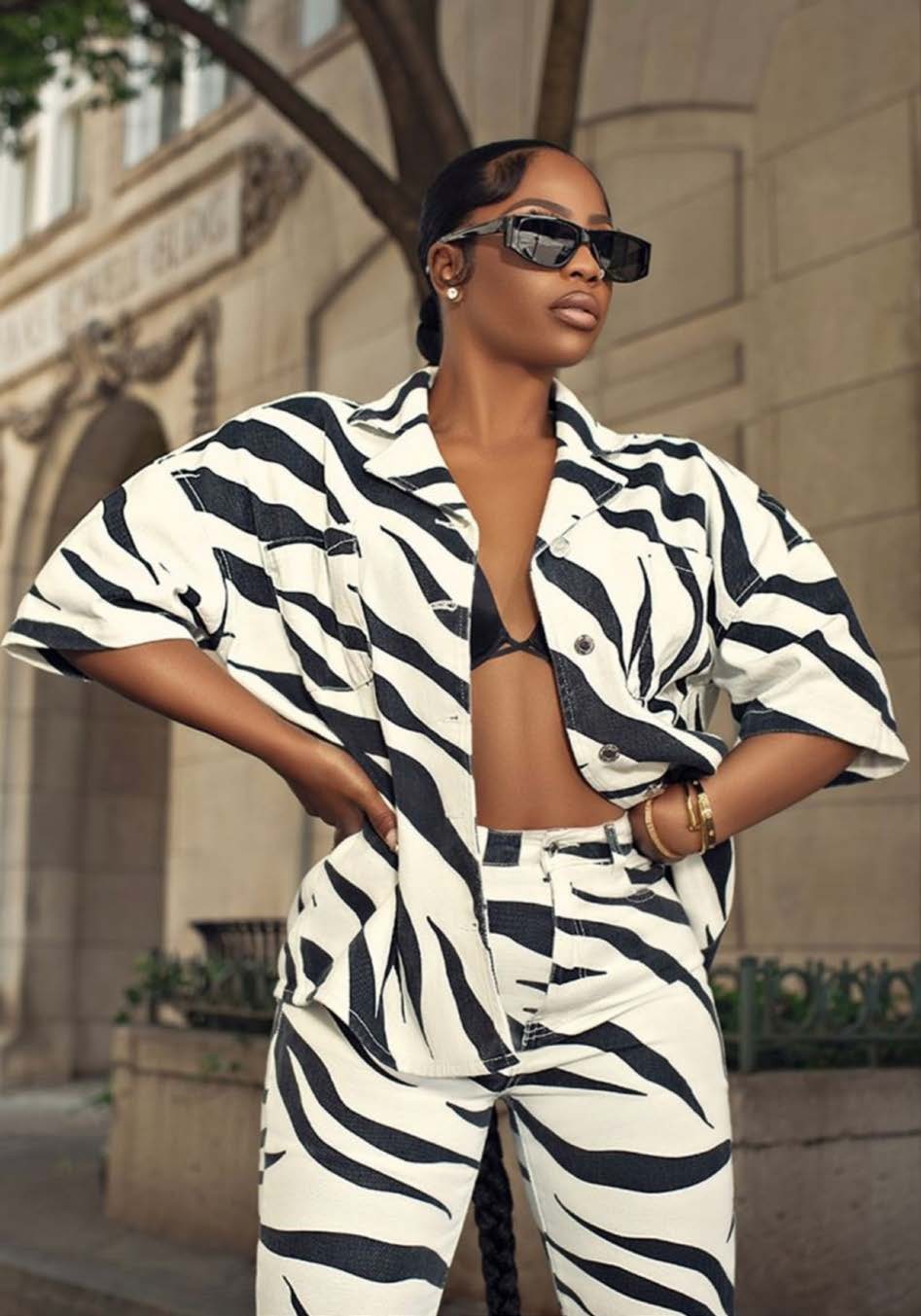 Your monochrome outfit doesn't just need to be a combination of plain pieces. You can spice things up by incorporating patterns or prints, although finding the perfect pattern or print that matches your colour scheme will take a lot of work. To break up the whole block of colour, you can add a print piece with the same colour you are working with, or better still, you can try adding a patterned shawl or scarf.
COLOUR TIP
Knowing the right colours to pull off your monochromatic outfit is the number one rule to stay chic in this style. We have listed a few to help you start. To make your monochrome moment pop, ensure the main elements of your outfit are a close match. If you are going for a light blue skirt, ensure that your top is the same shade of light blue. Your accessories don't need to be light blue; they can be different shades of blue but have it at the back of your mind that matching core pieces will make your outfit work.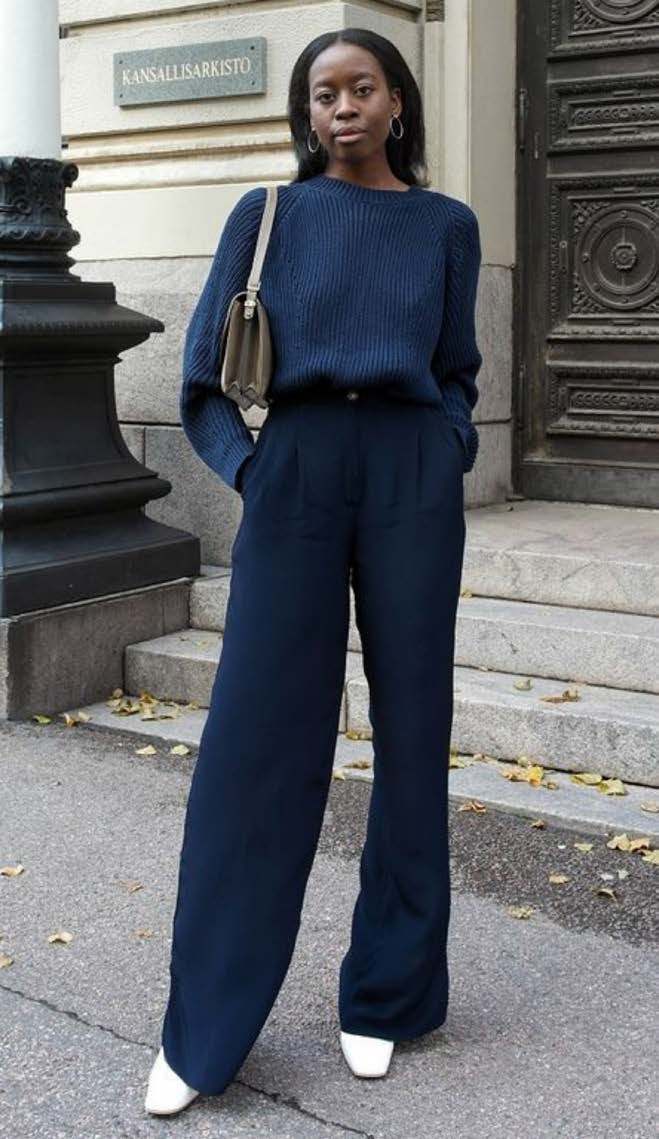 (1) NAVY
Your monochromatic outfit doesn't need to be black; you can try navy as a fashionable alternative. Navy has all the slimming qualities of black, although it doesn't look as serious. Your navy pieces don't need to be the same shade; you can combine shades of the midnight hue to add depth and definition to your outfit.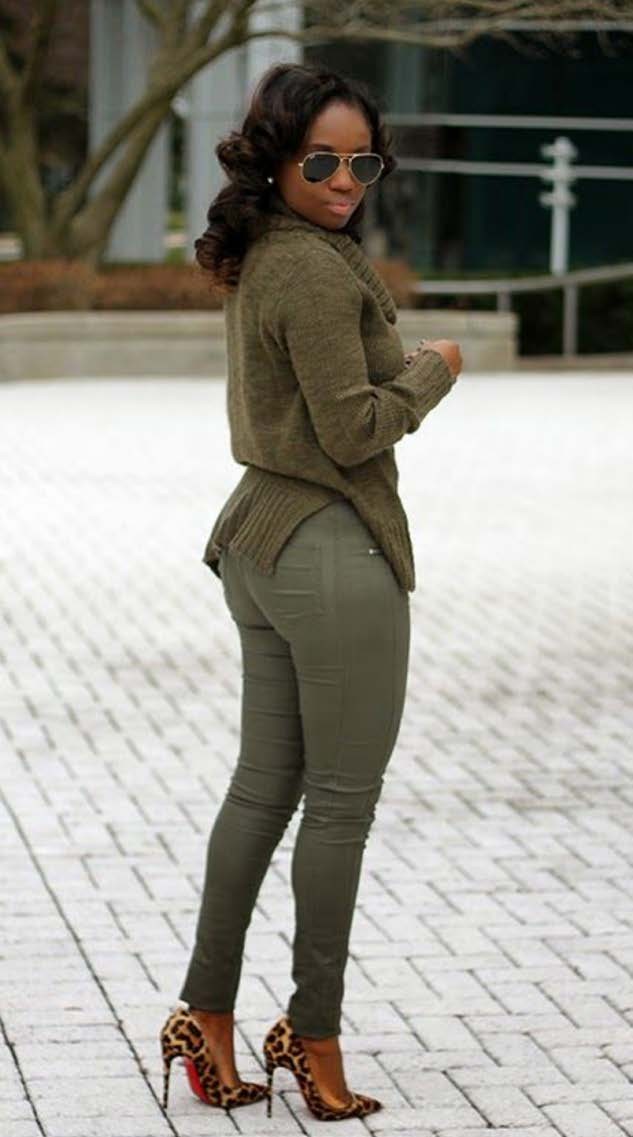 (2) KHAKI
It doesn't matter whether you are dark or light skinned; anyone can rock pale khaki as a monochromatic outfit. You can achieve these by mixing tops and bottoms with looser fits and details, which include pleats or buttons to add spice and fun to what could have been a boring look.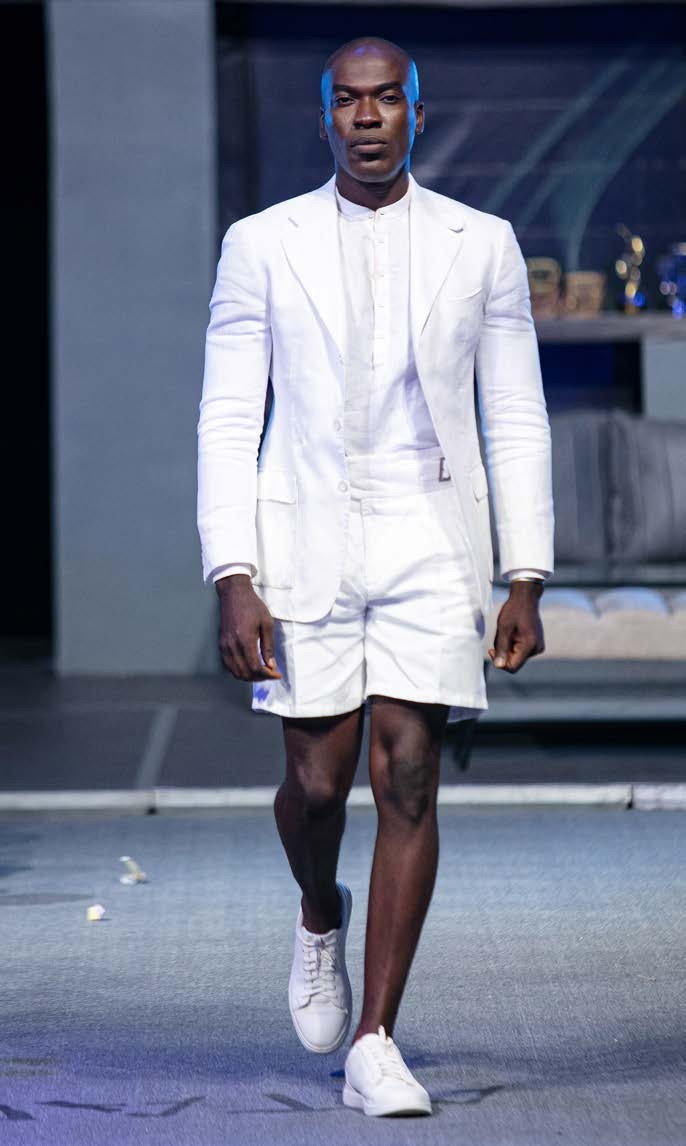 (3) WHITE
Our list of colours for monochromatic outfits would be incomplete without adding white. White outfits are well put together with a posh, expensive finish. You can pair your white look according to your taste, accessorising with a hat, jewellery and sweaters for a much-finished look.
(4) BURGUNDY
Burgundy is a very rich and sexy colour that looks excellent on almost every skin tone.
Dorcas Akintoye is a dedicated writer with more than 2 years prolific experience in writing articles ranging from food, entertainment, fashion and beauty. She has a National Diploma in Mass Communication from Kwara State Polytechnic, Ilorin. She loves writing, listening to music and playing scrabble. She is a highly-skilled, enthusiastic, selfmotivated professional writer.