Hairvenly Choices
Although wearing your natural hair can sometimes be a bit of a task regardless of your hair type, the beauty of our hair though is its ability to be styled in a hundred different ways.  Whether it's knotless braids or box braids, braided ponytail, or even just outright rocking your Afro, we have listed a couple of hairdos that are the go-to styles for celebrities and socialites. Take a cue from them as you book your next appointment with your hairstylist(or style your own hair); we promise you it will be worth your time.
Braided Bangs
Braids are always in trend but take yours up a notch by adding bangs to your braid style. Make like Ezinne Chinkata and add some beads to the bangs for that show-stopping look.
Braided Ponytail
 A good ponytail whether high or low is always a winner in our books, but adding a braid to this hairdo will make it look even better. Try Mpho Laing's version of this look by parting the back of your hair and placing your choice of hair extension in there. Pulling your hair back in a firm hold, secure it with a hairband. Apply hair gel to your hair till you reach the ponytail, lay your edges, then braid the hair extension and secure the ends with a fancy hairband.
Top Knot
 A Topknot is very stylish and there are variations of this hairdo. So whether you are all dressed up for a red carpet event or simply dropping off the kids at school, you need knot(get it?) worry about your look because it is a winner any time of day.
 Afro
An Afro has been a trend for African hair texture since the seventies and there are different ways of pulling it off. Kika Osunde shows us one of the ways and we can't say that we are surprised that she pulled off this look. After all, she is Kika good hair, isn't she?
Twist Out
If you decide to carry your natural hair, a nice look to try is a twist out. Before you go to bed, part your hair into sections and twist each section, then loosen them in the morning and spray on some light coconut oil for some shine. Make like Beverly Naya and sweep it to the side.
The Pompadour
Hit the red carpet or any event for that matter with a statement hairdo like the pompadour. Nse Ikpe-Etim looks gorgeous with her smooth sides and poofy top twist, and so can you.
Finger Waves
Finger waves became popular in the 1920s along with the new fashion of that era-the flapper dress. Recreate this iconic glamour look like Dolapo Oni did for her birthday shoot by applying some gel, or hair mousse (you will need a copious amount), then using your fingers, and in small portions, push your hair in the direction you desire.
Halo Braid
The halo or crown braid is an excellent way to look chic. Whether you choose to style your hair this way for a beach wedding or a garden party, this hairstyle, depending on the placement, and how tight or loose the halo is, can actually be pulled off for a number of occasions.
Curly Bangs
Curly bangs have always been very funky and have graced the heads of celebrities from way back like singer-songwriter Donna Summer. Channel this look like Dodos did for an effortlessly chic night or day out in the town.
Braided High Bun
One of the beautiful things about braids is that there are a million and one ways to wear them. Make like Eku Edewor and put yours up in a bun.
Faux Locs
You don't have to loc your own hair to be able to rock the locs-look. Many people, celebrities included, simply go for faux locs. It's pretty simple, buy the extensions, have your hairstylist install them to your hair, et voila! locs for the next two weeks or more. You decide.
Bantu Knots
As with all protective hairstyles, Bantu Knots are perfect for you regardless of your hair type.  Originating from Southern Africa, this hairdo has no limit to the number of mini buns you can create. Add some drama to yours as Olar Folami did.
Braided Space Buns
Take your braids-style game up a notch by putting them in a space bun. It looks quite good on adults. Just one look at Tonye Garrick and we know you will agree with us.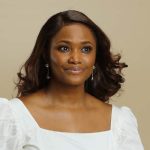 A lawyer by training, Onah packs over a decade of experience in both editorial and managerial capacities.
Nwachukwu began her career at THISDAY Style before her appointment as Editor of HELLO! NIGERIA, the sole African franchise of the international magazine, HELLO!
Thereafter, she served as Group Editor-in-Chief at TrueTales Publications, publishers of Complete Fashion, HINTS, HELLO! NIGERIA and Beauty Box.
Onah has interviewed among others, Forbes' richest black woman in the world, Folorunso Alakija, seven-time grand slam tennis champion, Roger Federer, singer Miley Cyrus, Ex Governor of Akwa Ibom State, Godswill Akpabio while coordinating interviews with Nigerian football legend, Jayjay Okocha, and many more.
In the past, she organised a few publicity projects for the Italian Consulate, Lagos, Nigeria under one time Consul General, Stefano De Leo. Some other brands under her portfolio during her time as a Publicity Consultant include international brands in Nigeria such as Grey Goose, Martini, Escudo Rojo, Chivas, Martell Absolut Elix, and Absolut Vodka.
Onah currently works as the Editor of TheWill DOWNTOWN.