Funke Bucknor-Obruthe, Dancing Her Way Through Each Event.
If you ask many people, the wedding day is the most important in a person's life. It is not that difficult to piece together. In a society like ours that places so much significance on marriage, it is only expected that the ceremony to celebrate the union are some of the most elaborate events in the country. And although all attention is on the bride—or in other events, the host— someone is responsible for bringing the vision that resulted in that event to life. Regarded as one of Nigeria's pioneering event planners, Funke Bucknor-Obruthe is certainly not new to weddings and events.
Despite getting called to bar in 2000, Funke's love for event planning influenced her decision to start Zapphaire Events, an independent event planning enterprise, three years later. Her wealth
of experience in this field is unrivalled. She has planned some of the highest-profiled events within and outside Nigeria, earning her a feature in CNN's Inside Africa for planning a Nigerian royal wedding. The entrepreneur and book author sat with DOWNTOWN's Editor, Onah Nwachukwu, to talk all things weddings and events.
We all know that you started as a lawyer and then had a stint with an advertising agency before settling as an event planner. Is this fulfilling for you?
When I started over 20 years ago, I didn't even know that event planning would be this way or would take me this far. I just wanted to help my friends and take the stress off them when they
were planning their events. When I studied law at the University of Lagos, I did it because of my parents. But along the way, after I finished, I realised that maybe law wasn't what I wanted to do.
So as soon as I finished law school, I worked in a law firm for a week, and immediately after that, I moved into an advertising agency for my NYSC. So I worked there for a year, having more time to gather my thoughts and understand what I wanted to do. While working there, I realised that I wanted to help my friends plan and set up their events. I would say it's been fulfilling because it's almost like I get to create joy and happiness in people's lives.
Do you have different companies that cater to different kinds of events?
As your business grows, you realise what your customers' needs are. It's one company that plans different kinds of events. Apart from premium and non-premium events, we also plan events where we are accessible to certain strata of society. Some people want events that are not as premium but still with the Zapphaire touch. It's the same brand; depending on expertise and experience, different project managers take care of your events. But you are still getting your premium Zapphaire service that the brand is known for.
What are some major character traits that event planners must equip themselves with to be successful?
I love this question. There are so many, but I will pick a few. One is the ability to organise− you are managing people, so you must know how to organise. You must be diplomatic. Pay attention to detail. Interpersonal skills are skills you must learn. There are also attributes such as knowing how to manage a crisis, being result-oriented, being very resourceful, being creative, and having the ability to manage a team. There are so many character traits that an event planner must have, but at the same time, there are non-negotiable skills. You must learn how to negotiate, have good communication skills, and have good relationship skills. Some of these things are inborn, and others you have to learn. So as you and your business grow, you build on these attributes. There are many, but these are some of the main character traits and attributes anyone hoping to thrive as an events entrepreneur should have.
After equipping yourself with all these character traits, there might be difficult clients or situations. What do you do when you have done everything to the best of your ability but things decide not to go to plan?
I've learnt that you will not get the perfect client every time. We always pray for the right client for us; however, when a client that seems difficult comes along, I often say that sometimes clients are not difficult; you need to understand their expectations and where they are coming from. That's why they say patience is golden; you need to be patient, be diplomatic as much as possible, and be able to communicate. Now, when you have done everything—tried your best and given value, but the client is still difficult, you know that this may not be the right client. Sometimes you must make the painful decision to walk away from an event. If you're already on the project and can't walk away, then take it as a learning to know what to look for in the next client. In the years I've been doing this, I've met different types of clients that expect different things, so you learn to understand them. And that's why I always say no client is the same— and I always say this to my team— don't
treat client A like B.
We are officially in wedding season in Nigeria, and you are no stranger to this sort of event. Would planning one wedding be the same as the last?
Each wedding or event is totally different because you're dealing with new clients, stakeholders,
vendors, experiences, styles and expectations. So what one person thinks is important is not important to the next person. This is why you must ensure that you understand each of your clients; you can't treat everybody the same way. You may be planning a fashion show; for example, what do they want? What are their expectations? What is their priority? One day, you plan a wedding for 2000 guests, and the next time you plan for 400 people. And you must realise that priorities differ with people. For some people, their priority is their wardrobe. For some, it's the guest experience, and for others, it's entertainment, everyone has different priorities, so there are
no two events that are the same. This is why you must carefully choose your vendors and partners after understanding your client. So you mustn't treat two clients the same way because there is no one-size-fits-all.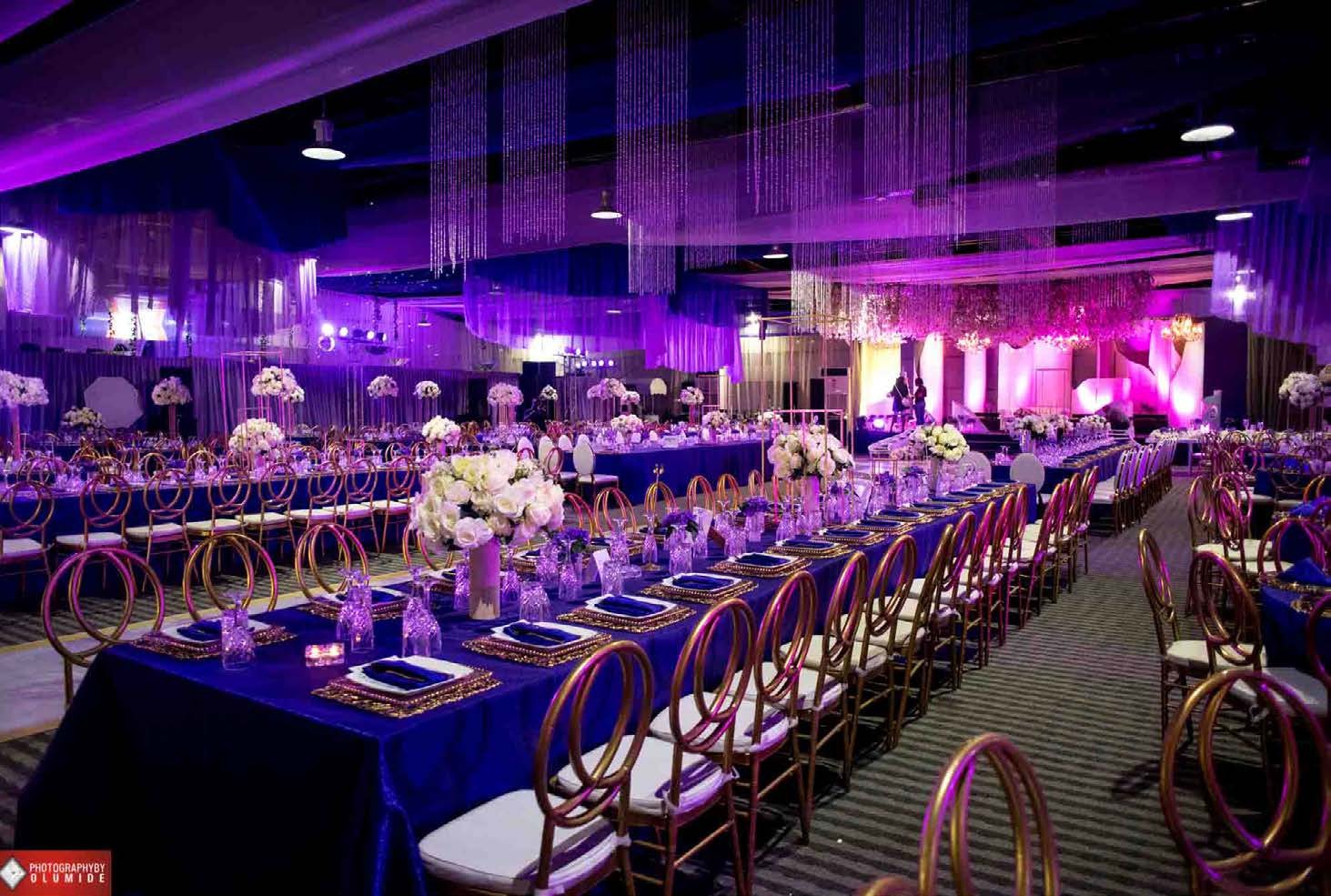 Our culture is flamboyant with colours and loudness, which can sometimes be overwhelming. How do you work with those loud colours to create premium visuals for guests and clients?
People come to us because they want a personalised experience; they want something tailored to
them. So when we look at projects, we ask ourselves, "how can we best serve our clients? How can we best deliver this? What do we need to do?" And people come to us because they trust the process, professionalism and level of excellence that we bring to every event, so what we do when
you come is to understand your vision and what you see at the end of the day for your event, especially your wedding. And all that starts with the process of creating a visual, a mood board. You
need to see it. And then, you begin to create with a team of people that can bring that vision to life.
So who are the best designers? The best stylists, decorators, food vendors, and entertainers? You must be able to look at everything and say these are the things that will fit into this vision. After
you've created it, you begin to execute and on the day, you produce your vision. There's a planning process in the process of producing, creating and executing. That's the process that takes time; that's the part where you weed out what you don't want and put in what you want. Then on the day,
you produce all that you've planned and created. That's how to deliver an event from beginning to
end with a vision of the visual that you see in your mind.
What makes your company different from others?
Everybody has their DNA, and every brand has what they are trying to deliver. For us, we are very
particular about our customers and serving them. We are particular about our clients' and guest
experience, ensuring everything is well coordinated. So we want to deliver a seamless, bespoke
event excellently by ensuring that our clients, guests, team, stakeholders and vendors are all working at optimum levels and we do not compromise on excellence. That's what everybody in
the organisation lives by, that quality service is very important.
In planning a wedding, which do you prefer: Planning abroad or in Nigeria? What makes the
difference?
To be very truthful, I love planning events in Nigeria because there's just this soul it has. Planning events internationally can sometimes be very cold because, most of the time, everybody in the environment is working on a rigid routine, and nobody wants to be flexible. And for me, an event needs soul—it needs life. Our food is one of the things that are different, our culture, the flexibility of it. The joy of family coming together, people being around, you can do so much more. And that's why I love planning events in Nigeria. Internationally, I love it because you can get things done quickly, but it is too rigid for me. At the same time, it can be fun, but I love to plan in Nigeria.
Do you cater to small-budget weddings and events?
You can plan an event for 20 guests and spend as much as you will even in planning for 200 guests. So the number doesn't affect the cost. It is the level of detail that you're bringing into the event. For one of 20 guests, you may find out that you're spending more because of the detailing. Size only matters when scaling towards a certain number, and there's now a multiplying effect. So whether
you do 200 or 500 people, your cost will always be high because even your sound has to be much louder (more speakers). After all, you are using a bigger room. Sometimes, however, you read certain budgets and know the client is unrealistic. Sometimes a client wants a certain level, but they don't want to spend a specific budget to meet that level. So obviously, we know that that cannot
work; that's an event we probably wouldn't handle. Budgets vary, and different factors determine them.
You wrote a book seven years ago. Do you intend on following up with another one?
Yes, I do. I'm actually working on it.
Amazing; when should we look forward to it?
Definitely 2023.
Apart from the book, you also organise training courses.
Yes, we do. We have a training school, the Zapphaire Training School, where we train event planners. I have a business coaching course where I personally coach, teach and train people in the service-based industry such as hospitality, tourism, event planning, etc.
Is there a demand for it?
Yes, there is. Don't forget that when I started 20 years ago, there was almost no school for event planning. You either studied law, engineering, and so on. So there is a demand for it. The creative industry is growing hugely.
What would you say is lacking in the event planning community in Nigeria?
One of the things I'd say is lacking is the lack of standard, in the sense that everybody is working
to a standard where nobody understands what is expected. So there is not one law that governs the
event space. That's one thing I know we've been working on for a while, but hopefully, we will be
able to achieve that in the next few years.
So there's an association?
There are different associations in the industry— quite a few of them.
With the advent of technology, has that made work a lot easier for you? And do you have clients or brides looking to incorporate technology in one form or the other into their events?
Technology allows you to run your business more effectively and easier. As event entrepreneurs in
the event space, technology is helping many of us in terms of productivity tools, how we have our
meetings, and how we engage with our clients; technology allows us to visualise our files. Also, with booking vendors, people are now having virtual events when you don't need to bring in 10,000 people into a room, you can have 2000 people in a room, and everything is hybrid. It has definitely played a significant part in the events industry, and it's still growing.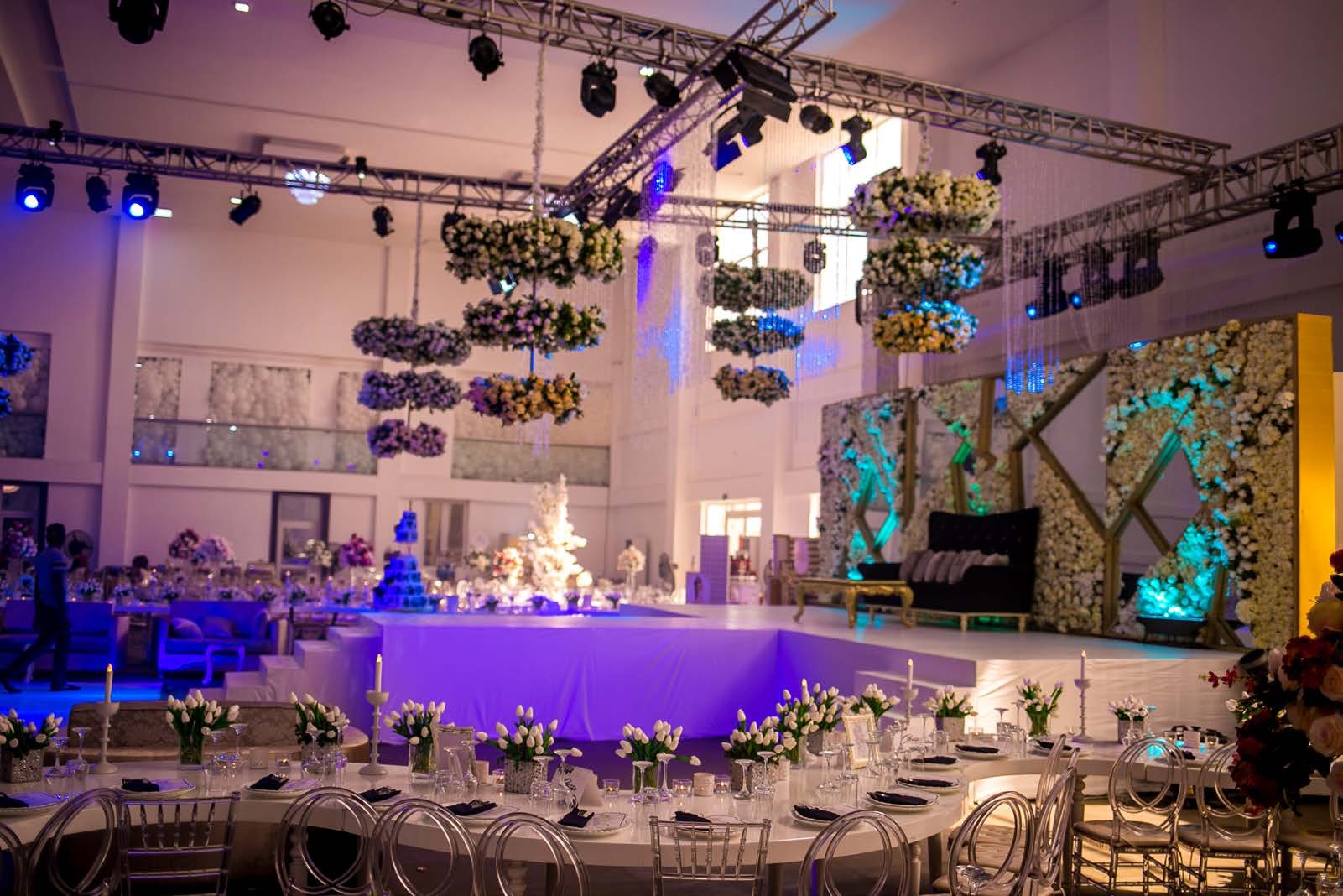 Would you say COVID helped the event industry?
Yes, COVID helped everybody to recalibrate, to look at a newer and better way of doing things.
What kind of event would you prefer—corporate, weddings, or social events, like baby birthdays…?
I hope people will not be jealous now [laughs]. I love planning weddings the most because I love being a part of people's stories and journeys. But when we do corporate events, it also gives us something different.  With weddings, you deal with people's emotional side, whereas corporate is the professional side. With weddings, you deal with the family; with corporate events, the stakeholders are not as many. Then there are social events, funerals, and birthdays—you are part of a milestone. I love them all, but weddings have a special place in my heart.
We are crossing to the busiest time of the year− December, the peak period for events. Is this the most exciting time of the year for your job? How excited or not are you about the end of the year every year?
I love every part of the year, but I like what you said about December. It is always so exciting
because people are in a festive mood, happy and excited. We are also excited in the office, and that's how we see December. But every other part of the year is always interesting as well.
You are an extremely busy woman. It took a while to get to sit down for this interview finally. How easy is it for you to balance your work with family?
It's not easy balancing it all, but the good thing is that at every stage of someone's life, there are different ways to balance different parts of your life. How you balanced things when your children were younger differs from when they became teenagers or when you just got married. In every aspect of balancing, there are different levels and challenges. So one thing I've learnt on how to
balance is delegation. How do you have that integrated work-life balance? So you delegate, both at work and otherwise and the things you can't delegate, you do yourself. And I have learnt that sometimes, you must sacrifice in your business, home, relationship with friends, and so on. To get
what you want, you have to sacrifice. Family is important, my children are important, and my business is also important, so it's a question of how you juggle them. Sometimes the scales are not equal; sometimes, one is higher and the other lower, but the key is to ensure that nothing drops. And when it does drop— because no one gets it right all the time, don't beat yourself up.
Everyone looks forward to your dancing videos during and after your events. How did that come
about? Is that how you've always been, and social media has just put it in the spotlight?
I've always loved dancing. I've always danced ever since I was a child. I've always had that hyper, energetic, full-of-life personality. But I think that even planning an event and seeing the event at the end of the day fills me with joy, and I want to dance. It is a form of therapy for me, a form of
connection with my clients; it's a form of joy because there is fulfilment at the end of the day. In fact, clients come to me now and say, "you didn't dance at my event. Why are you not dancing?"
Someone has said my dance is a gift; it radiates joy. Someone called it a victory dance. Other
people have said my dance keeps them going and asked me not to stop dancing, and I love it.