Four Places To Visit With Loved Ones This Easter
Easter is the only holiday that affords people four consecutive days of break. For people within the corporate world and any business that requires at least eight hours from Mondays to Fridays, the importance of holidays cannot be overstated—Easter provides a stretch. In between the hustle and bustle of trying to earn an earnest living, an important part of our existence, family, often takes the backseat. Sometimes we can't find a schedule that works for everyone but even during the holidays when there is an abundance of free time to plan something, the question of "what to do and where to do it" often proves a difficult challenge. But that's where we come in. Although some of these locations will surely be packed, they are some of the best family-themed spots in the country.
HIKING – Iyake Suspended Lake, Ado Awaiye, Oyo, Nigeria
Ado-Awaye is an ancient site with no shortage of timeless wonder. Hiking the Ado Awaye Mountain takes roughly three hours depending on speed. Most of the terrain shifts between rock and forest, beginning with rough steps carved into the mountain. En route to the top, travellers encounter numerous ancient sites. Hikers who reach the mountain apex are rewarded with a view of Iyake lake, one of only two suspended lakes—defined as a lake on top of a mountain—in the world. Legend says that beneath Iyake lies another world, a parallel existence ruled over by a goddess of fertility who lives inside the lake.
It's rumoured that if one puts their foot in the hole near the lake known as Agbómofúnyàké (Yoruba for "collects child and gives to iyake") when it's filled with water, the person will be dragged to the bottom. Not all mythology surrounding the lake is sinister though; it is said the lake's water can cure ailments and diseases when used to bathe.
Know Before You Go…
Hiring a guide for the hike is highly recommended. A man by the name 'Atabo David' is known as the premier Englishspeaking guide and charges 1,000 Naira per adult and 200 Naira per child. The entry fee for the mountain however is 500 Naira. No climbing accessories are required for the hike except for good shoes (closed toe, in case of snakes).
PICNIC – Ndubuisi Kanu Park, Ikeja, Lagos
Managed by the Lagos State Parks and Garden Agency, the Kanu Ndubuisi Park is a public park and recreational centre located in Ikeja, Lagos. With offerings such as a lawn tennis court, a basketball court, a play area for children, seats and benches, patios and sheds, and snack stands, alongside a large green area, the park is one of the most suitable picnic spots in Lagos. It is also close to the Johnson Jakande Tinubu Park.
Know Before You Go…
Food and drinks are allowed, and so it is advised to go with coolers of food or snacks, alongside shawls or mats for a proper picnic setting. Otherwise free for regular days, a gate fee of 500 Naira per person is required on public holidays such as this Easter. For other activities such as horse-riding, ice skating, lawn tennis training, and so on, the price starts from as little as 500 Naira per activity. If you are driving, you can be assured of your car's safety for just 200 Naira per car park space.
KAYAKING – Kayak Abuja, National Stadium, Kukwaba, Abuja
Kayaking is a water sport that involves paddling using a double-bladed rod and a small boat known as a kayak. Located at Package B, Chartered Farms, National Stadium, Kukwaba, Abuja, Kayak Abuja has tandem kayaks that are perfect for pleasure rides. In addition, the compound also has grass and trees for shade and picnicking.
Know Before You Go…
You don't have to make reservations, you can make payment at the entrance—it costs 2000 Naira per hour. You are also allowed to bring in your food and drinks. They are open from 8 am till 6 pm every day.
BEACH – Port Harcourt Tourist Beach, Port Harcourt, Rivers
Renowned as one of Port Harcourt's most established vacation destinations, the Port Harcourt Tourist Beach is a white sand urban beach in Port Harcourt, Rivers State. Since its creation in 1988, it has been a go-to unwinding spot for visitors and inhabitants alike. It includes a historical centre inside its premises and visits guides are accessible to take you through. It's an awesome place to appreciate crisp or not-all-that-new palm wine alongside other neighbourhood luxuries.
Know Before You Go…
Alongside the widely consumed palm wine, you can also partake in local delicacies such as assorted spicy meats and other indigenous dishes. Many families go to play volleyball or beach football, take boat rides, go horseback riding, watch boat races, or dive in the cool waters.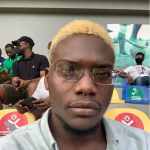 Self-identifies as a middle child between millennials and the gen Z, began writing as a 14 year-old. Born and raised in Lagos where he would go on to obtain a degree in the University of Lagos, he mainly draws inspiration from societal issues and the ills within. His "live and let live" mantra shapes his thought process as he writes about lifestyle from a place of empathy and emotional intelligence. When he is not writing, he is very invested in football and sociopolitical commentary on social media.