For the Love of Nigeria: Mikel John Obi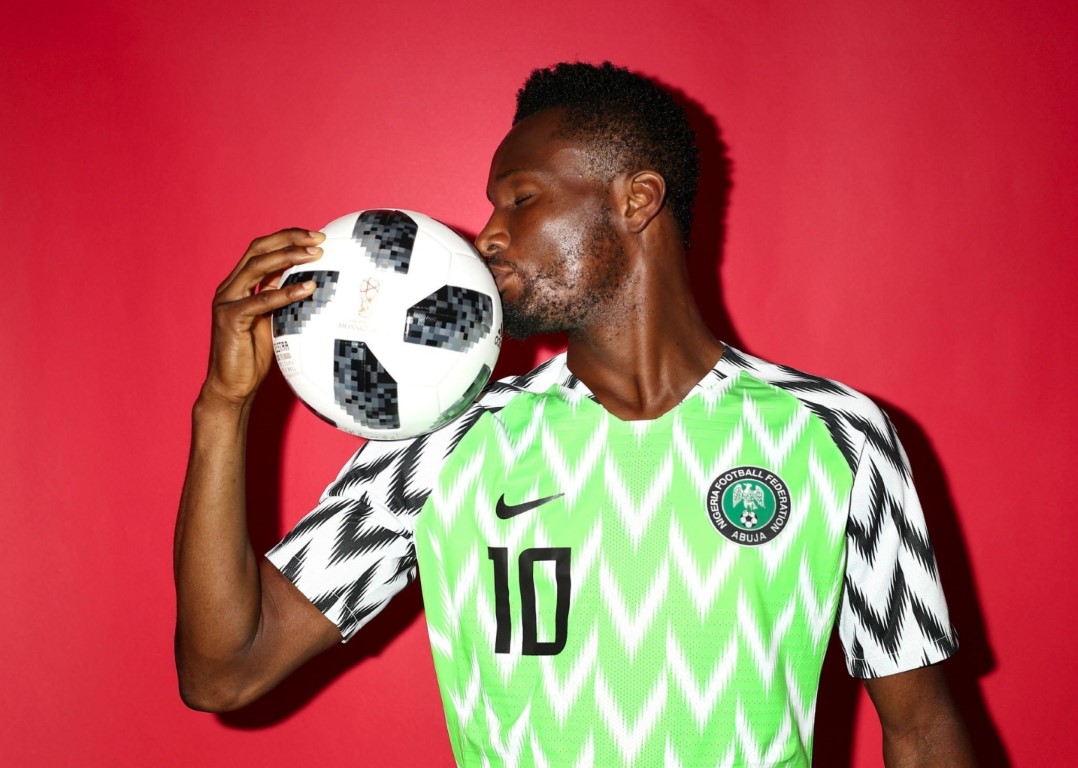 Although we have always been a leading footballing country in Africa, much like with most things, the disappointments sometimes outweigh the glorious moments. For different generations growing up, there are various superstars in different eras. Jay Jay Okocha, Kanu Nwankwo and Julius Agahowa were some of the most influential Super Eagles superstars at the peak of their careers. Before them was Samson Siasia, Peter Rufai, the late Stephen Keshi and Rashidi Yekini—that generation, which won the 1994 Africa Cup of Nations, was widely recognised as the golden generation. And after that, Nigeria never really enjoyed a sustained spell of dominance in Africa. The Egyptians were perennial winners, of course. Nigerians needed to win, dominate Africa, make up for lost time, and end almost two decades of being also-rans. The Super Eagles' next victorious screech in the competition came in 2013, with one man at the centre of the proceedings resulting in the triumph, Mikel John Obi.
The Beginning
Born John Michael Nchekwube Obinna in Jos in 1987, Mikel began his football career at the age of 12 when he was selected from more than 3,000 young footballers as a talented player to play for the Pepsi Football Academy. A group that at the time was well known for travelling throughout Nigeria looking for young footballers with the potential to play professionally. Scouts noticed Obi, and he was chosen to play for Plateau United—a top-flight team that had previously produced talents Celestine Babayaro, Victor Obinna, and Chris Obodo, who eventually had success in European leagues—before joining Norwegian club Lyn at the age of 17 in 2004. In 2006, he joined a top English football club, Chelsea, in a controversial transfer after Manchester United had claimed they had already signed him.
The Transfer Saga
"Look, I wasn't really kidnapped. I was just staying away from the public eye making sure no one knew where I was. But there was a public announcement in Norway that if anyone saw me, they should report it to the police, so we had to go and hide. Obviously, [Manchester] United were trying to get hold of me. So was Lyn. There were some tough times. It was like a movie," Mikel John Obi reflected on his bizarre transfer saga.
On April 29, 2005, a few days after Mikel turned 18, Premier League club Manchester United announced that they had agreed with Lyn to sign him. United's website also stated that they had made a direct deal with the teenager and that he had signed a contract to join them.
Mikel's agents were bypassed as the club persuaded the youngster to sign a four-year contract without representation. Lyn allegedly sent a fax to his agents abroad, claiming Mikel no longer required their services. Reports said the deal was initially worth 4 million Pounds and would see the player arrive at Old Trafford in January 2006.
Manchester United's rival Premier League club, Chelsea, later issued a counterclaim suggesting that they already had an agreement with Mikel and his agents, but Lyn denied this claim. However, subsequent reports indicated that Chelsea claimed to have been involved in arranging the player's original move to Europe with a view to signing him at a later date. Further substance was added to this claim after it was revealed that the player had impressed Chelsea manager José Mourinho while training with the club's first-team squad during the summer of 2004.
After much ado, the transfer was eventually resolved with Chelsea paying 16 million pounds in total—12 million to Manchester United and 4 million to Lyn—as they secured his services in June 2006, and also got his work permit the following month.
For Nigerians Across All Age Groups
Mikel couldn't have taken a better stage to announce himself to the world on the international stage. At the 2005 FIFA World Youth Championship, aged just 18 years old, he shined brightly for the Nigeria under-20 squad and was awarded the Silver Ball as the tournament's second-best player—after Lionel Messi— as we came in second to eventual winners, Argentina.
He went on to make his senior team debut later that year. Although his international career was slightly blighted by injuries that prevented him from representing his country, and his refusal to play for the Nigerian under-23 side, Mikel's generous contribution to the national team couldn't have come at a better time. At the 2013 Africa Cup of Nations, he was a key player for Nigeria as we went on to our only third—and latest— continental title. He had such a great tournament the Confederation of African Football( CAF) named him in the team of the tournament alongside teammates Vincent Enyeama, Efe Ambrose, Victor Moses and Emmanuel Emenike.
Rio 2016: Mikel's Cemented Legendary Status
For the nation's supporters, Mikel John Obi's legendary status was likely solidified by the circumstances preceding Rio 2016. The Nigerian icon endeared himself to supporters in Rio for his initiative and selfsacrifice. The Nigeria Football Federation's (NFF) deplorable delay in covering the team's travel and maintenance costs led to the ex-international's great sacrifice for the country before the Games. The team was stuck in the US and in danger of missing their inaugural match against Japan, which would have been the greatest embarrassment for the country on the world stage.
Seeing that the NFF was stalling, Mikel took matters into his hands, acting as the team's benefactor of the side, as the players travelled to South America on the day of their opening game against the East Asian country, which they won 5-4. That rip-roaring nine-goal thriller was to serve as a catalyst for the Dream Team's run to a Bronze medal, which, as it turned out, was Nigeria's only honour in Rio. The eventual success made the captain's sacrifice even more significant, given how modern footballers are perceived: egocentric, self-serving and thoughtless.
The former Chelsea anchorman—the only over-age outfield player in that squad— saved the nation from global embarrassment and led them to third place, a success recorded against all odds.
Playing at the Games even cost him his place in the Blues side, with Antonio Conte marginalising the defensive midfielder upon his return, having been against Mikel's participation with the Dream Team.
"I had been called up by my national team to play, and it was a dream," Mikel was reported to say. "It's a dream for anyone to go to the Olympics. Yes, as players, we want to win the Champions League and the World Cup, but the Olympics is a massive tournament. This guy (his head coach at the time, Antonio Conte), who has just walked in the door for five minutes, is telling me I had to choose. I spoke to the club and told them that I wanted to go. The club respected me because of what I had done for them and how long I'd been there. So off I went, and I felt punished for that. I came back, and I didn't make the squad. I was never in the squad list on matchdays again." He concluded.
Even though Conte tried to get the Nigerian back on-side before his departure in January 2017, Mikel felt bridges were burnt and had little interest in staying under the Italian manager. His patriotism for his country and doggedness to continue on the path he wanted to cost him his Chelsea career, but the bronze medallist never cared or bothered. Instead, the midfielder looks back on that run positively. "Sometimes I wear my medal around the house," Mikel told Goal in 2016. "The kids love playing with the medal. I am sure one day, they will know what this really means. We had lots of problems outside the pitch, but I always told the boys that you shouldn't let that affect what we came here to do," he reflected.
While losing to Germany in the last four meant Samson Siasia's team wouldn't replicate the nation's 1996 Atlanta success, a Mikel-led side picked up a 3-2 win over Honduras to end on the podium. That group went from uncertainty regarding their participation to winning the country's sole medal in Brazil, defying the odds spectacularly. Mikel's selflessness, without a doubt, made it possible, and his overage participation at the Olympics is a forgotten chapter in his storied career.
Mikel's contribution to football in Nigeria will never be forgotten. Although his input in the 2013 AFCON win and the country's podium finish at the Olympics three years later serve as a tangible influence he has directly had on the sport in the country, his proud representation of his country on the world stage with Chelsea has over the years been a source of inspiration for young boys looking to dream and one day make a name for themselves playing football.
The Editor reached out to Mikel Obi regarding his retirement and plans for the future but he did not comment.
Mikel John Obi Legendary Career in 12 Fascinating Facts (Credit: Goal)
John Obi Mikel is a two-time Premier League winner, having clinched the title in both 2010 and 2015. It's a Nigerian record, tying Arsenal great Nwankwo Kanu, a league champion with the Gunners in 2002 and 2004.
Only three African players—Didier Drogba, Riyad Mahrez and Yaya Toure—have won more Prem titles than Mikel.
He was also a European champion with the Blues in 2012, playing his part in their unlikely final triumph against Bayern Munich. This put him in an elevated company, with only a handful of Nigerian players—Kanu and Finidi George—who have clinched club football's grandest prize.
A year later, Mikel won the Europa League. Only one other Nigerian player—Kanu—has won both of Europe's major club competitions.
Mikel was also named Africa's Most Promising Player by Caf in 2005, becoming the second Nigerian—after Obafemi Martins—to win the award. Mikel's triumph was the third success out of four consecutive wins in the category for Nigerian players, following behind Martins' back-to-back wins and preceding Taye Taiwo's win in 2006.
To date, Mikel is one of only four players—along with Mido, Clifford Mulenga and Salomon Kalou—to have won the CAF Most Promising Talent of the Year award and to have clinched the Africa Cup of Nations title.
Mikel was actually born with the name Michael, but a clerical error early in his career established 'Mikel' as his given name. He liked the sound and chose to keep the new spelling, even though it wasn't his official given name.
Mikel is the only foreign player to have made their 100th Premier League appearance for the Blues before the age of 23 years and 100 days. The other players to have done so are English trio Mason Mount, John Terry and Eddie Newton.
In December 2021, Reece James became the club's youngest player to start 50 league games since Mikel achieved the feat at 21 years and 264 days in January 2009. The Nigerian is eclipsed by Terry, who hit a half-century in April 2002 at the age of 21 and 124 days.
In 2015, Mikel became the 21st Chelsea player to make 350 appearances for the club. He achieved this feat when he came on as a substitute in Guus Hiddink's first match in charge during his second spell with the club.
He ended his time at Chelsea with 249 top-flight appearances for the Stamford Bridge giants, 27th in the club's all-time standings. This is more than the likes of Eden Hazard, Willian and Ashley Cole, although he's behind Didier Drogba, who made 254 league outings for the club.
Only three Nigerian players—Shola Ameobi, Kanu and Yakubu—registered more Prem outings than Mikel. The highest active PL player on the list—Alex Iwobi—will only be able to overtake the midfielder (at the earliest) at the end of next season.
Mikel wrapped up his career in Kuwait, playing two matches for Kuwait SC before parting ways with the club. In total, he turned out for seven senior clubs during his career, including stints in Norway, China and Turkey.