A Slip of Tongue
It was Sunday. Time for the usual brunch with the girls. It had been a very tough week, so I really wanted to have my signature cocktail. I arrived at 12.25 pm, and Thandie, Miss keep-to-time, was already sitting, in the private room at our favourite restaurant in Victoria Island, enjoying a glass of vintage white wine.
She took the liberty of ordering us a bottle. "Hey babe, I'm sorry I'm late. Did you go to church at all?" I say, kissing her on the cheek. Thandie is the one friend who works her ass off. She has always believed in a woman holding her own and a man being there for companionship. If he isn't up to par intellectually or more successful financially, he has no business looking in her direction.
And her body language exudes every bit of that. Chic, curvy, doing well for herself (legally, I might add in the furnishing business), and will not, under any circumstances, lower her standards even if it means being single the rest
of her life. Ada is yet to arrive; she's the one who is always late. Fifteen minutes later, she saunters in with an excited, "Hi Thandie, hi Emerald." We hug and kiss hello, and our ritual begins, first, with work, and then, love life.
Ada just broke up with her boyfriend and is taking a break, so there is not much adventure in the bedroom department. Her PR firm is doing well, though. Thandie has just met this guy who seems a bit older. Considering we are all in our forties, a fifty-something-year-old is not a bad age for a suitor, I thought. We joke about her riding him and giving him a heart attack during the act. "That would be a great way to go, wouldn't it?" I say.
"In his defence, Thandie says, "he seems very athletic; always sending me videos of himself, working out. Mostly HIIT (High Interval Intensity Training), swimming, riding, so I'm pretty sure he will be fine", she says. Riding? Ahh, that man is waiting to ride you!" Ada says.
We all laugh. "So what's been going on with you, Miss Delicate Flower; what's up with you and Mr Mysterious Guy?" My friends believed there was a mystery to this guy I met three months ago because we couldn't find him anywhere on social media.
"Well, we finally got to, you know…" I say "And?" They chorused. "Well, I say, "The kissing wasn't great, but the sex? It was relatively short when he kissed me, but then he went to my neck and nibbled, running his hands down my breasts and placing his palm firmly on them. He trailed his hands down my stomach and then to my lady bits, which was already throbbing, waiting for his c**k to slide over it, teasing me. So I lift his face to kiss me, and when he does, it's like a lizard sticking its tongue in and out of its mouth."
"Eish, sorry, babe." 'Sorry, what? I wasn't going to allow a bad kiss to
ruin my night of pleasure. I wanted to get f**ked, and nothing was going to
stop me from getting it. I decided to let him continue working his magic with
those strong hands, and the next thing I felt was a finger inside me fluttering; but he was doing it differently, almost like he was gesturing
for someone to come over, and then he slid my underwear sideways and thrust his hard throbbing c**k inside me.
Girls, I have never had that kind of sex before. So he would go deep a couple of times, then shallow. Eventually, I realised he was counting backwards… "How did you figure it out" He made me count." "What?" Thandi said. "I knew that guy was kinky," squealed Ada. "He made you count?"
"I loved it." So he started with nine deep hard thrusts, then eight deep
and one shallow, and seven deep hard thrusts and two shallow, then six and
three, five and four until we got to nine shallow thrusts, and he reversed
it to nine shallows then eight shallow thrusts and one deep and hard thrust,
seven shallow, two deep and hard thrusts, and so one.
You girls know me; I like to give instead of receive, right? Yeah, you are the gift that keeps on giving, huh?" Thandie says. Ada bursts out laughing. I didn't have a comeback, so I continued with my story. "Whatever, but this time, I'm like, "f**k!. He says, "Oh, but I haven't even begun to f**k you yet."
Ladies, he then takes me in front of a mirror and whispers in an intense voice, "Watch me f**k you till your nose bleeds." And with that, he thrust so
deep and hard that I screamed from pleasure and pain. I didn't know when I said more! He kept going, and I could see his d**k going in and out of me.
At some point, he spanked me, and I moaned, then he grabbed my waist with one hand and placed the other on my shoulder but from under my arm. I was locked in his grip. He had full penetration, this man f**ked me harder and deeper. I kept saying, 'harder, harder,' louder and louder. I don't know what happened but I came blurting out, 'Oh, Greg, I love you!'"
"What the hell, babe; Greg from 10 years ago?" Thandie says, Ada is in shock and just kept looking at me. "What did he do?" Thandie asked. "He finished, and we had dinner. Thene asked if this 'Greg' would be a constant visitor in our relationship.
"Babe, I would so dump your ass if I were that man," says Thandie. "Oh, but I made up for it," I respond. "What could you possibly do to make up for that?" Ada remarks. "Have you guys ever known any man who got a taste of my fellatio and didn't come back, even to date?"
"A toast to mind-blowing fellatios, then," Thandie says. "Here, here." We
respond. Just then, my plate of seafood pasta with extra cheese and truffle cream sauce arrives.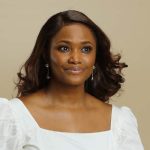 A lawyer by training, Onah packs over a decade of experience in both editorial and managerial capacities.
Nwachukwu began her career at THISDAY Style before her appointment as Editor of HELLO! NIGERIA, the sole African franchise of the international magazine, HELLO!
Thereafter, she served as Group Editor-in-Chief at TrueTales Publications, publishers of Complete Fashion, HINTS, HELLO! NIGERIA and Beauty Box.
Onah has interviewed among others, Forbes' richest black woman in the world, Folorunso Alakija, seven-time grand slam tennis champion, Roger Federer, singer Miley Cyrus, Ex Governor of Akwa Ibom State, Godswill Akpabio while coordinating interviews with Nigerian football legend, Jayjay Okocha, and many more.
In the past, she organised a few publicity projects for the Italian Consulate, Lagos, Nigeria under one time Consul General, Stefano De Leo. Some other brands under her portfolio during her time as a Publicity Consultant include international brands in Nigeria such as Grey Goose, Martini, Escudo Rojo, Chivas, Martell Absolut Elix, and Absolut Vodka.
Onah currently works as the Editor of TheWill DOWNTOWN.