Watch Of The Week: Love, Death And Robots Season 3
The premise behind Love, Death + Robots is basically a free-for-all, a blank canvas – and seemingly blank check – for artists and animators to tell all kinds of interesting and provocative stories. The first volume featured 18 episodes, which was obviously too many, while the second featured eight, which wasn't quite enough. The third volume offers nine unique stories, which isn't many more, but the upside is that they're all very good – a couple are even truly great.
There are some keys to the show's success. One is its NSFW tone, which doesn't skimp on sex and violence and gives the storytellers the freedom to go as far as they like. Another is its chosen genres of science-fiction, fantasy, and horror, crowd-pleasing sandboxes well suited to metaphor and more malleable in animation than live-action. But the real advantage isn't much of a secret – the show's just made by talented people who have been given enough creative freedom to tell the stories they want to. In an age of brand preservation and sanitised, family-friendly mass-market entertainment, that's perhaps more vital than we realise.
If you watch any single episode from Love, Death + Robots Season 3, make it this one. The season's clear highlight is the second episode, Bad Travelling, a nautical story of heroism and horror from writer-director duo Andrew Kevin Walker and David Fincher. The Very Pulse of the Machine is a surreal hand-drawn descent into madness, drenched in ambiguity. Night of the Mini Dead is a triumphant stop motion zombie apocalypse. And Kill Team Kill pokes enthusiastic fun at gung-ho American militarism in a hyper-violent, satirical riff on Predator.
Approaching the end, Swarm is high-minded sci-fi about humanity's greed and arrogance. Mason's Rats warns against burgeoning technology and impersonal, behind-closed doors warfare, and In Vaulted Halls Entombed delivers near photorealistic CGI in a close quarters, deliberately ambiguous action story.
A daring final episode titled Jibaro, which reworks the siren myth as a sexual assault allegory through the medium of interpretive dance is quite a closer.
Practically all of these episodes run less than 20 minutes, which is an extraordinary accomplishment given how much narrative ground they cover and how much they're able to achieve, especially visually. Each is distinct and memorable, and the overall collection is another impressive batch of short stories with enough variety to please almost everyone.
Love, Death + Robots Season 3 is now streaming, exclusively on Netflix.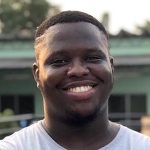 Boluwatife Adesina is a media writer and the helmer of the Downtown Review page. He's probably in a cinema near you.