Chief Rasaq Okoya's Elegant 82nd Garden Birthday Party
Friends and family recently gathered at the residence of Chief Rasaq Akanni Okoya, to commemorate his 82nd birthday. Organized by his wife, Dr. Sade Okoya, the event hosted the upper echelon of Lagos which included royals, to a simple but elegant outdoor gathering.
The evening started with prayers at the mosque, after which his guests were ushered to the garden, where the ever-gracious celebrant personally welcomed each one of them as they arrived. Friends including Bisi Olatilo, Florence Ita Giwa, and Kensington Adebutu paid tribute to the man of the evening, each speaking of how much of a gentle and kind man he is. The celebrant later cut his cake as the guests made merry.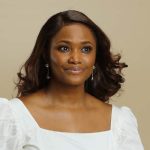 A lawyer by training, Onah packs over a decade of experience in both editorial and managerial capacities.
Nwachukwu began her career at THISDAY Style before her appointment as Editor of HELLO! NIGERIA, the sole African franchise of the international magazine, HELLO!
Thereafter, she served as Group Editor-in-Chief at TrueTales Publications, publishers of Complete Fashion, HINTS, HELLO! NIGERIA and Beauty Box.
Onah has interviewed among others, Forbes' richest black woman in the world, Folorunso Alakija, seven-time grand slam tennis champion, Roger Federer, singer Miley Cyrus, Ex Governor of Akwa Ibom State, Godswill Akpabio while coordinating interviews with Nigerian football legend, Jayjay Okocha, and many more.
In the past, she organised a few publicity projects for the Italian Consulate, Lagos, Nigeria under one time Consul General, Stefano De Leo. Some other brands under her portfolio during her time as a Publicity Consultant include international brands in Nigeria such as Grey Goose, Martini, Escudo Rojo, Chivas, Martell Absolut Elix, and Absolut Vodka.
Onah currently works as the Editor of TheWill DOWNTOWN.