HAPPILY EVER AFTER
"So when do I get to meet him? It's about time, don't you think?" Clara said. "Calm down, babe. You will in due time. We have to make sure the timing is right," I responded. "And when will that be, ten years from now?" She was being sarcastic again. Sometimes I wondered why she was eager to meet Josh. I wasn't worried she would take him away from me; well, not quite. It started to get a bit uncomfortable that she was more excited about our relationship than I was about the whole thing. And like a mind-reader, she stole my thoughts right out of my head. "I know what's going on here, Funmi. You think I want him for myself, don't you?" Clara said as she walked towards the bed where I sat, looking me straight in the eye with a sensual smile as she bit her lower lip. I denied it. "No, I don't. I think we should pace ourselves." But she wouldn't let it go. "I have known you since secondary school, Funmi; I know when you are insecure, and this? This, right here, is insecure-Funmi. But you don't have to worry about that", she said as she sat across me, bringing her face closer to mine while she gently pulled my hair back, moving my head up slightly to give her full access to my mouth. "I'm all yours", she continued, "and the three of us are going to be very happy."
Her lips captured mine very gently and slowly as if to assure me of her love, and then we began to undress each other. Her lips traced every curve of my body; I couldn't hold still anymore as she kissed and licked every inch of me. Parting my legs, she teased me with her tongue and then came back up. I started to wiggle beneath her, yearning for more of what she had to give me.
The animal in us couldn't stay caged anymore as our lower bodies rubbed back and forth. The primitive act took over with our lady bits grinding against each other, faster and faster, until electric shocks of pleasure rippled through our bodies as we peaked to sexual satisfaction. We lay down on the bed, staring into the dark as we cuddled each other and eventually fell asleep.
Clara was fast asleep when my phone began to ring. It was Josh, my boyfriend. Staring at my phone, I was unsure whether to pick up or decline his call. Even if I picked up, I'd be unsure what to say. He is very well aware of my sexual preferences, so he knew about Clara, but like me, he was worried she was spending more time with me and would soon take me away from him. What can I say? Clara and I have known each other for over ten years, so there's bound to be a closer relationship. But I was beginning to see now that it was time to introduce them, time for our 'three-way' relationship to be more trusting because he, too, was eager to meet her.
Was I worried about stares when we all decide to go out on a date? Absolutely. There aren't any openly bisexual trios in the world, but no one would know. We could be a couple and their friend hanging out. 'That's it. That's the explanation,' I thought to myself. Confident, I sent Josh a message saying I would organise dinner for us three the next day, and then I fell asleep.
Clara was beyond excited when I broke the news in the morning and couldn't stop talking about it all day. We left early to wait for Josh at the restaurant; truthfully, I was nervous.
We were having shots at the bar when Josh arrived. Clara spotted him first— they both knew what the other person looked like— and the smile on her face said it all. I looked at Josh, and he was smiling too. No need for introductions, so we kissed hello and walked to our table for dinner.
I could see both of them giving each other 'the look', so I had to say something. "You two have ignored me all evening; is this the plan?" "No, it certainly isn't the plan, Funmi," Josh said as from underneath the table, he moved his fingers up my dress and kissed me passionately. "The plan," he continued, "is, I'm going to pay for our meals, and then we are all going to my apartment where we can get to know one another better."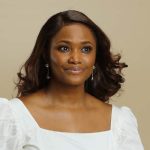 A lawyer by training, Onah packs over a decade of experience in both editorial and managerial capacities.
Nwachukwu began her career at THISDAY Style before her appointment as Editor of HELLO! NIGERIA, the sole African franchise of the international magazine, HELLO!
Thereafter, she served as Group Editor-in-Chief at TrueTales Publications, publishers of Complete Fashion, HINTS, HELLO! NIGERIA and Beauty Box.
Onah has interviewed among others, Forbes' richest black woman in the world, Folorunso Alakija, seven-time grand slam tennis champion, Roger Federer, singer Miley Cyrus, Ex Governor of Akwa Ibom State, Godswill Akpabio while coordinating interviews with Nigerian football legend, Jayjay Okocha, and many more.
In the past, she organised a few publicity projects for the Italian Consulate, Lagos, Nigeria under one time Consul General, Stefano De Leo. Some other brands under her portfolio during her time as a Publicity Consultant include international brands in Nigeria such as Grey Goose, Martini, Escudo Rojo, Chivas, Martell Absolut Elix, and Absolut Vodka.
Onah currently works as the Editor of TheWill DOWNTOWN.