Darey: From Music to Taking a 360 Approach on Creative Solutions
As the DOWNTOWN team led by the Editor, Onah Nwachukwu, with writers, Kehindé Fagbule and Tilewa Kazeem sat in the Livespot360 office, expecting the conclusion of his meeting so we could proceed with the interview, it dawned on us just how much has changed in Dare (Darey) Art Alade's world. We often see a lot of transition stories— from the arts to corporate, vice versa, or the incorporation of both, play out right before our eyes, but we have not seen one quite like his. Darey's journey has been somewhat whole, from performing live music in clubs as a 15-year-old to masterminding the biggest concerts and TV productions. He was also an on-air personality and a TV host, having coached on, hosted, and judged the biggest reality TV competition shows. But Darey got a big boost growing up, he was born into an entertainment household. His dad, Modupe Afolabi Jemi-Alade, popularly known as Art Alade, was a TV royalty who transitioned into music royalty and pioneered jazz in Nigeria.
Darey talked about his coming up, "Yes, I came from a rich entertainment background. My dad was the Director of Programmes at NTA, the host and producer of The Bar Beach Show and a national TV personality. He interviewed the entertainment society's crème de la crème, almost like a Jay Leno. This was before he retired and embarked on his musical career. So that's where I came from, and of course, growing up, there was music one way or the other; either from the music my dad would listen to or the ones I knew. We all just love music and that was what really inspired me to go down the music alley but it wasn't obvious early on. Because my mum used to work at the airport, I'd go there after school and start hanging out with fire service personnel. When they trained, I'd watch them. When planes flew by I watched them, and at a point, I could recognise plane engines. Being at a young age, you'd have thought maybe I'd look towards becoming a pilot or an engineer, but that never happened. From secondary school, I joined the choir, and then I ended up leading the choir. I also lent my talent to other schools like Queens College. It was their 50th or 70th anniversary—if I'm not mistaken— and they had a big production and needed male voices. So I and some of the other boys who could sing within that circuit gathered there, had rehearsal there, and we helped them—and I did things like that in secondary school. After that, I went on to study music at the university, and while doing that, I worked on the radio hosting shows. I was part of a group called 'The Cordwebs,' so yeah, I was doing everything."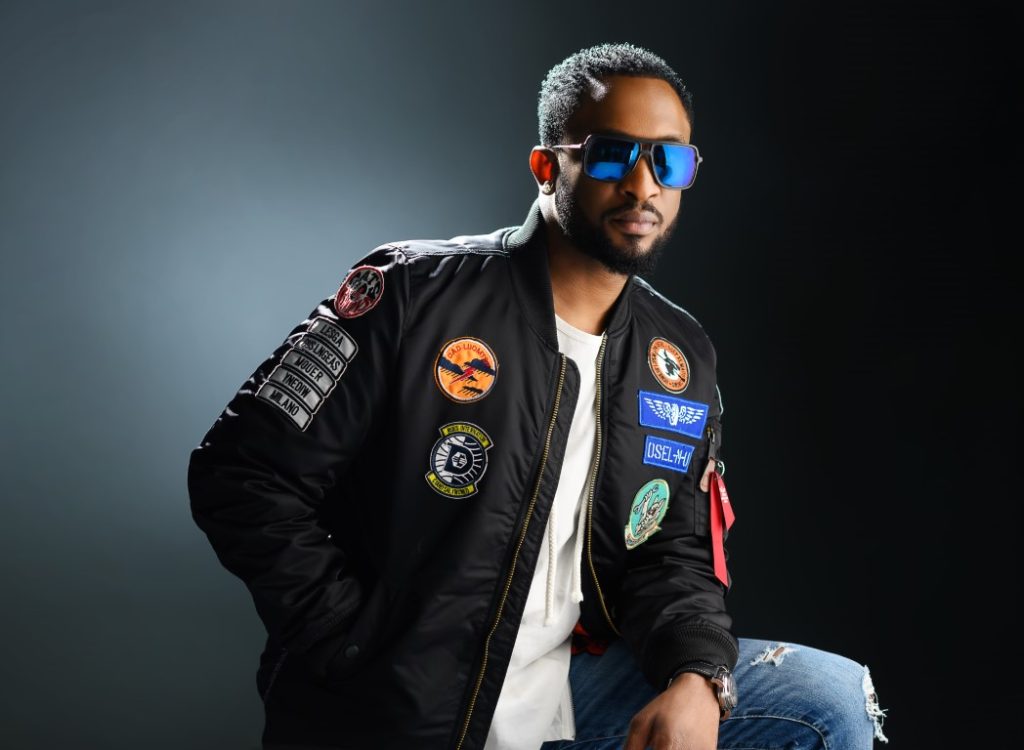 How has he managed to cram all of his accomplishments into one single lifetime? Darey started very early, hanging out with the biggest names in entertainment as a teenager. He reminisced on those days, "It was my reality. I would always hang out with older people in the industry. People like; Muyiwa Majekodunmi, Jaiye Aboderin, The Jaye Sisters, Wunmi Obe & Segun Obe, were people I hung out with. Being on the radio as well, I saw the likes of Plantashun Boiz happen, then Tuface after the Plantashun Boiz. I saw the Remedies come and go, I saw Ruggedman, Ruff, Rugged & Raw by Double X Posse, I saw a lot of them. And over the years, that was the music I played on the radio and the kind of people I would interview as a radio on-air personality, all while I was still in school. I studied Creative Art, which included a bit of dance and theatre, and then ended up majoring in music, where I got my B.A. While all this was going on, I was still in that group, The Cordwebs and we would perform in all the major and minor shows across the country. Even when travelling by bus was a luxury. Juggling all of that at such a young age was something I got used to because that was what I needed to do to survive. It became something I knew I wanted to do from then. It became a pattern, It became something that could put food on the table, I was making money, I was hip, and I was becoming a household name. All this happened before Project Fame. Radio really gave me that platform. I'd get backstage access and VIP access to any and every social event, and I worked for it."
When asked if he was doing all that whilst living with his parents, he clarified, "I started living on my own from the age of 16 or 18 during the radio days, but it was never like I abandoned home. I would always visit home. Of course, my father was late at this time, so it was just my mum, my siblings and me. I was shuttling between that independence while I still had 'breasts to suck.'"
But why did he decide to leave home, one might ask. "It was more convenient for work. Coming close to work, I could literally walk to my place of work, and I had already formed a sense of independence. I was making my mistakes on my own. And when of course, water pass garri, I had where to go back to for advice. And even how I got my radio job was interesting. It came from performing. It came from singing for Laitan the 'theheavywind' Adeniji. You probably know him as Fela in Kalakuta Queens. He had a band then, and I would jam with him, and we'd do a few songs. We were performing at a restaurant owned by a cousin of mine down the road on Ozumba Mbadiwe. He hosted nights like club nights and entertainment nights, and all the big boys and people hung out there because it was a nice spot. I used to perform, and I would speak to the audience, run like a temperature check with the audience and unknown to me at the time that the person who was going to give me my first shot at the radio was listening. From that humble beginning, I spent my fives years in radio, and there wasn't a show I didn't host. From the prime time to commercials, I was the voice behind it. Even my first time on-air was as a result of someone not showing up, and I was living right across the street," he explained.
It must have been difficult juggling all of that with school. When asked, Darey affirmed, "It was tough. In my third year, I wanted to drop out. I told my supervising lecturer then, and he was the one that convinced me that I was almost there. But my mind wasn't there anymore, I had seen the world. By this time, I had started travelling and hosting, so you couldn't talk to me anyhow (suggesting that he had started growing wings). But I needed that voice to help me stay grounded. You might not need it but just have it. So I did that while also going to the Muson School of Music."
Darey was always going to do music. He talks about how he made the switch from performing for an audience to recording songs in the studio. He said, "I started writing and recording music long before Project Fame; while I was still on the radio, I had started making demos and things like that. I didn't start music as a recording artist but as a performing artist. Give me a live stage band; live performances and an orchestra were my things. I felt becoming a recording artist was a transition for me. You'd find that not all performance artists are great as recording artists, and not all recording artists make great performance artists. Fast forward to the day I played the Project Fame commercials on the radio. I realised that this audition venue wasn't far from where I worked. So when I finished my shift, I thought to go there and try out. Seeing as that day was the last day, I just thought, 'shebi, I used to sing? It shouldn't be that hard.' And since then, the rest, as they say, has been history. I gave birth to Nigerian RnB and paved the way for those who confidently wanted to come with a different sound."
Darey enjoyed acclaim in his early days in the music industry. At the height of his career, he was the strongest voice in the alternative music scene. This was at the same time, he did something unprecedented and gave birth to a series of groundbreaking theatrical concerts for Valentine's Day annually titled Love Like a Movie. Having been graced by some of the biggest names in American entertainment, such as Kim Kardashian in the first season, Kelly Rowland in the second, and Ciara in the third, the series set a new standard for cutting-edge production in Nigeria. This was Darey's introduction to the production scene. He talks about how it all started, "Everything was all in phases, and it was the necessity to create experiences that only we understood. We knew what we wanted to achieve, but didn't have the hardware or the experience to materialise ideas in our heads on another level. We realised we had to do it ourselves and that was what gave birth to Love Like a Movie. I hadn't done anything in a while, a public concert. So we chose to do something fresh. Because of my style of music, it was a concert for Valentine and that also gave birth to our experiential production and now, experiential marketing. The 360 solutions we now provide for all sorts of experiences for our clients. It came as a result of necessity; we needed to raise the bar. You see what we are doing now? Mediocre is even generous because we are not doing anything as far as giving people something worth sitting down to watch and really taking them on a journey (insinuating that they have much bigger plans). So we just closed the book and opened a new chapter entirely. I was deliberate, I was purposeful. It wasn't easy; it was very very tough. But fast forward to where we are today; those were the sacrifices we made, not just for ourselves, but before the entire industry. It took a lot, I wouldn't lie to you."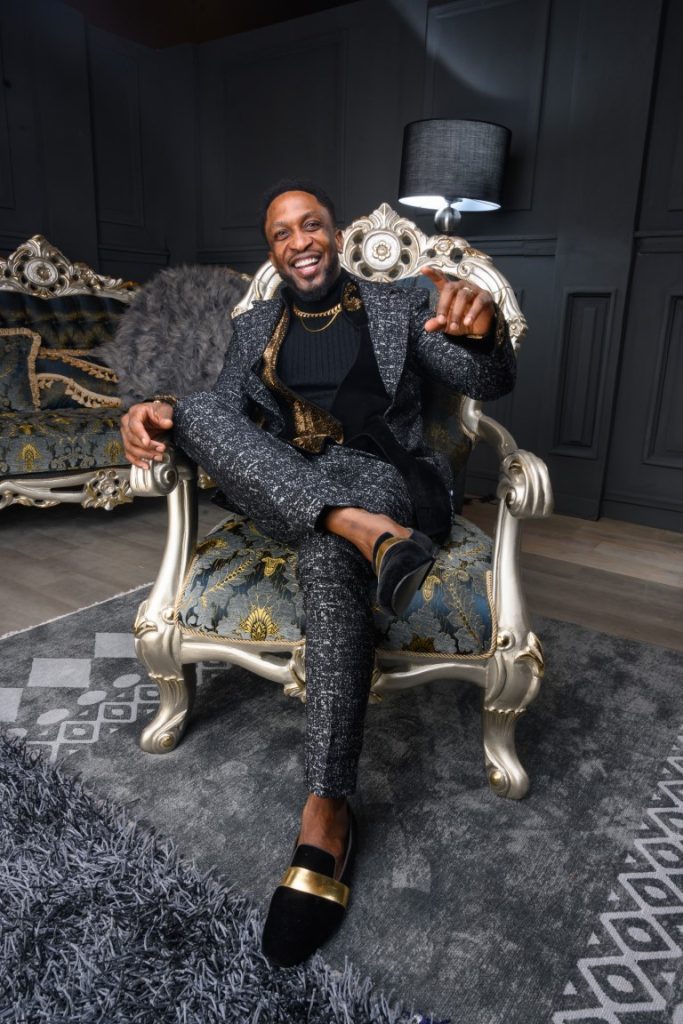 Certain things happen in our lifetime that change the course of our journey. With Darey, one could easily see a future where he became one of the biggest RnB artists in the world. After his sophomore album, unDAREYted, was released in 2009, it brought him a connection with American music business legend Dick Griffey, who offered to executive-produce his third album. This presented an opportunity for him to break into the American market at a time when American collaborations were only the figment of our imaginations. Unfortunately, Griffey died before the project's completion. Darey reflects on that tragic experience, "Dick Griffey, hmm. He had double or triple bypass surgery and didn't quite recover. A lot of work and money… We had plans."
We asked if he thinks his career trajectory would have been different if Griffey hadn't died, Darey responded, "I don't know. Although he was very influential—if you look at his history, having done Soul Train and a few projects—there is no way to tell. You have to look at everything as God's will. If that had happened, maybe what we've done (with Livespot360) wouldn't exist. I could have been on the biggest stages, I could have been the bridge between Africa and the global market. I could have been anything, but I am still something, and I have to take my reality as opposed to what coulda shoulda woulda. Plenty talk doesn't fill the basket, so if wishes were horses…, right now, that's all in the air, and it is in the past now. Right now, it's all about the tangibles; the family, the business, the ideas, solutions to provide; that's my reality."
Darey's now-heavy involvement as a big player in the lifestyle space has so far seen world-class projects over the years. In addition to the success of Love Like a Movie, Livespot360— a world-class creative solutions company he runs with his wife, the CEO—have also been responsible for redefining the festive concert experience. But for Darey, it transcends lifestyle and festivals. "It's beyond that, with my wife and myself at the helm of affairs; it's a 360 creative solutions company. So when you think, 'I don't know what to do, I need an idea', or you have an idea, it starts from there. The entire value chain to bring it to life, we do that in-house, no third-party. We can create an idea and bring it to life with everything that comes with it. We can provide those solutions across all disciplines. We are your one-stop-shop," he explains.
They have found a way to blend lifestyle and corporates seamlessly through pop culture. Their copyrighted "Detty December" trademark has become a well-received lingua to connote the exhilarating festive end-of-the-year packed with all kinds of shows. Leading by example, the Livespot X Festival has brought Nigerians some of the most thrilling concerts the country has ever seen, including 'that Cardi B concert.' Livespot360 has been a huge success, but Darey can only lay claim to the creative side of affairs. He pleasantly shares the spotlight with his wife; the CEO of Livespot360, showrunner of The Voice Nigeria, and Executive Producer of Livespot360 latest blockbuster show, Real Housewives of Lagos, Deola Art Alade (née Ayeni). Admitting that although his wife works under the radar, she manages the business end of things, Darey explains, "Yes, she's always behind the scenes, under the radar, but that's beginning to change. People are beginning to drag her out of her shell, her hiding spot. She's the one that makes things happen, pushing the buttons; I'm the creative guy, the CCD—Chief Creative Director. And we just work together that way. Women make great managers and great leaders, so she spearheads the vision, mission and the entire business in terms of building and capitalising on opportunities. I'm the one that just leads the creative team, as it were. So she's behind the scenes, always working in the shadows, but yeah, her name has been popping a lot now. Like me, people know that she executive produced on The Real Housewives of Lagos. She produced The Voice Nigeria; she's always about her work."
But exactly how easy is it to be in business with your spouse? Sometimes, couples who run a 'family business' struggle to shuttle between their professional and personal lives without having to sacrifice one for the other. For the Art Alades, that isn't the case. Their 15-year union waxes strong as the company continues to grow in leaps and bounds. Darey shares the dynamic of their relationship with us, "We've always done this together from the get-go. She used to manage me at a point and opened a Twitter or Facebook account for me; I wasn't interested in those things back in the day. She would always look at opportunities and say, 'let's try this, let's try that.' We've always worked together. It's just always worked for us, so it's not something that we think about, it's natural. She's the business side of things, and I'm the creative side of things. I've learnt a lot from her, and she's also learnt a lot from me, so it's been a symbiotic relationship. We fight the battles together, come what may."
When asked if they had a formula to make it work, he replied, "There's no formula. All I can say is that people have to be tolerant, just understand and play to your strengths, cover each other's weaknesses, and as long as you don't lose focus of your target down the line, your aim, vision and goals, you'll be able to withstand anything that comes at you." In Livespot360, they have together built a Nigerian dynasty.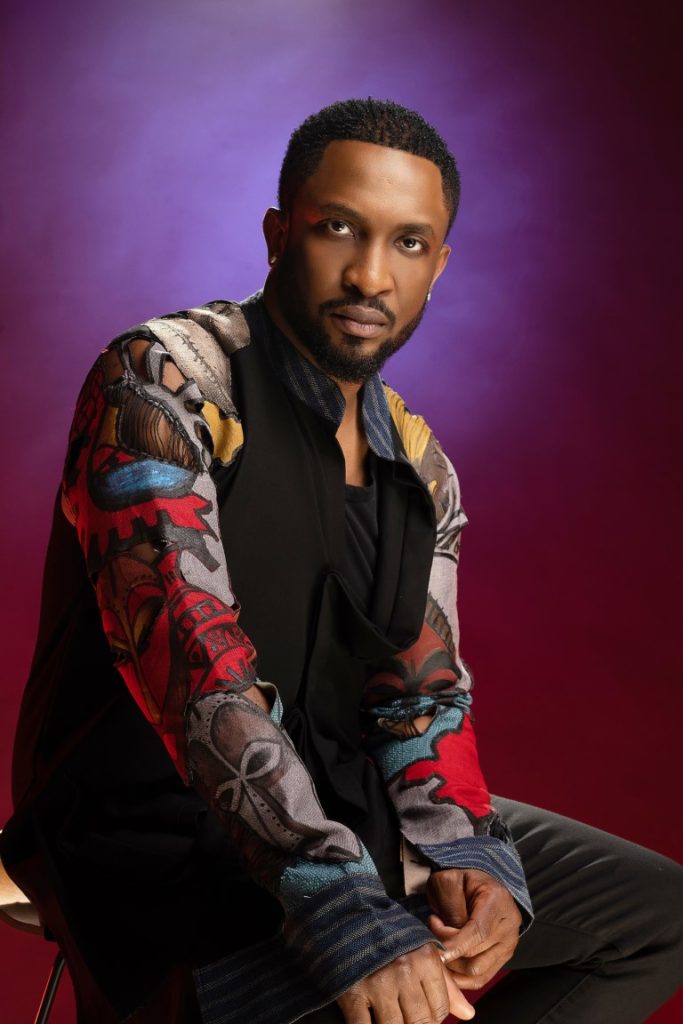 Recently, a new instalment was added to their already impressive catalogue; Livespot360 produced the Nigerian franchise of the global show The Real Housewives. The aforementioned The Real Housewives of Lagos (RHOL) was produced for Showmax via NBCUniversal. Since its pilot, the show has been well-received by Nigerians. Having so much critical acclaim, there have been demands for its renewal for another season. Darey speaks on the show's success, "The reception has been through the roof. It's what we all hoped for and worked towards. That's why it's important to always put your best into whatever you do. If it becomes a hit or not, you don't want to look back and have regrets. The first episode broke the entire streaming numbers in Showmax history. Yeah, the client is happy and if the client is happy, for you that means there'll be a season two. But it's not my call, I can't tell you that until they say."
The RHOL is not the only global production that Livespot360 has been involved with. Last month, his involvement with Rihanna's cosmetic brand, Fenty, was visible across his social media. "We handled their launch event," he clarifies. The company is renowned for bringing or playing a role in the arrival of some of the biggest names in global entertainment, so we tried to get a sneak peek of who next they have on their roll call. He responded, "I can't say. But we are definitely working on it. There are a few people under our radar; even Cardi wants to come back. She had a great time. Time will tell; we are planning, and I can't jinx it by giving away anything, but we are working on a solid festival experience again for the end of the year."
Who knows? Maybe they will bring Rihanna herself this time.
As they look to keep bringing the best of American entertainment back home to Nigerians, the Headies, Nigeria's biggest music awards, a former client of Livespot360—the company was contracted to produce the show in 2018—are taking the show to the United States this year. When asked to give his take, as an artist, on the decision to hold the event abroad, he said, "I don't have any opinion of it. I'm not a stakeholder in the Headies. Honestly, I don't know because there are so many different ways to look at it. Yes, we are growing in leaps and bounds, and all that; our music is global now as it were, but maybe someday, we can look at reciprocating the gesture when the Grammys hold an event in Africa. There's also nothing wrong with dreams and wanting to be on the big stage.
So there are too many ways, I can't have an opinion about it.
I can only be logical and objective. But that question is for the person that is doing it. Why did you carry it there? If they give you a good answer, fine. If they don't, what happens to those that cannot travel? If we are all able to watch here, why not? If it's better than what we've done here, yay! Then it is even better; we will be excited. But as long as it is a positive step forward, I am always going to be in support of it, as long as we are pushing the envelope and bettering ourselves, and looking at how to improve, increase and scale-up, and provide more opportunities. But I don't see how that helps the value chain at the bottom line. I don't see how it helps put food on the table of our local artisans, the stage builders and so on because they can't travel."
He continues, "As an artist, I haven't put out music recently, I have no nominations, so I don't have any opinions. But as a musician, generally, of course, I'm happy with the success that the music and the musicians have made; I'm happy with the global attention and the awards, the streaming numbers and all those things. Awards are neither here nor there. They don't measure your success as far as I'm concerned."
Livespot360 does a lot of things, and although not explicitly stated in print and documentation, assisting the tourism sector of the country's development is one of them. Having worked with the Lagos State Government in the past, Darey was asked if working hand-in-hand with the government to curate tourism products is something he might consider doing. He responded, "If it's needed. Lagos state always seems to know what they need. But they also know that there's always an opportunity to consult; we know them, they know us, so whenever they need us, they always know how to reach us. And we are always open to collaborating and helping elevate the country's state. To play our own little role any which way."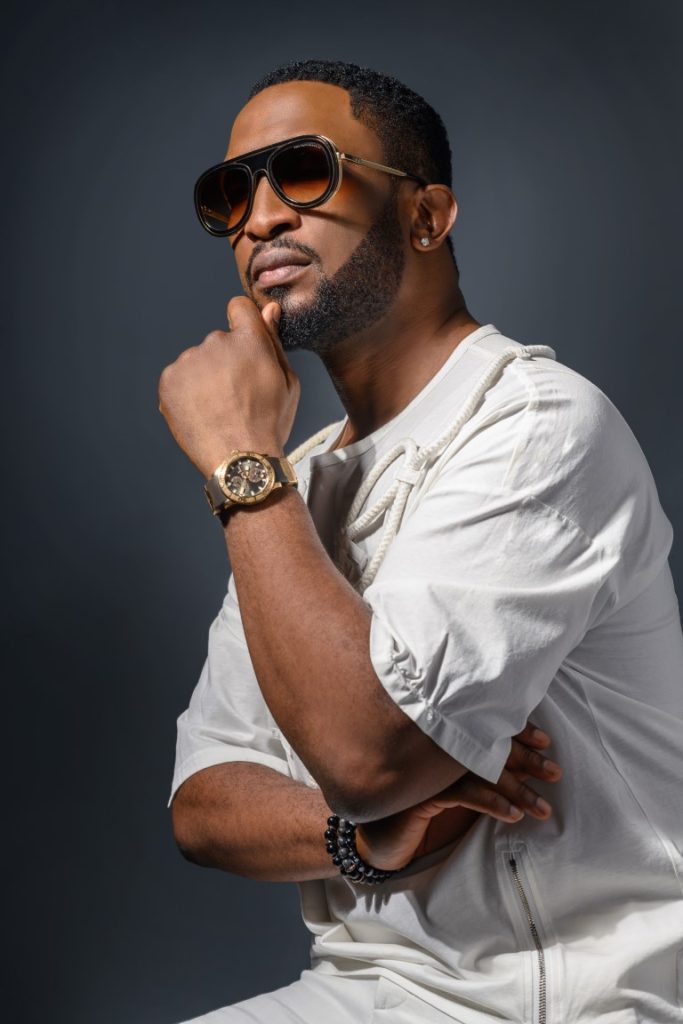 But relationships with the government are not the easiest to manage, especially when it involves party politics. During this election season, in particular, campaigns will be as loud as can be. We asked Darey if Livespot360 gets involved in political projects or considers them off-limit, and he responded, "Off limit? We've done everything. We've done all sorts of things. If any politician requires Livespot360 to do a political campaign, we need to understand what it entails and what are they trying to do? We are apolitical; we've never sided with any political institution or anything. For example, when working with banks, we work with any bank. We have established a level of reliability. If you are looking for a certain something and you know what you're looking for, you know where to go to. And this is without advertising or selling ourselves. What we do sells us. And if this bank comes, and that bank comes, we can give them what they all want individually. We won't spoil the integrity of 'this relationship' by dealing with 'that relationship'. So we can work with anybody. But again, if it is a political entity that's looking for a solution, if we feel that we can do it, or we feel that it is worth it, maybe."
He continues, "The business has different parts. If someone wants to hire screens for a political campaign, they can go to 'Rent-a-Rig,' our sister company. I don't care where it goes; I don't even know what it's used for. You've hired it; go and do your wedding, concert or campaign and return it. It does not mean 'Rent-a-Rig' supports you; I've just provided you with a service; it's a business, a transaction."
It's a business, at the end of the day, one that has to be run strategically to meet an intersection of delivering the best possible service to its clientele and making profits to keep scaling. But Nigeria is not the friendliest with businesses. Especially in their line of business, which involves heavy and often expensive importations, that' Rent-a-Rig' depends on to provide Nigerian showrunners state-of-theart equipment. How does the company survive the country's steadily regressing economy that has essentially closed down businesses? Darey shared an insight, "There are no tricks to surviving Nigeria. You survive Nigeria by just knowing how to survive Nigeria. I don't know how else to put it. We know the nuances. If you're trying to get certain things done, you have to be willing to go as far as you need to go to get it done. In another clime, you know there's a process to follow and can predict what time you'll get whatever out of that process. Here, sometimes, it is unpredictable, so you must be prepared for the unknown. That's every business person's constant mind space in this country. That said, it doesn't mean that we don't have processes. We have processes and everything to do with structure, organisation, and whatnot, but we always know at the back of our minds. And I think that's what sets us apart, the ability to switch when something is failing; what is the backup plan? How do you adapt to that without losing sight of what needs to be done?"
Just like with every business, scaling and expansion are imminent. For Livespot360, Darey paints a picture of what that expansion looks like. On expansion, he says, "It has happened many times over the years. Each time, you just feel like you're bursting on the scenes; you feel like what next? Like you've reached a threshold, you feel like you've done it all, meaning it's time to push the envelope and find another thing. That's happened many times. And now, considering where we are with this and everything we're doing, we know that the international expansion to other markets is beckoning. What we want to do is be the eyes and ears for anyone who's looking at coming into Africa. Because when people say "Africa to the world," we're always thinking, 'who's going to bring them in?' Africa to the world also means that global standards, practices and brands need to be here. We want to be that gateway, and we have to meet them halfway. Sometimes they are not going to come all the way here because they are sceptical of what the country has to offer, but we are the ones that can be the custodians and be like 'come with us, we will take you and show you people you need to meet, places you need to go to.' Not as a tourism operator, but to provide solutions for them knowing the market like the back of our hand, based on what we do. We are poised for that expansion over the next few years.
He goes on to list their products and accomplishments over the years, "We have Rent-a-Rig, we have the biggest rig, and provide sound, lighting, projectors and everything that makes a concert. For instance, those back-to-back concerts in December, they use our equipment. So Livespot360 is not producing it, but our equipment is there. We service the industry in that capacity. Wedding Architect, our sister company, handles premium birthdays and weddings in exotic locations. We have a few other sister companies that handle different things such as productions and advertising and media. We have one that does experiential marketing as well. Livespot360 is five companies in one, because of the different offerings that we have. All of those elements coming together, that's what makes it 360. Our staff strength used to be almost 100, then we cut down. And when we are doing big festivals and all that, we employ almost 1000 people."
As we concluded the interview, we asked about his kids. Having been exposed to music the way he was, Darey's innate interest in music was rather expected. However, the decision to nurture it was solely his. When asked if any of his children are towing the creative line, he responded, "Our daughter is very creative when it comes to art, painting, and putting things together. My son is more into football. But he has an ear. Just like me, I'm the only one doing music in my family, but my siblings love music. They have a unique taste for sounds, and my son is like that. You will catch him listening to mature songs, and he's just 14."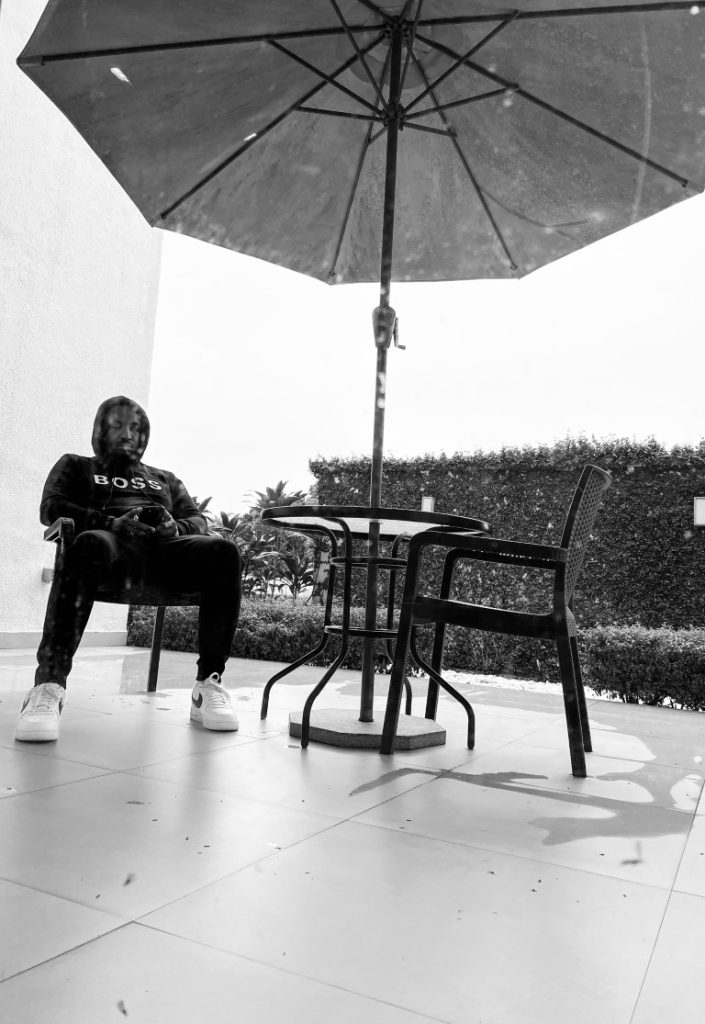 As a father, sometimes you want to nudge them in your field, as we have seen quite often with some parents. That's not Darey; he gives his reason for this, "No, I don't do that. But there's also nothing wrong with it. If you want your heritage to permeate through your kids, that's fine. It's not a crime. Anybody can do that. But it's also important not to force people to do what they are not naturally inclined to. So find out about the child, "what interests them, what do they like, what are they about?" and see how to improve that and push them to be more solid. Along the line, they got to learn what we are doing at the end of the day, but I never want them to feel like they are forced to be anything. Whatever they choose to do, they should put their best into it and be the best at it."
As far as having a support system goes, Darey gives credit to his kids for being his immediate A&R, "there are people who are responsible; for me, it's my family, my wife, my kids. Back then, when I would make music in the studio, and they were young. If they were feeling the music, I knew I had something right. If they are not, I knew to start another track immediately. It's always about the people around you; nobody being sincere would tell you they did it by themselves. It's not possible."
Whether or not Darey decides to end his ongoing 2-year hiatus and release a new record is to be seen. The Not The Girl and Pray For Me singer talks about potentially putting out a song again, "I have several unreleased songs. At the moment, as we speak, there's no particular plan. I might go back to recording very soon, but I'm so preoccupied with so many deadlines and projects that I'm working on now. Helping people bring their dreams to fruition, like; The Real Housewives of Lagos, The Voice Nigeria, and different brands and experiences. But I still perform, host events, and am still booked from time to time. The music? Maybe; it's either I release stuff I haven't put out yet, or I start creating a new direction of stuff. Putting music out is not the easiest thing. It's easier now than before, but it depends on the level you want to put it out. Everybody can go to Distrokid and put it out for free, but if you are looking to optimise, get out there and play with the big boys, that's not going to cut it. My sound has always been unique. The passion and fire to create Afrosoul or "AfroNB" which is African RnB as I like to call it, is still there, don't ever get it twisted [he chuckles]. It's just that over the last several years, we've just been focused on expanding. We were hit by COVID and had to let people go, restructuring and re-strategising. Now things are bouncing back."
Even if he never puts out another song, Darey's music career will be regarded as one of the biggest references in Nigeria's rich music history. However, his contribution to the lifestyle scene and entertainment, in general, is what has set him on the path to immortality. And contrary to past misconceptions, Dare Art Alade is no longer unDAREYted.