Are We Even Still The Giant Of Africa? Time To Focus On People
As a thinker, I ask a lot of questions. I've always done that. When you speak to older people a lot, you begin to question things in your subconscious. There are things that you have been fed growing up, and as you grow older, you begin to wonder how they even came about.
Sayings like "we are the giant of Africa." How?
Despite the country's very low ranking in the Human Development Index and its status as one of the most corrupt nations in the world, Nigeria is often referred to as the Giant of Africa owing to its large population—there are over 200 million of us making Nigeria the most populous black nation in the
world—and economy—the World Bank considers us to be an emerging market.
Nigeria's status as a regional power in Africa, a middle power in international affairs, and an emerging global power have been aided by a few factors. We can analyse some of these factors and trace their origin all the way back to the pre and post colonialism era, but we wouldn't be the first to have our space encroached by the British, nor would we be the first to gain freedom.
Although her booming economy—long before whatever it is we have now, people used to be soft— was mostly aided by natural resources such as oil
and mining, Nigeria's biggest asset has always been human capital in the form
of its teeming population.
Even though the focus has always been on minerals and other natural resources, especially oil, Nigeria's biggest strength for economic growth has been its people.
Lord Lugard was aware of this as he conceived the rather ambitious idea of
amalgamation in 1914—to join the Northern and Southern Protectorates as one.
Much like China, with over 1.4 billion people, and the USA, with over 300 million people, one can see just how closely linked the population is to the economic development of their respective societies.
The quantity, quality, structure, distribution, and movement of a population can help or hinder the rate of economic development. A developed country
with low population density and a low percentage of  employable people
needs an increase in population in order to keep up with economic development—where we used to be.
On the other hand, for an underdeveloped country with a high population density and a high percentage of employable people, any increase in population will be detrimental to its economy—where we presently are.
In fact, it wouldn't be such a hot take to suggest that we are in the predicament
we are in today because instead of developing people in terms of quality education—formal or vocational—and empowerment, we were fixated on oil, not as a cash cow to reflow money back into the economy but as a means
to a corrupt end.
Nigeria's reputation as Africa's kingpin transcends the economy. Although the economy played a huge part in putting our first foot forward as an African
giant, as aforementioned, our status, outside of our finances became twice as tall through art.
Another advantage of a high population density is how much impact it has on arts, culture and entertainment, which Nigeria happens to soar in flying colours over the years.
With a leading film, music and fashion industry, and Lagos especially establishing itself as Africa's entertainment capital, Nigerians'
influence on black arts and culture is unrivalled.
Our loud nature ensures that we tower over other countries, especially the ones around us. A Nigerian doesn't even need to have tasted a Ghanaian
Jollof to come to the conclusion that the Naija version is better.
It is with this sense of pride that we ooze whenever we visit other African countries or interact with other Africans on social media. Even in sports, Nigeria is a respected brand.
Despite the Super Eagles' perpetual let-downs, they are still one of the best football nations in the continent, with the Super Falconet constantly blowing opposition away to perennial Nations Cup titles.
Today generally, Nigeria's best years are throwback moments. Are we still the giants of Africa?
Look around. Is this what a giant looks like? In this part of the world where uninterrupted power supply is still a fantasy, tertiary education is epileptic, the blood of Jesus is more likely to keep you safe than the police when bandits
hijack your interstate travel, and has so much political tension, there's not so much you can quantify as gigantic.
As we turn 62, we must take a rather introspective approach to nation- building. It is impossible to develop a country without paying attention to the ones who make it up.
Right now, building human capital through people empowerment (not sharing souvenirs and calling it empowerment programmes) should be our main focus as we step into our new year.
This coming year, we cannot afford to be too proud to learn from other African countries. We are far from where we ought to be as a nation, and ideally, our authority as the giant of Africa should have been revoked a while ago—Burna
Boy can keep it.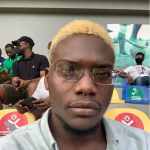 Self-identifies as a middle child between millennials and the gen Z, began writing as a 14 year-old. Born and raised in Lagos where he would go on to obtain a degree in the University of Lagos, he mainly draws inspiration from societal issues and the ills within. His "live and let live" mantra shapes his thought process as he writes about lifestyle from a place of empathy and emotional intelligence. When he is not writing, he is very invested in football and sociopolitical commentary on social media.